5 Essential Gutenberg Hidden Features

The Gutenberg editor is about to become a part of WordPress, and it's safe to say the internet is not stoked on it. However, whether or not all the hate is justified is arguable.
Some of my biggest qualms with Gutenberg were that it felt as though a lot of seemingly basic features that are built into our favorite page builders were missing from the editor. At least that's what I thought. As it turns out, some of those necessities that seemed to be missing are actually already built into the plugin. Althgouh, not as intuitively accessible as one may hope.

If you're coming from using a page builder, some of the biggest complaints about Gutenberg you may have are that it doesn't allow easy duplication and placement of page elements. This makes it seem like editing with Gutenberg is nothing but an unnecessary chore. As it turns out, all of this is possible, and quite a lot more. Gutenberg has a bit of a learning curve, so some features that aren't immediately obvious may seem to be lacking.
The more you learn about Gutenberg, the more it seems to grow on you.
So rather than go with the knee-jerk reaction and jump on the bandwagon hating the editor, take a look at these features and then decide if it's as bad as you thought.
1. Drag and Drop Blocks*
When beginning use of the new editor, you might totally overlook the drag and drop feature. I saw the up and down arrows but found them to be ineffective when wanting to move an element far up or down the page. As it turns out, there is a drag and drop feature. To drag and drop a block, simply place the cursor in the margins around the block until you see the hand close, and click. Viola! You can move your elements with ease.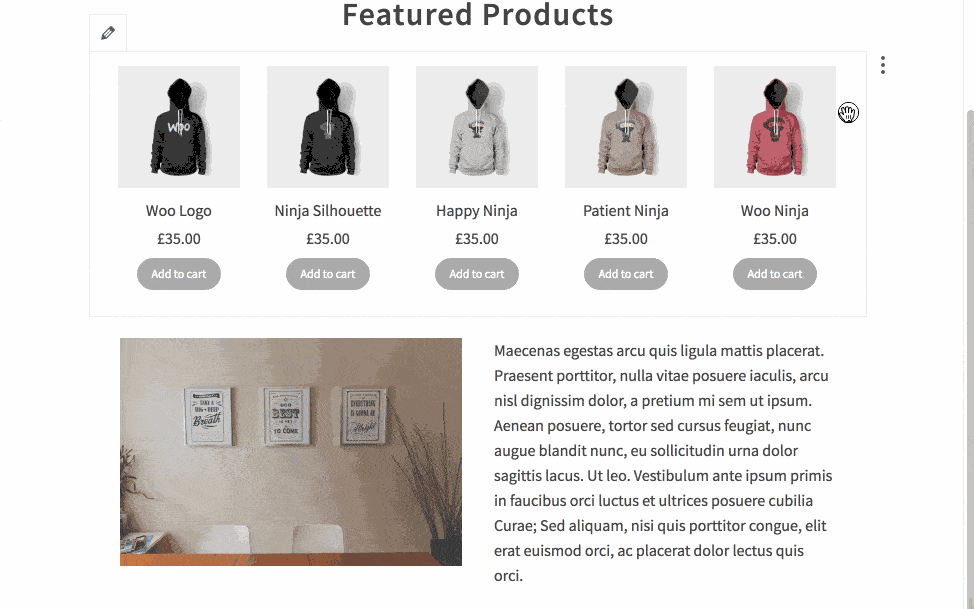 *The latest version of Gutenberg has changed the drag and drop feature to be a bit more intuitive. You now will see the drag selector between the two up and down arrows to the left of your block.
2. Reusable Blocks
If you've built an awesome block or a group of columns of blocks, you can also save them and add them again wherever you like.
To save a block to your reusable blocks, open the block options and hit the "Add to Reusable Blocks" button:

Once the block is saved, you can access reusable blocks in your add block list: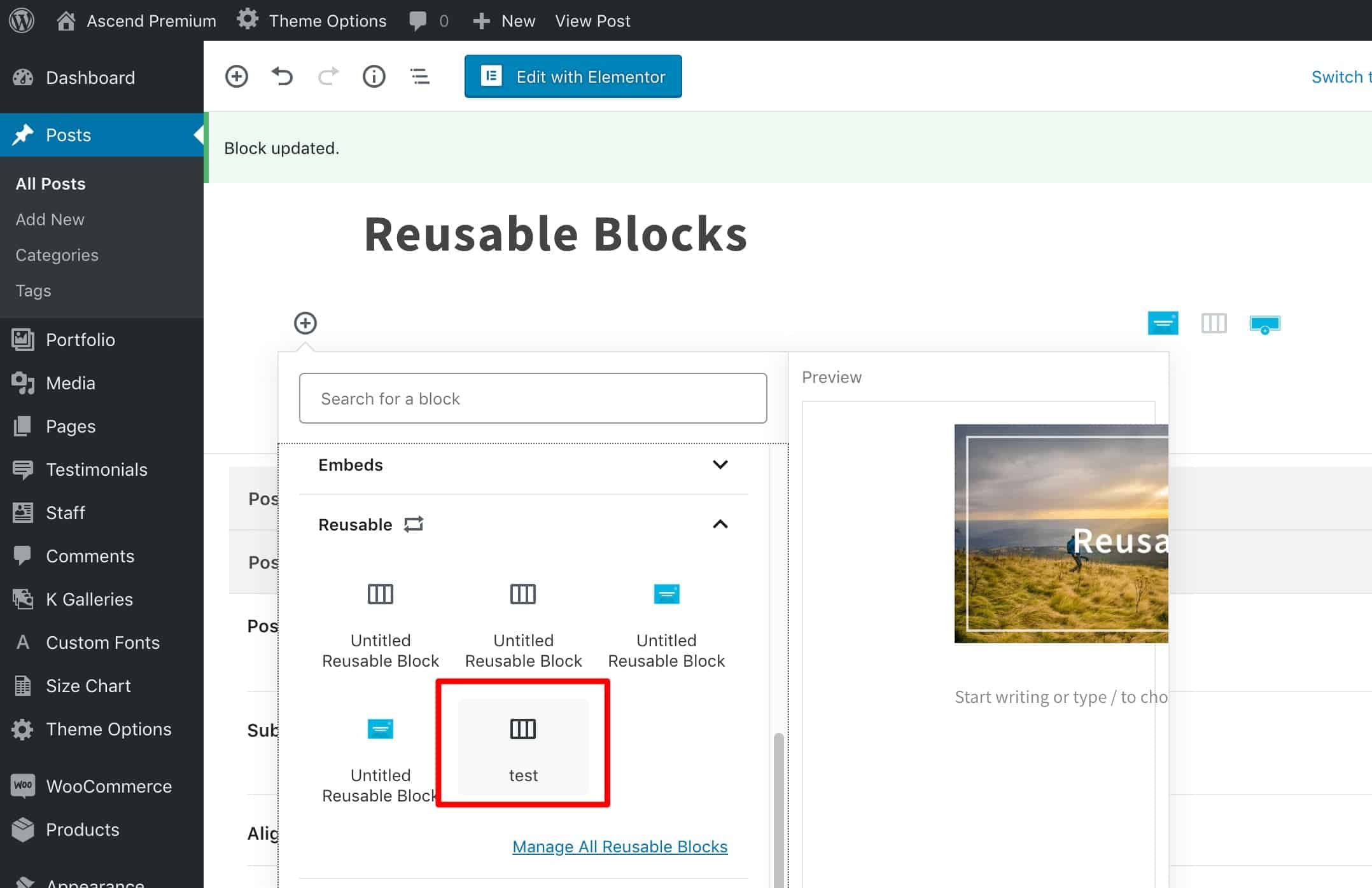 If you wish to edit the reusable block, you need to convert the reusable block to an editable regular block*:

If you have decided you no longer want to have this block as a reusable block, you can remove it:

3. Duplicate Blocks
If you've setup a block and want it to appear more than once on your page, but don't want the hassle of configuring it multiple times, you can easily duplicate the block by opening the options and hitting the duplicate button. After the element is duplicated, you're free to move it throughout your content however you desire:
4. Keyboard Shortcuts
Gutenberg comes packed with built in keyboard shortcuts to streamline your workflow. To access a full list of the shortcuts available in Gutenberg, open the "More" options button at the top right of the editor, and click the "Keyboard Shortcut" option:
This will display a full list of shortcodes:
[kad_modal btntitle="Full Shortcode List" btncolor="#ffffff" btncolor="#ffffff"]
[/kad_modal]
There are a few shortcuts that are absolutely essential.  When nested within a paragraph or another element, hitting CMND + A or CNTRL + A may not select all of your page content. If this happens, simply hit the shortcut again and your entire page should be selected:
When all content is selected, the block settings will affect ALL blocks under your selection:
When opening a new block, hitting backslash at the beginning will pull up the block selection. Start typing to search for the block you want, or select it from the list:
5. Make Block Full Width
If your theme allows for it, some blocks can be made to stretch the full width of your page content. Just click the full-width button at the top of the block if it appears: