You asked for it and here it is! We could not be more excited to put into your hands the ability to create with conditional headers.
This powerful feature allows you to create unique headers for specific pages. This way you can target your audience with relevant content based on the page they're viewing, rather than distracting them with information that could take away from their experience on your website.
Enabling Conditional Headers
With Kadence Theme Pro enabled, navigate to Appearance > Kadence.
2. Under Pro Addons click on the Conditional Headers toggle.
3. Navigate to Customize > Headers and scroll down until you see Conditional Header.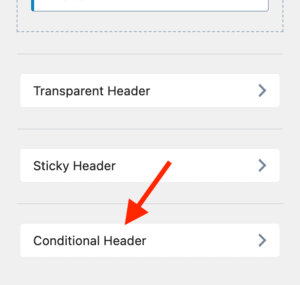 4. Now you can create new headers or import and export headers and use them anywhere on your site. You can even choose to show different headers for logged-in users versus logged-out users.
For more information on getting started with conditional headers and how to get the most out of them, we created a video tutorial for you!
Get Conditional Headers!
Conditional Headers is a feature within Kadence Theme Pro. Purchase any of our Kadence Bundles and get access to Conditional Headers and so much more! We're in the market of making people's lives simpler and we do that through our products and our support. Join Kadence today and let us help you make rad websites and have fun doing it!