Creating a Custom Product Template with Shop Kit 2.0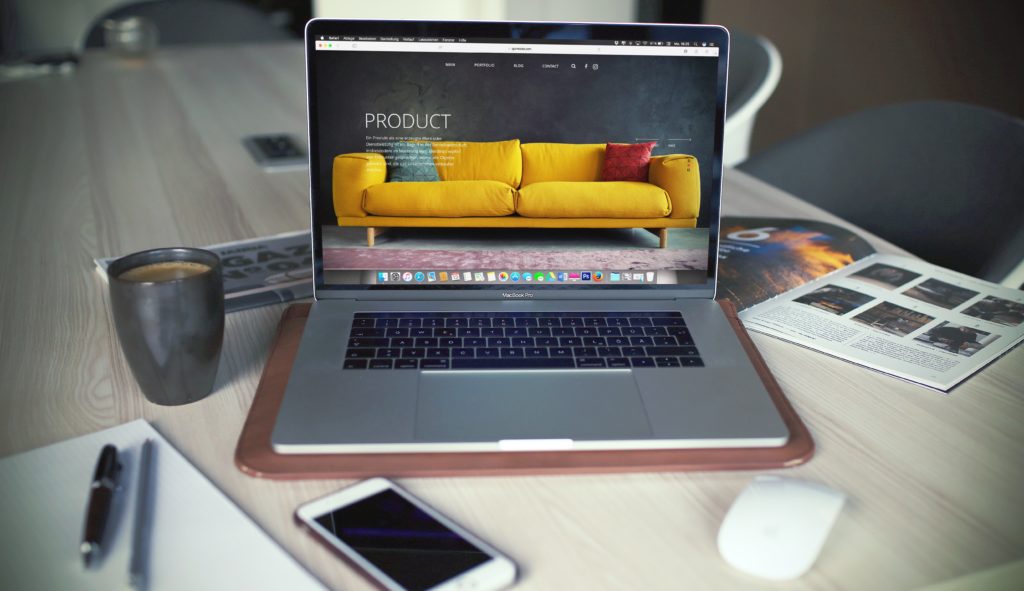 Creativity Matters
The world of online shopping is ever-expanding, and we're here for it! Though let's be real, unless you're an experienced coder it feels impossible to make a unique product page that actually fits your brand. Alas, we have a solution! Kadence Shop Kit 2.0 gives you the ability to (simply) create custom product templates. Keep reading!
Have you ever been looking for the perfect jacket or the best new running shoes? What is it that is truly the selling point?Of course you're looking for a beautiful featured image, a detailed description, and some killer reviews. But sometimes those things aren't enough. People want to look at a product page and be drawn in by the whole experience of the page. Nothing can throw this off more than poor design. It can be the very thing deters customers from buying your product. The layout of your product page matters!
The reality is that you can have the best product out there, but if your product page isn't appealing then it's not going to get you very far. I'm not just talking about appealing colors and images, though that does really make a difference! But I'm talking about a layout that makes your eyes get a little wider. Creativity matters, and it can take you such a long way!
Thankfully, Kadence has created a power tool to take your online shop to a whole new level. Kadence Shop Kit 2.0 gives you the tools to create fully custom product templates. You can now create product templates for specific products, or category of products, giving each a unique feel that is powerful and engaging.
Finding Inspiration
Before I teach you the steps to creating custom product templates, I would strongly encourage you to spend some time looking for inspiration. Start by searching for products that you love and perhaps already own. You'll likely find that there's a reason why you bought this product and maybe it's not only because the product itself is awesome. We are sold on clean and powerful design all the time, and we may not even be aware of it.
Take some screenshots and even consider sketching out some mock templates that you love. A blank canvas can be daunting when we come in without these things. But having a good idea of what we're wanting can be hugely beneficial when we're designing custom templates.
Building a Custom Template
Of course, you'll need Kadence Shop Kit 2.0 installed and activated. You will also need Kadence Blocks. Kadence Shop Kit will work with any well-coded theme!
Next, you'll want to enable Product Templates. From your Dashboard, navigate to Shop Kit > Product Templates and toggle on "Enable Product Templates."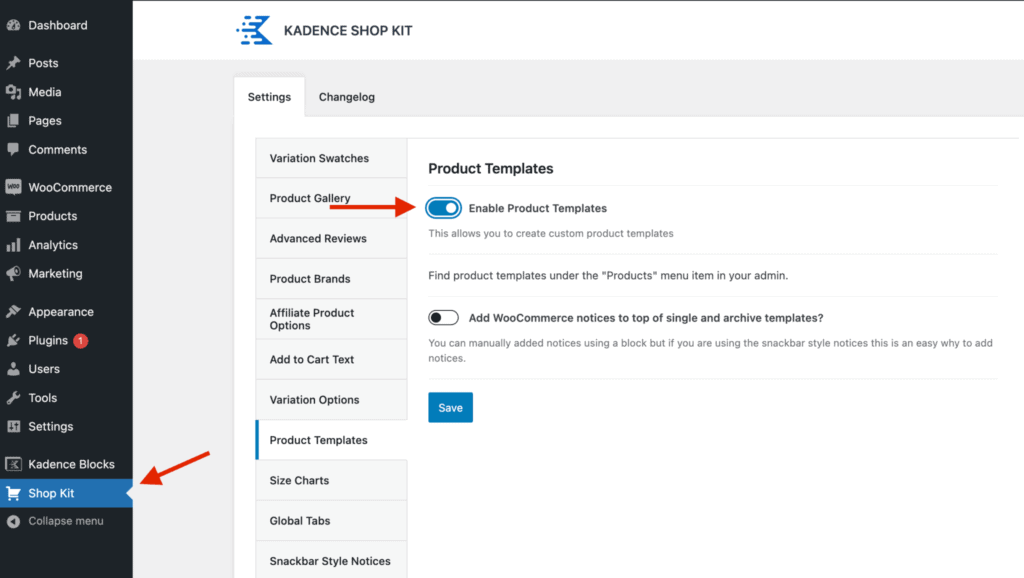 Refresh your browser then navigate to Products > Woo Templates. Create a new template and select Single Product.
Here you'll get to choose whether you want to start with a prebuilt template. This will allow you to drag and drop your content into a prebuilt layout.
Of course, you can also choose to create a new template which would give you that blank canvas we mentioned earlier.
Next is the fun part. Kadence Shop Kit adds product blocks to the block editor so you can build out your product template exactly as you envisioned.
If you're using a prebuilt product template then you can drag and drop your content into the template. Move some blocks around, change up the colors, whatever it takes to make it yours!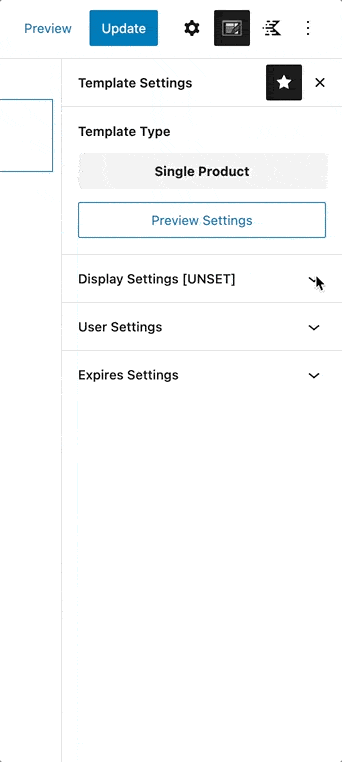 Now it's time to assign this template to your product, or group of products. This is done by opening your Template Settings (right upper corner of your edit page). Then under the Display Settings you can choose to individually assign this template, or assign it based on a specific product category or tag. You can even choose to exclude specific products within a group.
The product template builder also allows you to set expirations for custom templates to have effect on certain products. Let's say you're running a sale on a product or on a specific category of products. You can create a product template designed to market the sale, then once the sale ends you can use the Expire Settings to reset the product back to the template is was previously assigned to. We love making life easier!
There are endless ways you can customize your product templates, so get after it! Cheers 🙂
Get Kadence Shop Kit as a part of the Full Bundle
The best way to get started using Kadence Shop Kit is to get the Kadence Full Bundle. In the Full Bundle, you have access to Kadence Blocks Pro, Kadence Theme Pro plugin, Kadence Conversions, Kadence Cloud, as well as Kadence Shop Kit. For those site builders looking to really up their game with all that Kadence offers, the Full Bundle gives you all the tools you need to build a stunning website that converts site visitors to loyal customers.