Four New Starter Templates for WooCommerce Sites
The Kadence team has been releasing new starter templates every week, and we're delighted to share four new free starter templates perfect for WooCommerce stores using Kadence and Kadence Blocks. All four of these starter templates are available in the Kadence Starter Templates plugin free to download from the WordPress plugin directory or right on your plugins page.
Say hello to Wooden Craft, Outdoor Shop, Soap Shop, and Single Product, four robust eCommerce starter sites that are ready for you to customize for your business online presence.
Why Kadence is focused on WooCommerce Starter Sites
At Kadence, we're focused on empowering WordPress users to build clean, accessible and highly performant sites using blocks. And when it comes to eCommerce, there is no better way to empower businesses both large and small to bring their goods and services to a wider audience. WooCommerce usage is growing. According to W3Techs, WooCommerce usage is nearing 9% of all websites as of January 2022. WooCommerce is the easiest and fastest way to get your eCommerce business off the ground, and we're focused on making that even easier with our Starter Templates.
Wooden Craft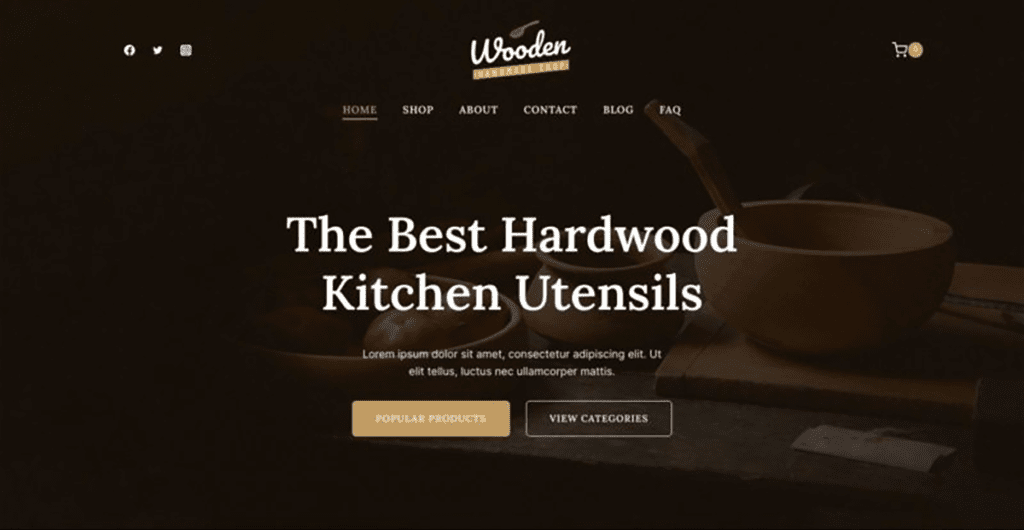 Wooden Craft is a gorgeous eCommerce starter site template that's perfect for an artisan creating unique wood options. Included in this starter template are 12 sample products with beautiful photography of unique handcrafted items. Use the provided photography, or upload your own photos to replace product photos. The shop page offers unique on-hover movement to add visual interest to your product offering, and each product detail page gives you ample space to highlight the unique selling proposition of your crafted items.
Using Wooden Craft isn't limited to only wood crafted items. This starter template is flexible for any artisan shop looking to bring unique products to a wider audience. As with all of Kadence's Starter Templates, Wooden Craft is a fast and easy installation to bring your shop online quickly.
Outdoor Shop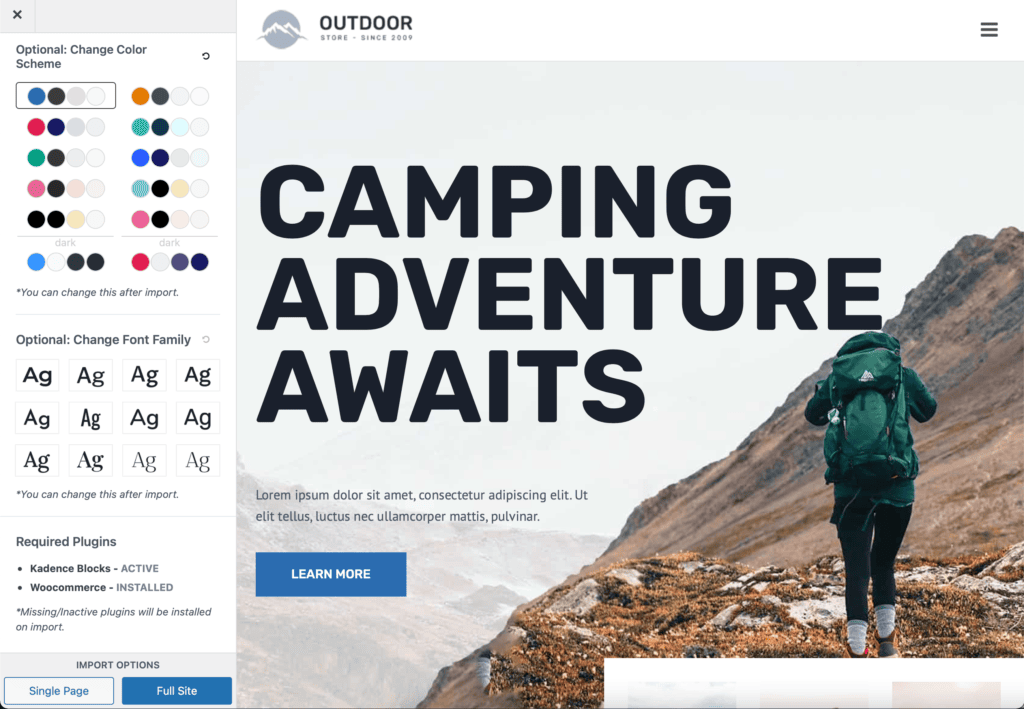 Outdoor Shop is another WooCommerce-ready starter site template ready to bring your outdoor-themed business to life. With 14 starter products in four different categories, customize the look and feel of this starter site template with your own colors, fonts, and unique products. This starter template has pages ready to explore the great outdoors with mobile and tablet-ready layouts ready to meet your customers wherever they're browsing from.
Use this starter site template and get an entire site ready for launch easily, or choose to only import a single page to your site. This starter template gets your business selling quickly. Right from the home page, you have ample opportunity for prospective customers to learn more and quickly click buy.
Soap Shop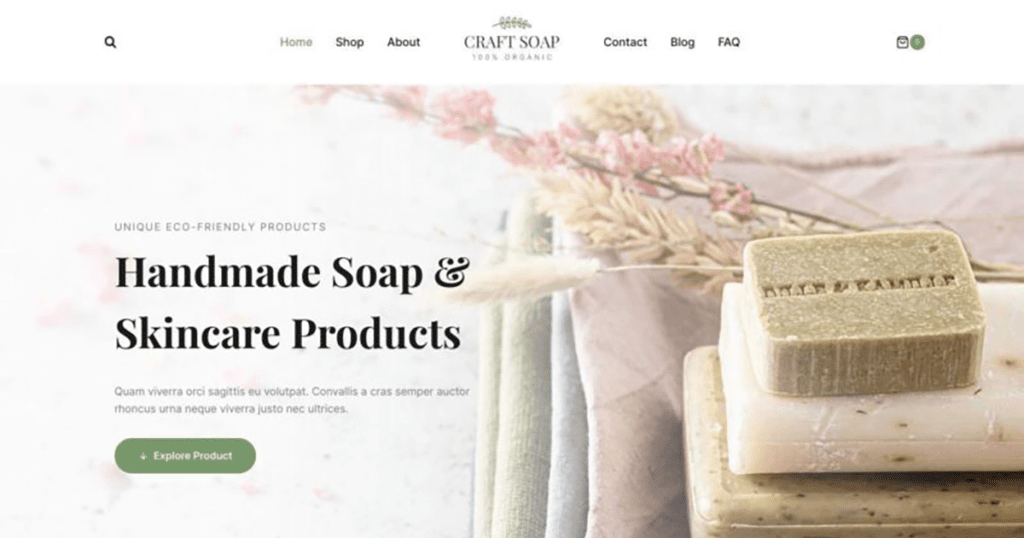 Soap Shop is ready to envelop your site's visitors in the luxury of handcrafted skincare products. With 12 different soap and skincare products, Soap Shop starter template has just a hint of feminine beauty with a focus on gorgeous and appealing skincare products. Ready to work with WooCommerce, this is a speedy template that doesn't skimp on design.
Customize this ready to use starter template with your own products, and even borrow some of our photography and copy to quickly create compelling content to support your business sales and marketing initiatives.
Single Product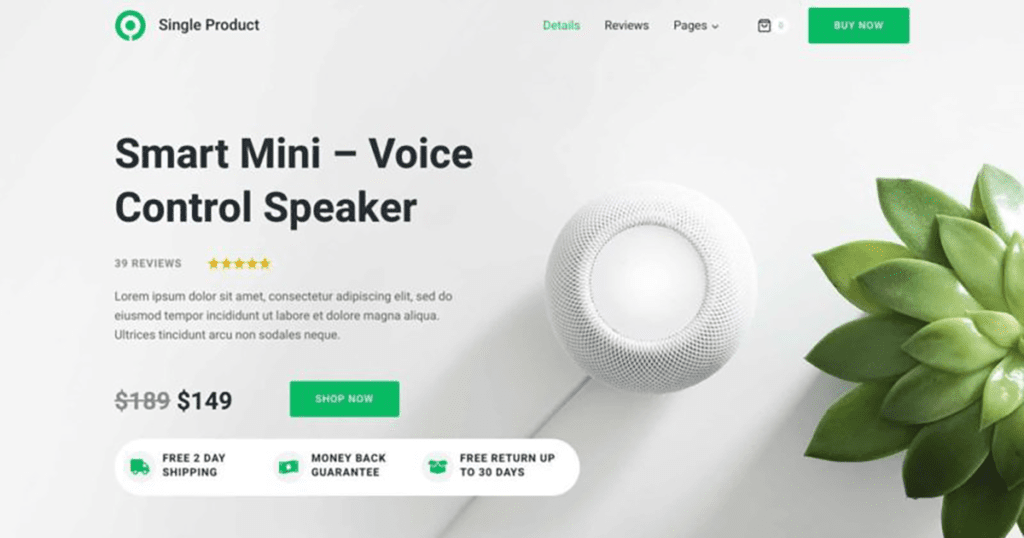 Single Product is perfect for those businesses looking to just bring a single product to market… fast. Not only is this template clean and fast loading, it quickly gives your business opportunities to dive into the unique selling proposition of your single product. Navigation easily transitions to moble and tablet, and only the most important elements of research for a singular product are provided to site browsers.
Start with the default green color scheme, or use the customization tools to select a color palette that suits your business and your single product. Customize your starter site template with unique fonts, your own photography, reviews, and everything else you need for a successful product launch.
---
Getting started with Kadence's WooCommerce Starter Templates
Getting started with Kadence WooCommerce starter templates is easy. If you haven't set up WooCommerce yet, that's okay. The Kadence Starter Site Template Plugin will import whatever is needed to get your starter template up and running, including WooCommerce. You'll need to configure your WooCommerce configuration, but once that's done, you're ready to start customizing the entire experience for your customers. 
Here's how.
Once you've installed Kadence Theme, navigate to Appearance > Kadence in your WordPress Admin dashboard.
From the Kadence menu, navigate to the Starter Templates tab.
If you're totally new to Starter Templates, click the Activate Starter Templates button. We'll handle installing the Kadence Starter Templates plugin.
You'll see the library of Starter Templates now available on this page.
If you already have the Kadence Starter Templates plugin active, be sure to click the Refresh icon at the top of the Kadence > Starter Templates tab.
You can then select a Single Page or the Full Site (only recommended for fresh WordPress installs).
Please Note: Full site importing is intended for new/empty sites with no content. Your site customizer settings, widgets, menus will all be overridden when you import a full site Kadence Starter Template.
That's it! All done. You now have your new WooCommerce Starter Template loaded onto your site. No matter your experience level with WordPress, Kadence Starter Templates make building a beautiful, engaging, and fast loading site simple. With a few clicks, you're ready to customize, add your own course content, and launch a beautiful new site.
Kadence Templating Makes Customization Easy
If there's a portion of a starter template that doesn't suit your needs, or if you'd like to customize the look and feel even further, Kadence Elements Templating makes building your unique look and feel even easier than ever. You can customize numerous elements of your starter site template, including archive pages and more. Check out what Kadence Pro and Kadence Blocks Pro bring to your wp-admin with Kadence Elements Templating. It's the easiest way to build your site the way you want it, without having to write a single line of code.
Supercharge WooCommerce with Kadence Shop Kit
The Kadence Shop Kit plugin, available in our Full and Lifetime bundles, gives you a number of useful tools to make selling on WooCommerce even easier. Add product galleries, product image zoom, cart notices, variation swatches, advanced reviews, and so much more. While you can easily buy the Kadence Shop Kit plugin a la carte, we recommend getting a Kadence Full bundle to ensure you've got even more to support building effective, highly converting sites with Kadence.
Get Kadence Bundles
Sign up for one of our bundles to access our Kadence plugins and themes, including Pro Starter Templates. We're constantly adding new starter templates to the Kadence experience, so your investment in Kadence Bundles will continue to provide new starter templates to make staying current with new design trends easier than ever.
You'll get access to an additional library of PRO starter templates that is ONLY included with one of our value-packed bundles, including the Essential Bundle, Full Bundle, or Lifetime Bundle. All of our purchases come with a 30-day money-back guarantee, no questions asked!