Have a Great WordCamp US: Let's Play a Game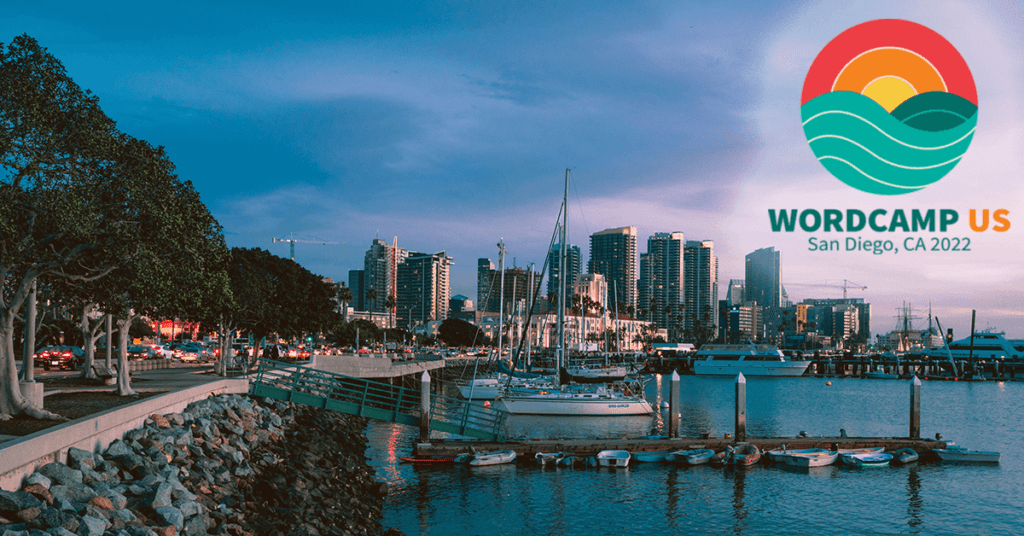 With WordCamp US happening this week, we know many people are excited to head to San Diego, California to connect with old friends and make new ones. The Kadence team will be represented by founder Ben Ritner, and we have many of our sibling brands from StellarWP in attendance as well. If you're following the StellarWP and KadenceWP social accounts, our teams will be sharing their experiences this weekend, September 9-11, 2022.
But we get it. It's not the same. I myself have attended numerous WordCamps as an attendee, organizer, speaker, and sponsor. But this year is different. For family reasons, I just cannot go this year. I've got the FOMO. And I know many other people do, as well. With health concerns, travel restrictions, tickets selling out within an hour, and myriad other obstacles, many of us are just going to participate via social media hashtags.
As such, we want to play a game and include everyone that both is and isn't in San Diego this week. We've got prizes! Even if you're not at WordCamp US, we want to arm you with the best swag we've got.
How to Play: 3 Ways to Enter
1.Take a Selfie With Ben
If you're at WordCamp US, find the elusive yet wonderful founder of Kadence, Ben Ritner. If you're not sure what he looks like, take a look at one of our recent livestreams or his Page Builder Summit presentation about templating WooCommerce product pages. If you see Ben, make sure you say hello and take a selfie with Ben. Post your selfie and tag the KadenceWP social media account on Twitter, Instagram, Facebook, TikTok, YouTube, or LinkedIn.
2. Share a Screenshot of a Kadence Website You Created
If you're not at WordCamp US, you're not alone. We want you to be able to play along, too. During the days of September 9-11, share a screen capture of a project you've created with Kadence and let us know how the Kadence solution (Kadence Starter Templates, Kadence Blocks, Kadence Shop Kit, or any other solution) helped you make an effective site.
3. Share a video/reel with your story
Whether you're at WCUS or at home (or at a remote beach location), post an Instagram reel, TikTok video, or YouTube video or short telling us how Kadence has helped you create an effective site, an effective business, or empowered you in some other way.
Rules
Only one entry per social account, but don't let that stop you from sharing more than one!
Your post must tag the official Kadence social accounts on that network. If you don't tag us, we cannot see it and therefore your post cannot be included for consideration.
Only official Kadence accounts on the following networks are eligible.
Post must be made during the hours of WordCamp US, from Friday, September 9, 2022 at 9 AM Pacific Daylight Time to Sunday, September 11, 2022 at 4:00 PM Pacific Daylight Time.
Winners
The ten winners will be chosen at random on Tuesday, September 13, 2022. You'll be contacted via DM on the same account you've tagged us with, so make sure you're following us on that social network so that we can easily find your contact information on that account.
Prizes
One Top Prize: $100 Swag coupon for the Kadence/StellarWP swag store
Four Second Place Prizes: $25 Swag coupon for the Kadence/StellarWP swag store
Five Third Place Prizes: $15 Swag coupon for the Kadence/StellarWP swag store
Have a Fun Camp
Whether you're watching from home or having fun with the festivities in San Diego, there's a lot of fun and learning to be had. We know that being home isn't quite the same, but we each have our reasons why. And there's still so much fun to be had no matter how you participate!
Join in with the #WCUS hashtags and share your impressions, thoughts, and experiences. We're all in this together, and we all look forward to a larger WordCamp US next year.