Introducing Kadence Shop Kit 2.0
Once again, the Kadence team has released a groundbreaking new plugin that helps WooCommerce store owners create dynamic and powerful shopping experiences for consumers. With the release of Kadence Shop Kit 2.0, store owners can now leverage over 15 powerful modules to create an immersive eCommerce experience.
The Kadence Shop Kit plugin is available in the Kadence Full Bundle, and anyone with a Full Bundle subscription is able to download the plugin from their Kadence account dashboard. For those using previous versions of Kadence Shop Kit, they can upgrade easily in their wp-admin plugins dashboard.
As a part of our launch, we hosted a YouTube livestream that demonstrated a number of Kadence Shop Kit's key features. That video is embedded below along with timestamps that link you into the key features we demonstrated.
Customizing WooCommerce Product Page Layouts
By far, the most powerful and requested module in Kadence Shop Kit 2.0 is the ability to customize the product page layouts. Kadence Shop Kit's custom template builder uses the WordPress block editor to create dynamic and attractive product layouts that have previously only been customizable by getting into custom code. This no-code solution for product page layouts uses Kadence's powerful dynamic templating capabilities to create unique presentations of products that connect with customers in an immersive experience.
The benefit of using unique product layouts is clear. Not only can you customize a shopping experience so that prospective customers can easily imagine themselves as owners of your product, but Shop Kit also provides an opportunity to create a uniquely brand-specific and personalized experience that sets your storefront apart from standard WooCommerce implementations.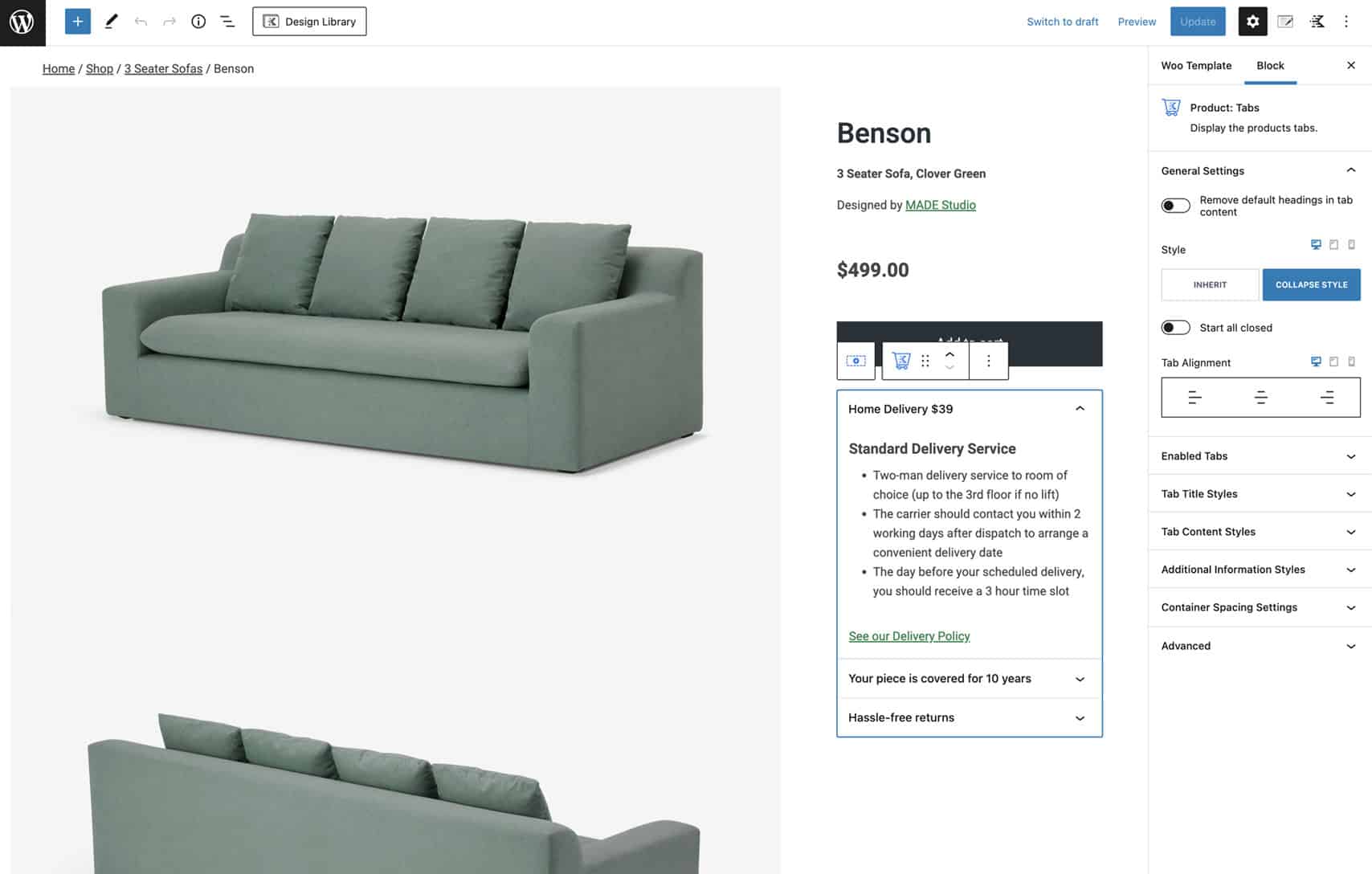 Whether you're customizing a product layout for all of your products, one category, or a specific layout for one product only, Kadence Shop Kit puts the freedom and flexibility in WooCommerce store owners' hands.
In creating these customized product pages, there are a number of new features that Kadence Shop Kit brings to product pages. These include the capability to:
Implement a variety of advanced gallery styles to showcase products.
Use video in product galleries to provide more robust product evaluation experiences.
Display variation swatches on an attribute-by-attribute basis as well as variation galleries.
Create immediate social proof with great reviews, voting capabilities, and order reviews to show the highest-voted reviews first. Display a review overview board.
Build dynamic informational tabs using the WordPress block editor to unlock any kind of global tab layout you desire with Shop Kit's custom template builder.
Simplify sizing decisions with easy-to-build size charts that can be applied to one product or to a whole product category.
Add size charts to the product page as a tab, or use a button that opens a modal with your site chart.
Leverage brand influence on product displays, choosing where to show on archive and single product pages.
Grow revenue capabilities by unlocking affiliate sales with the Shop Kit affiliate product options.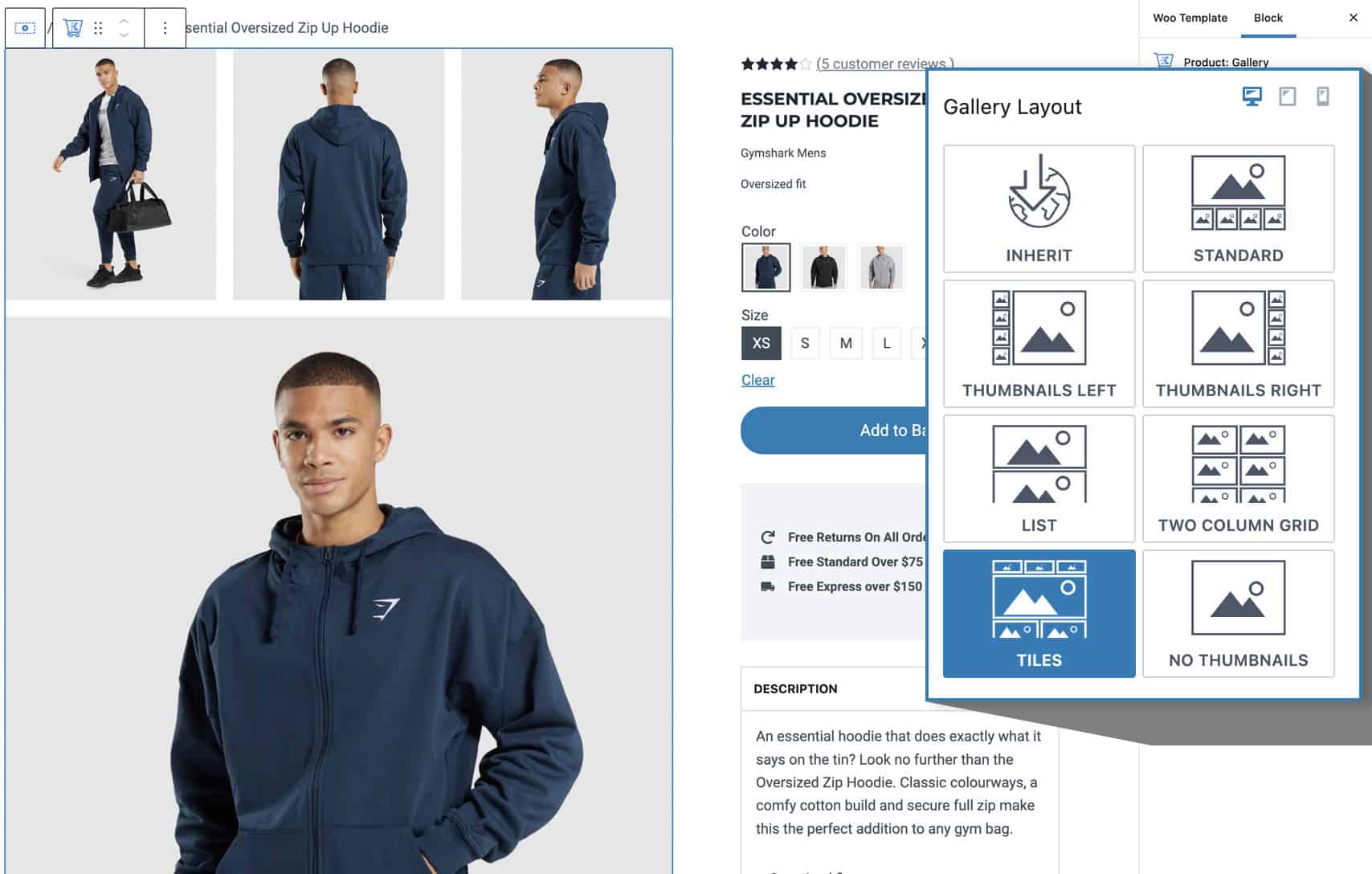 For a full list of all of the benefits of Kadence Shop Kit, our Shop Kit product page lists all of the different modules, and our documentation provides an overview of how to get started using Kadence Shop Kit.
Optimize your Checkout Flow
Optimization of the WooCommerce checkout flow has been a request from Kadence Shop Kit users, and with good reason. Numerous studies have shown that optimizing the checkout flow for a shopper has the capability to improve the likelihood of checkout conversion with a faster, frictionless checkout flow that provides a personalized experience meeting customers where they are.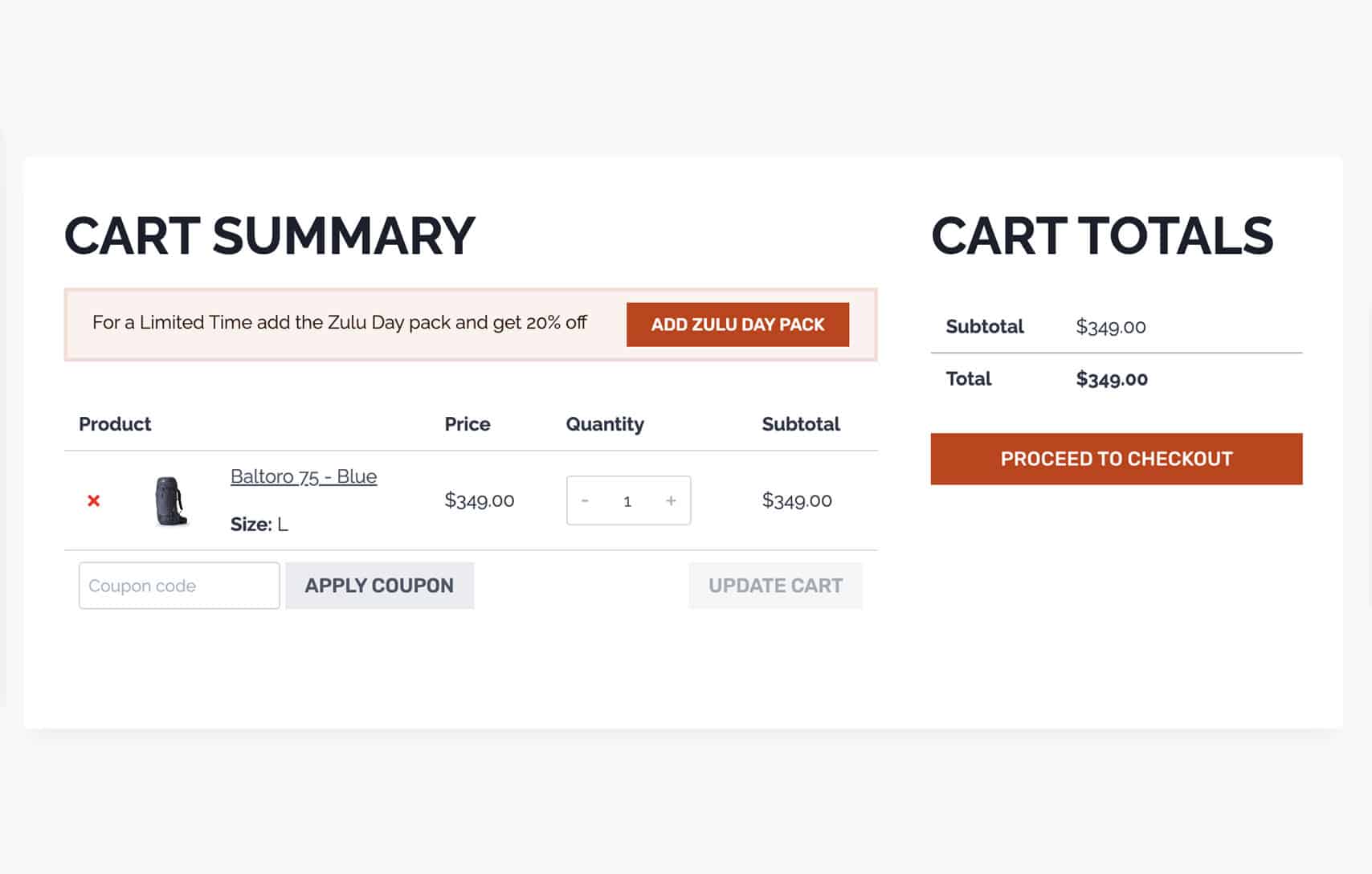 Kadence Shop Kit helps WooCommerce site owners:
Reduce checkout friction by customizing the checkout to your customers' unique needs.
Enable and disable checkout fields or create your own fields using the checkout manager.
Easily customize your checkout forms and control which fields are added to WooCommerce emails.
Create custom cart messages that target specific carts based on cart contents, total price, or total weight of items in the cart.
Generate personalized upsells specific to the shopper's experience, or offer promotions to encourage another product purchase or choosing a product with more value.
Kadence Continues to Innovate
WooCommerce has provided site owners the ability to create stores that they truly own on an open source platform. With the addition of Kadence Shop Kit, WooCommerce site owners truly have no-code, easy to implement solutions that supercharge the eCommerce experience for site owners and shoppers alike.
Kadence Shop Kit is available as a stand-alone product or as a part of the Kadence Full Bundle. When coupled with Kadence Theme Pro, Kadence Blocks Pro, and Kadence Conversions in the Full Bundle, Kadence Shop Kit 2.0 really helps WooCommerce storefronts increase sales and delight customers, building brand loyalty for years to come.