Introducing the Coffee Shop eCommerce Starter Template
If it's cold and chilly in your part of the world this January, you're not alone. There's nothing like a cozy coffee shop and a wonderfully brewed cup of coffee to take the chill off and warm us up inside. To celebrate that vibe, we're excited to introduce you to a free new Kadence Starter Template: Coffee Shop, perfect to warm the hearts of anyone visiting your new Kadence-powered site.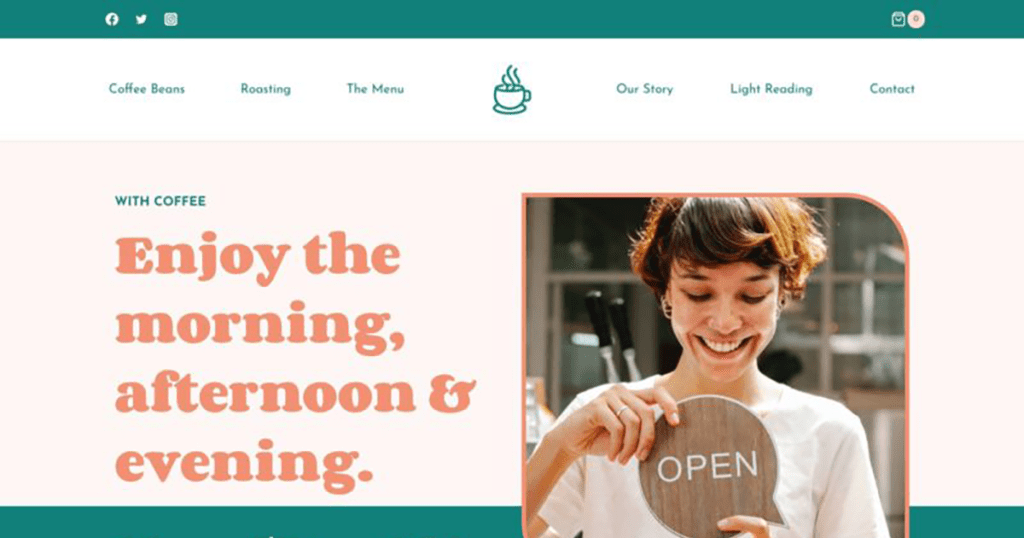 Highlights of the Coffee Shop Starter Template
The Coffee Shop Starter Template uses the power of Kadence Theme and Kadence Blocks to provide a framework that showcases your cafe's commitment to the perfect roast, your relaxing atmosphere and vibrant community. Adding your unique content is easy.
Starter Content Inspires Creativity
The Coffee Shop Starter Template is more than just blank pages. We've curated thoughtful content and imagery, all of which can be reused for your own cafe or coffee shop. Or, if your local pour over aficionado is a photography expert and Instagram influencer, use your own supplied photography for a unique look that showcases your local artisans. Coffee Shop gets you started quickly, but what you build upon this foundation is completely up to you.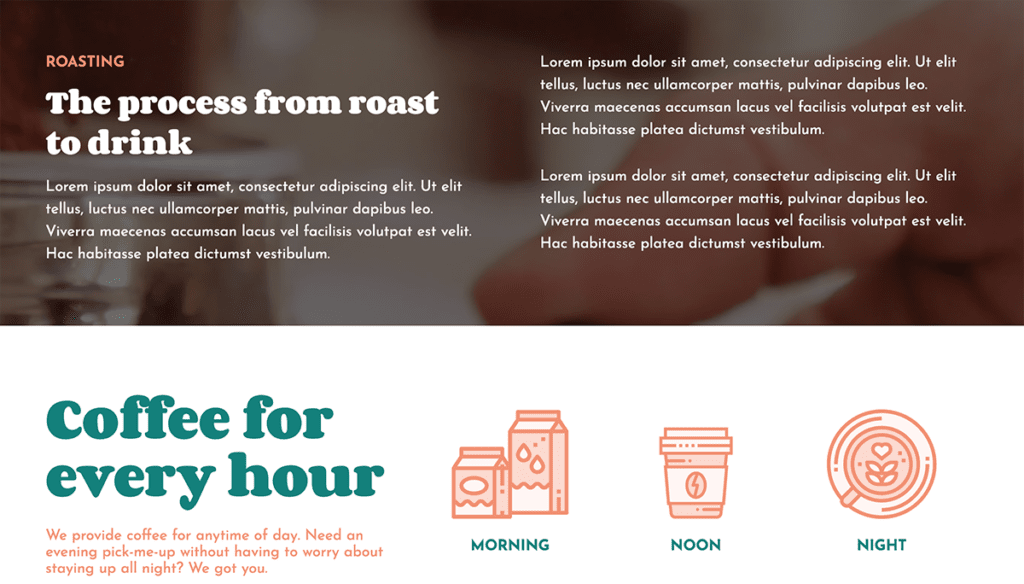 Here are some of the pre-built pages that come with the Coffee Shop starter template:
Home
Coffee Beans (shop page) 
Six example product pages
Checkout, account and other WooCommerce-specific pages 
Roasting
The Menu
Our Story
Light Reading (blog page)
Six example blog post pages
Contact
Leverage the power of WooCommerce to sell your products
WooCommerce is the premier choice for eCommerce sites using WordPress, and this free Kadence Starter Template has everything you need to get your roasts in front of customers, no matter where they are in the world.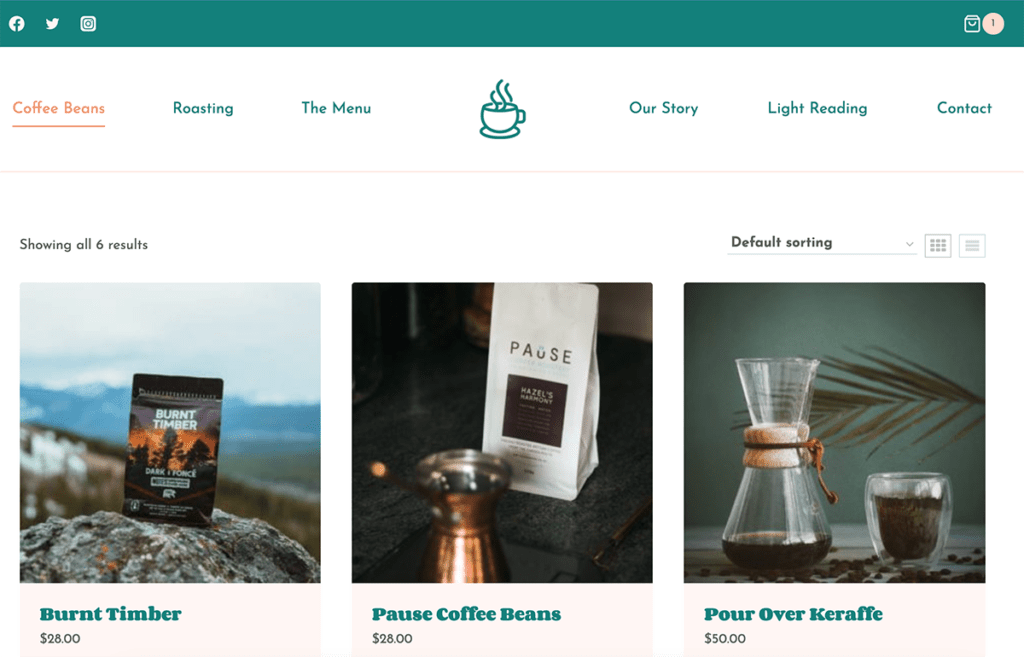 With many eCommerce installations, showing numerous product photos often helps store owners improve their conversion rates by showcasing more product benefits and options.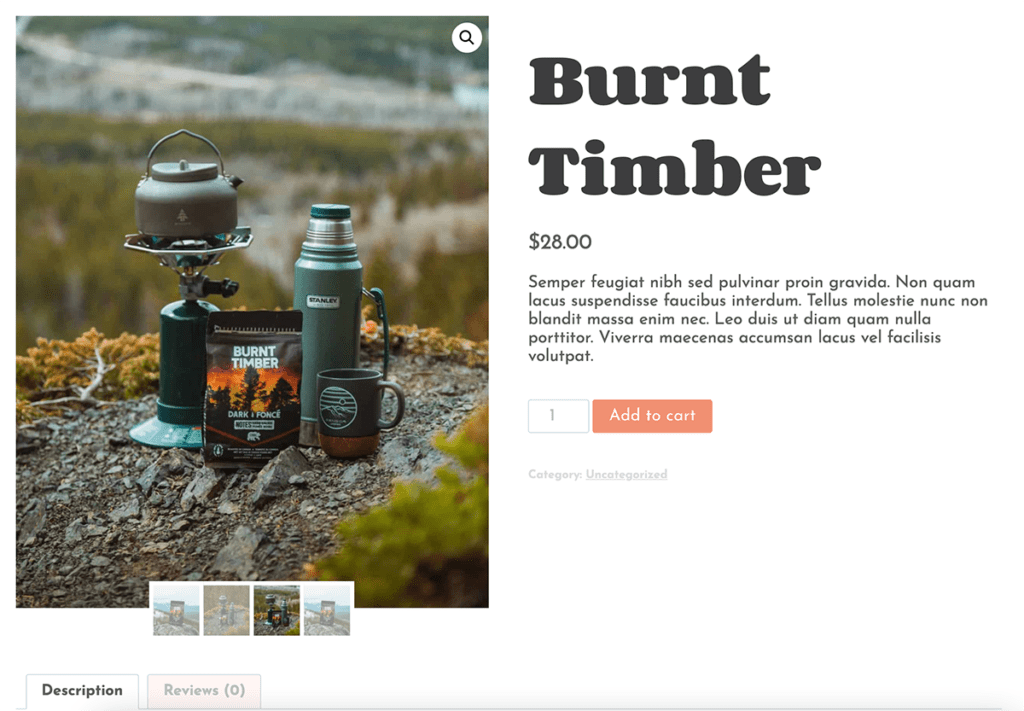 Requirements for using Coffee Shop Starter Template
There are only two required plugins for this free starter template:
Kadence Blocks 
WooCommerce 
You won't need to pre-install these plugins. When you get started with the Coffee Shop Starter Template, Kadence will do all of the work for you. Here's how to get started.
Getting Started with Coffee Shop Starter Template
Once you've installed Kadence Theme, navigate to Appearance > Kadence in your WordPress admin dashboard. From the Kadence menu, navigate to the Starter Templates tab.
Once you've installed and activated Kadence, navigate to Appearance > Kadence in your WordPress Admin dashboard.
If you're new to Starter Templates, click the Activate Starter Templates button. We'll handle installing the Kadence Starter Templates plugin. You'll see the library of Starter Templates now available on this page.
If you already have Kadence Starter Templates active on your site, be sure to click the Refresh icon at the top of the Kadence > Starter Templates tab to get this free Starter Template.
On initial import of the starter template, you'll be given the option to change your color scheme and font family. The default colors are fun, hip, and contemporary but you can always adjust the colors to match your desired look and feel.
After import, from the Kadence > Dashboard in your WordPress admin dashboard, click the Customize link in the Global Colors box. From here, you can also select the colors for your site's Global Palette. You can get started with the pre-populated colors that come with Coffee Shop, or use your own palette of brand colors.
Recommended plugins for WooCommerce stores
If you're really looking to create an amazing eCommerce site with Kadence, we highly recommend checking out the Kadence WooCommerce ShopKit that adds additional features and functionality to your WooCommerce storefront for even more opportunities to create amazing eCommerce experiences. This plugin is available in the Full and Lifetime Bundles. 
We also recommend checking our one of our Stellar sister brands, Iconic, and their WooCommerce plugins. Flux Checkout for WooCommerce optimizes the standard WooCommerce order process and reduces abandoned carts with a high converting, mobile-friendly multi-step checkout.
Buy a Kadence Bundle To Get Access to Pro Starter Templates!
Sign up for one of our bundles to access our Kadence plugins and themes, including Pro Starter Templates. We're constantly adding new starter templates to the Kadence experience, so your investment in Kadence Bundles will continue to provide new templates to make staying current with new design trends easier than ever. You'll get access to an additional library of PRO starter templates that is ONLY included with one of our value-packed bundles, including the Essential Bundle, Full Bundle, or Lifetime Bundle. All of our purchases come with a 30-day money-back guarantee, no questions asked!
Thanks for using Kadence!