Introducing the Kadence Travel Blog Starter Template
Today, we're excited to introduce a very useful starter template: Travel Blog. Travel Blog is a pro starter template only available to Kadence Pro users. This gorgeous starter template leverages all of the power of the free Restrict Content plugin to create the ultimate membership site experience for travel, lifestyle, and experience bloggers.
Let's face it. After two years of lockdowns and travel restrictions, we're all a little bit stir crazy and ready for some wanderlust. If you're ready to hit the open road  — or the open skies — and share your stories with the world, we are here for it. In fact, we're ready to help you empower that journey towards a lifestyle blog that supports your travel lifestyle with this ready-to-go starter template. 
If you haven't yet checked out the KadenceWP Instagram account, you might find some inspiration there. We're all about getting out into the world and discovering new peak experiences that inspire and enliven the human spirit.
Even if you're capturing videos and photos to go along with your words, the Travel Blog starter template has everything you need to begin creating a community of followers who find inspiration in your story.
The Kadence team consistently adds new starter templates to the Kadence Starter Template plugin, and you can see all of the starter templates listed on our site with links to demos for each starter site template.
What the Travel Blog starter template includes
As with all of Kadence's starter templates, you can set your Travel Blog color scheme to be whatever you desire. We have a number of preset color palette options ready to go, including dark mode options. You can also reset these color schemes after import if desired.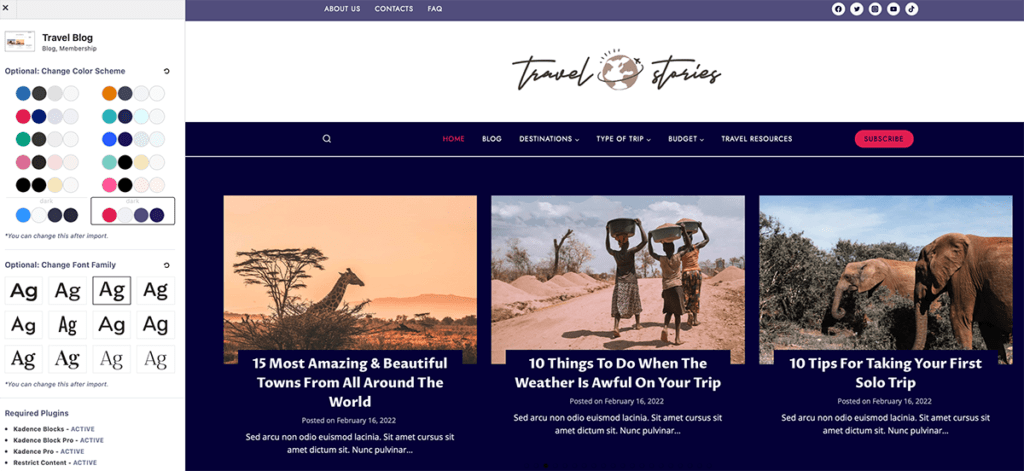 The Travel Blog starter template has a number of features you'll love that will make getting your travel stories up and running as quick as you can get your next adventure booked.
Get started documenting your bucket list adventures with:
20 ready-to-go blog posts with varied trip types and locales to organize your stories
91 royalty free stock photos you can re-use (or replace with your own)
An about page ready for your unique perspective
A contact page leveraging the Kadence Google Maps block
Membership subscription pages ready for your community levels
Everything you've come to love about Kadence, Kadence Blocks, and the pro tools like Kadence Elements Templates that you cannot get anywhere else.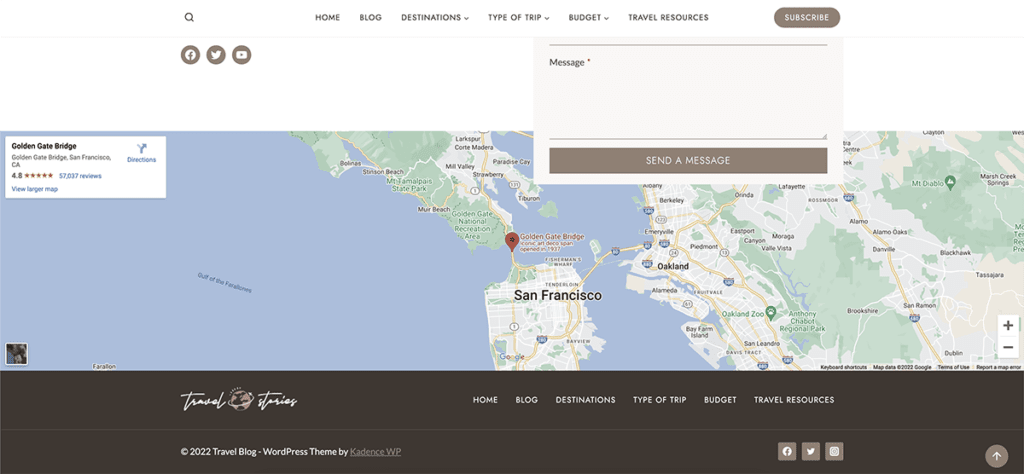 Who is this starter template perfect for?
This starter template is ready to go for any travel blogger looking to create a members-only experience quickly. But it's not limited to just travel bloggers. This starter template can easily be repurposed for any lifestyle blog, membership site, or educational content site that has a membership component.
There are even areas to add advertising to public posts, if desired.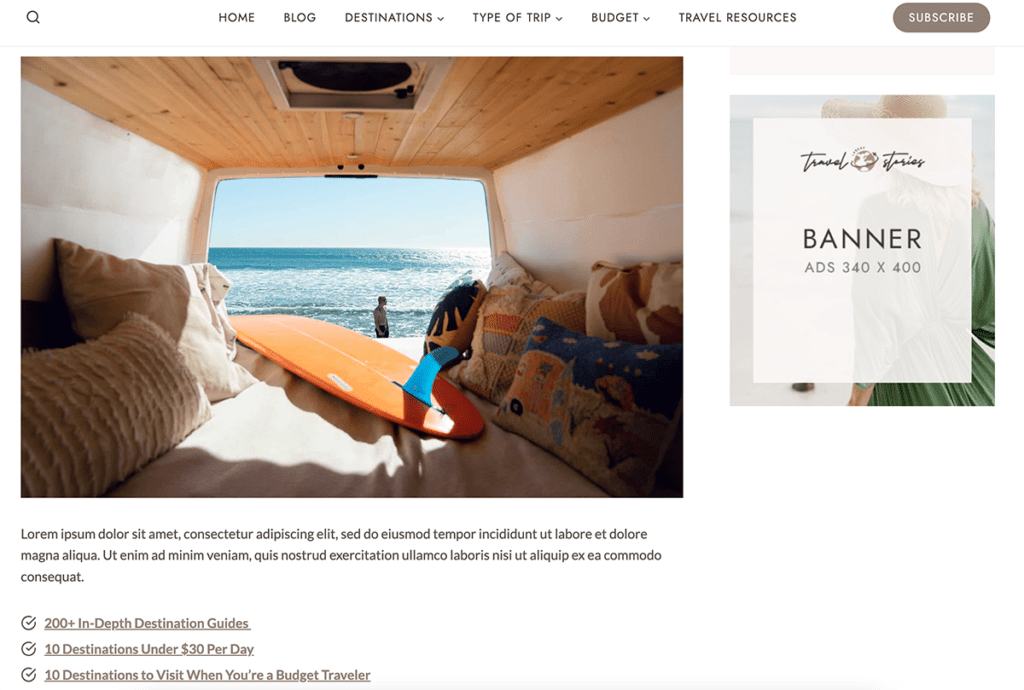 Requirements
This is a Kadence PRO starter template, which means you must have a Pro license from Kadence in order to install and get your new travel blog up and running. This starter template also requires the free Restrict Content plugin. You won't need to install Restrict Content, the Kadence Starter Template plugin will do that for you.
Getting started with Travel Blog Starter Template
We recommend starting with an empty site, as you'll want to install all that Travel Blog includes.
Getting started with Kadence starter templates is easy. If you haven't set up the Kadence theme, the Kadence Theme Pro Plugin, Kadence Blocks, and the Kadence Blocks plugin, we recommend doing that first.
Because this starter template is an exclusive to Kadence Pro users, we recommend you get either the Essentials or Full Bundle to get started.
Once you've installed Kadence Theme, the Kadence Pro plugin, and Kadence Blocks Pro, navigate to Appearance > Kadence in your WordPress Admin dashboard.
From the Kadence menu, navigate to the Starter Templates tab.
If you're new to Starter Templates, click the Activate Starter Templates button. Kadence will handle installing the Kadence Starter Templates plugin. You'll see the library of Starter Templates now available on this page.
If you already have the Kadence Starter Templates plugin activated, be sure to click the Refresh icon at the top of the Kadence > Starter Templates tab to ensure you've got the many new starter templates in your plugin.
You can then select a Single Page or the Full Site.
Please Note: Full site importing is intended for new/empty sites with no content. Your site customizer settings, widgets, menus will all be overridden when you import a full site Kadence Starter Template.
It will take a bit to get all of the content, images, and configurations installed, but once that's completed, you now have your new Travel Blog Starter Template loaded onto your site.
No matter your experience level with WordPress, Kadence Starter Templates make building a beautiful, engaging, and fast loading site simple. With a few clicks, you're ready to customize, add your own course content, and launch a beautiful new site.
Kadence Bundles give you everything you need to succeed
Sign up for one of our bundles to access our Kadence plugins and themes, including Pro Starter Templates. We're constantly adding new starter templates to the Kadence experience, so your investment in Kadence Bundles will continue to provide new templates to make staying current with new design trends easier than ever. You'll get access to an additional library of PRO starter templates like Travel Blog. These starter templates are ONLY included with one of our value-packed bundles. All of our purchases come with a 30-day money-back guarantee, no questions asked!