Kadence Theme Celebrates 200,000 Active Installations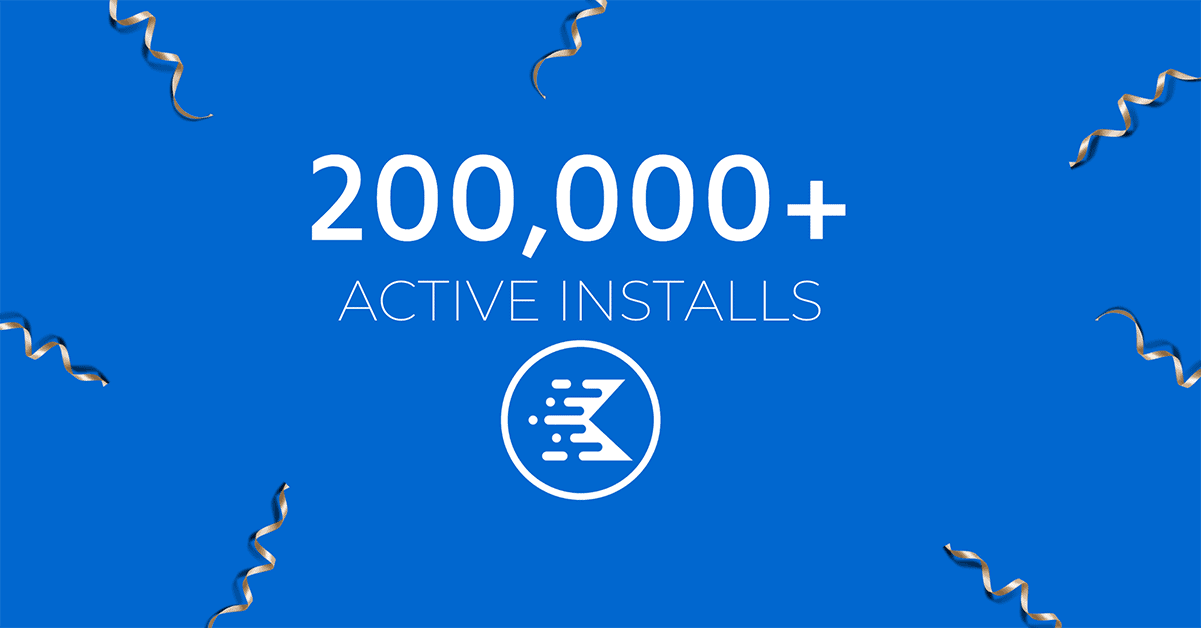 The Kadence Theme just surpassed 200,000 active installations on the WordPress.org repository in record-breaking time. The Kadence Theme has been available on the repository for just over 2 years, and it was just about one year ago when we celebrated Kadence reaching 100,000 active installations. WordPress themes rarely see this rapid growth in such a short timeframe.
More than just a theme
The growth of Kadence, not only as a theme, but as an entire ecosystem of WordPress solutions for any kind of WordPress site, has been dependent on members of the WordPress community who have given Kadence a try. We are so grateful to members of the Kadence community who have spurred this intense growth.
2022: a year of growth
As we end 2022, we can see some signs of Kadence's, and much to look forward to. In the last year, we've seen:
Kadence Blocks reached over 300,000 installations. Kadence Blocks, the companion plugin that supercharges building WordPress sites works in tandem with the Kadence Theme for powerful site building. Kadence Blocks can work with other themes, but with the Kadence theme, it has even more power.
The release of Kadence Shop Kit 2.0. This robust tool helps WooCommerce store owners supercharge their storefronts and help them more easily create product pages that sell and connect with customers.
The launch of Kadence Elements Templates. For site owners looking to create dynamic content, Kadence Elements Templates allows for powerful theme building on a per page, per post, or for a wide plethora of conditions. With support added for Advanced Custom Fields, Metabox, Pods, Toolset and many other custom post type tools, Kadence Elements Templates makes building sites with dynamic content incredibly easy.
The start of The Kadence Beat Podcast. Every other week, the Kadence team takes a fun look at ways to use Kadence and other tools to create much more effective WordPress websites through user experiences that create brand loyalty and customer satisfaction.
Rapid development of new blocks. We've added new features such as the Lottie block, the Kadence Google Maps block, the Advanced Image block, and many others.
New starter templates. The growth Kadence has experienced has also meant the launch of numerous new starter templates. Whether you're building a new site for yourself or others, Kadence makes getting launched faster and easier with the ever-growing collection of starter templates.
Looking to the future
The Kadence team will continue to do the work that got us here. We are passionately focused on creating better tools that make building with WordPress easier, more efficient, and more fun. We do this by focusing on our users and the broader WordPress community to identify needs and creating solutions for those needs. We have big plans for 2023 and beyond, starting with the launch of Kadence Blocks 3.0 which is planned for the first few weeks of 2023.
Kadence is a new way to build with WordPress
As more people come to Kadence to build faster and more accessible WordPress websites, more people are seeing the power of building with blocks. Our community on Facebook is growing by leaps and bounds and an active and engaged community is helping new people see these new methods and helping others build more effective sites.
The future of Kadence is bright, and we invite you to join our community and build better WordPress websites.
Thank You!
We owe this growth to you, our community, and our users. We have taken your support and reinvested it back into making Kadence even more useful to building WordPress in a new way.
From all of us at Kadence, thank you for being a part of the Kadence community.