Leather Shop Starter Template for WooCommerce Sites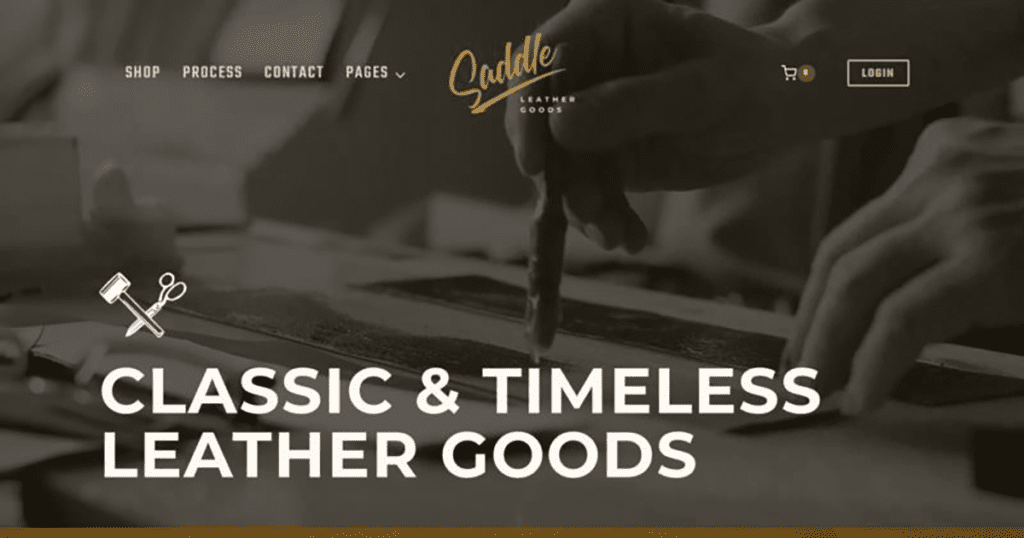 We're happy to introduce you to Leather Shop, a powerful eCommerce starter template for Kadence and Kadence Blocks. Leather Shop is a Pro-only starter template that gives a robust and rich look to WooCommerce stores. As with all Kadence Starter Templates, Leather Shop gets you started quickly, but it is also highly customizable.
Using the Leather Shop eCommerce Starter Template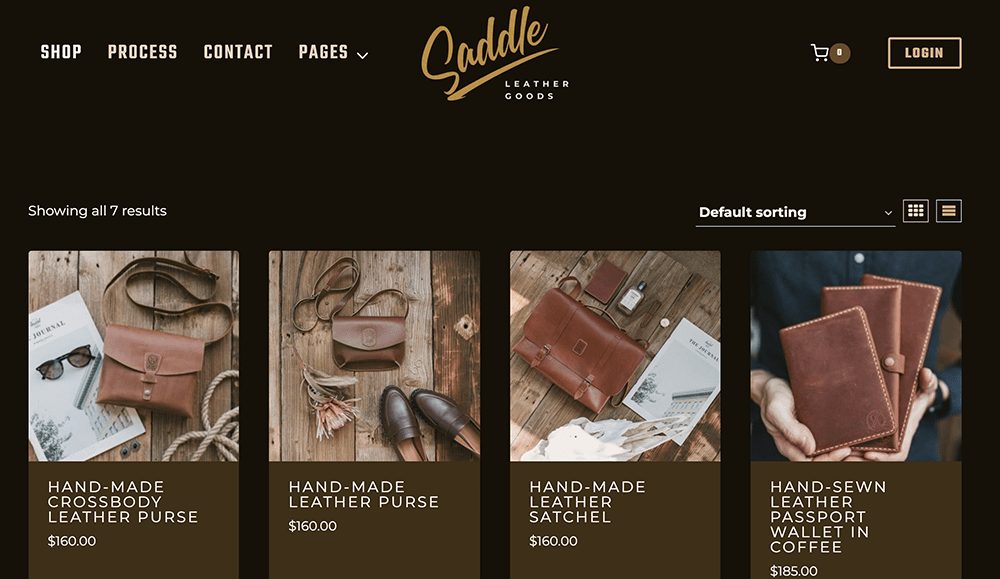 As with The Gardener Starter Template, Leather Shop is focused on giving a framework for skilled artisans to show off their wares and build revenue. The colors of this richly designed starter template are cultivated with leather goods in mind, but you can easily customize the color scheme, fonts, and photography to fit any brand.
If you're selling any products that require a look and feel that highlights your brand's artistry, Leather Shop is the perfect foundation for getting started quickly and easily.
Simply use this starter to build out your own site featuring engaging product photography. Kadence Starter Templates remove the difficulty of creating an eCommerce site so you can quickly get started selling online.
Leather Shop Starter Template Features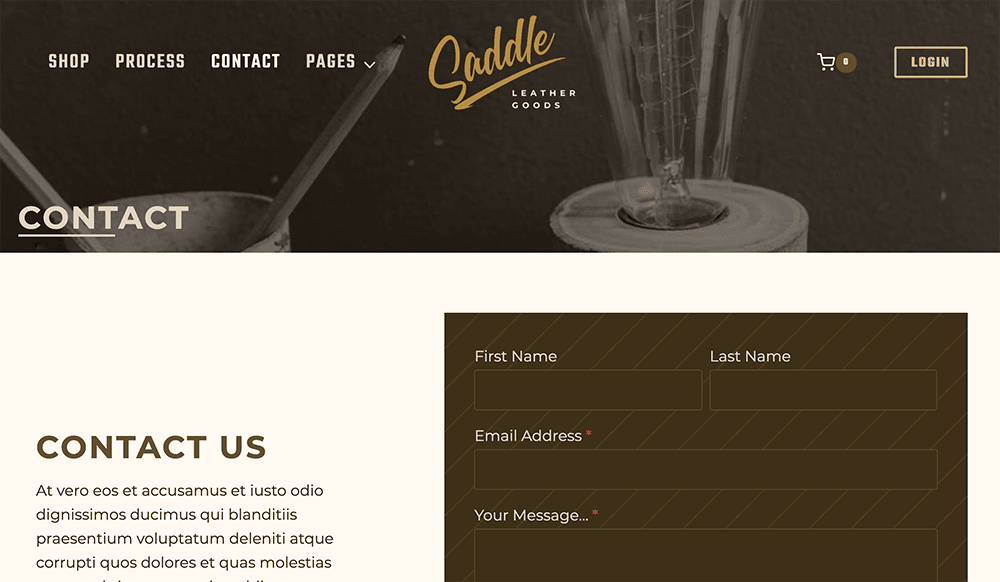 The Leather Shop Starter Template can either be used as single pages or as a full site.
Kadence Starter Template full site importing is designed for empty WordPress sites with no content whatsoever. When you import, your WordPress customizer settings, widgets, menus will all be overridden. It is recommended that you enable "Delete Previously Imported Posts and Images" if you are testing out different starter templates.
Features include:
A Home Page video hero area. The home page features a hero background that can be customized with your own looping video to add a dynamic element to your site's first impression without weighing down your load times.
WooCommerce shop pages. All of the shop pages are themes WooCommerce shop, product, account, and checkout pages.
Clean navigation. The top navigation on every page is clean and customizable for your shop's specific product offerings.
Product supportive pages. Leather Shop contains pages that can be customized for your own about, contact, and other pages to support your brand.
The header and footer for the Leather Shop Starter Template is easily customizable with Kadence as with all Kadence-powered websites. Customizing headers and footers can be done through the WordPress customizer. Use the pre-populated options, or customize your header and footer to meet your objectives.
Requirements for using Leather Shop Starter Template
In order to get the full experience of Leather Shop, a number of plugins will be automatically installed if you do not already have them installed. These include:
Kadence Theme
Kadence Blocks
Kadence Block Pro
Kadence Pro
WooCommerce
How to Get Started with Leather Shop Starter Template
The Leather Shop Starter Template is a Pro starter template. It is available with Pro Starter Templates for Kadence Theme Pro, which is a plugin that is only available with one of our value-packed bundles, including the Essential Bundle, Full Bundle, or Lifetime Bundle.
Before you begin, you'll need to install these plugins. These plugins are available to download from your Kadence Account.
Kadence Pro Plugin – Premium addon for Kadence Theme
Kadence Blocks – PRO Extension
Once you've installed, activated, and licensed the Kadence Pro – Premium addon for the Kadence Theme and the Kadence Blocks Pro Extension plugins, navigate to Appearance > Kadence in your WordPress Admin dashboard.
If you're new to Starter Templates, click the Activate Starter Templates button. We'll handle installing the Kadence Starter Templates plugin. You'll see the library of Starter Templates now available on this page.
If you already have Kadence Starter Templates active on your site, be sure to click the Refresh icon at the top of the Kadence > Starter Templates tab to get this brand new Pro Starter Template.
On initial import of the starter template, you'll be given the option to change your color scheme and font family. The default colors are fun and inviting but you can always adjust the colors to match your desired look and feel.
After import, from the Kadence > Dashboard in your WordPress admin dashboard, click the Customize link in the Global Colors box. From here, you can select the colors for your site's Global Palette. You can get started with the pre-populated colors that come with Leather Shop, or use your own. Change your mind in a few weeks? Easily change colors in the future that are populated site-wide.
The best way to get started with Kadence Starter Site Templates is to just set up a site and start playing with various colors, fonts, layouts and designs. And Kadence makes that simple.
Kadence Shop Kit
If you're really looking to create an amazing eCommerce site with Kadence, we highly recommend checking out the Kadence Shop Kit that adds additional features and functionality to your WooCommerce storefront. 
And if you're looking for additional WooCommerce plugins to add additional functionality and reduced friction to your WooCommerce checkout, IconicWP has a full set of feature rich plugins that do just that. The streamlined WooCommerce checkout offered by Iconic's Flux Checkout sets the standard for easy checkout for WooCommerce storefronts.
Buy a Kadence Bundle To Get Access to Pro Starter Templates!
At the time of this publication, all Kadence annual plans are 25% during our 2021 holiday sale, so it's a perfect time to get a Kadence Essential or Kadence Full Bundle. Both the Essential Bundle and the Full Bundle include the Leather Shop Pro Kadence Starter Template, as well as much more.
We're constantly adding new starter templates and you will get access to all new PRO starter templates when they're added. All purchases come with a 30-day money-back guarantee, no questions asked!