New Starter Templates for LearnDash Course Creators
We're excited to announce two new course starter templates for LearnDash course creators: the Digital Course starter template and the SEO Skills starter template. Both templates can be found in the Kadence Starter Template plugin, freely available in the WordPress repository. Both starter templates require LearnDash, and both starter templates are optimized for both site speed and accessibility. 
Last week we announced the Business Courses starter template for LearnDash course creators. Now there are three new LearnDash-focused starter templates to choose from.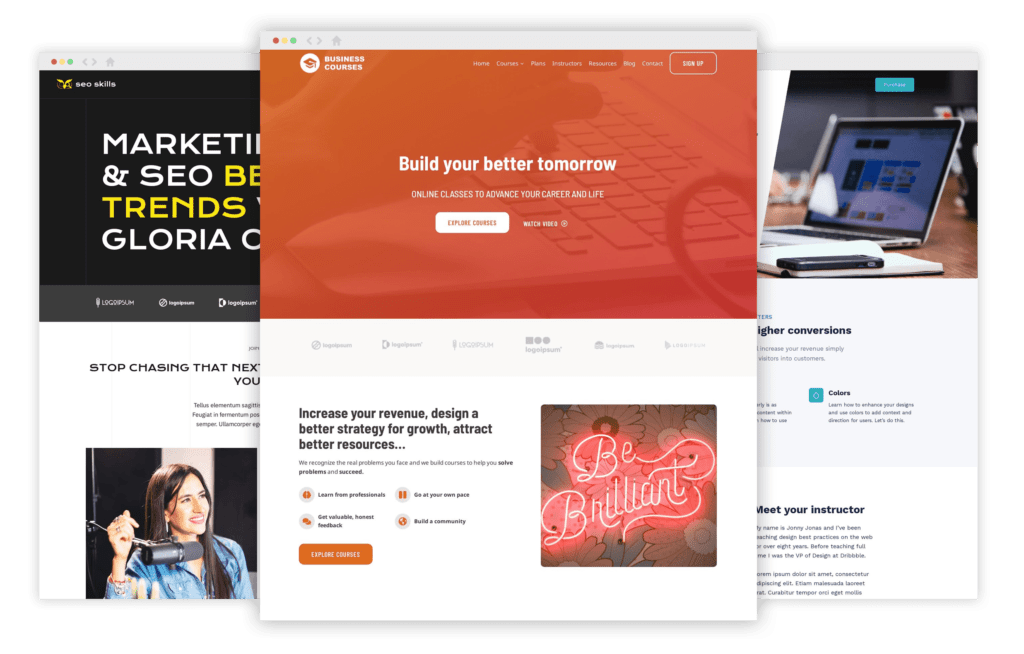 Why Kadence is focused on online learning
You see, we know that WordPress is a leading choice for course creators looking to create new revenue streams by teaching what they know and for educational institutions looking to make more user friendly and fast-loading courses for students of all ages.
The learning management market continues to grow. More organizations are focusing on education as a way to build brand loyalty and recognition by helping customers and prospects learn new skills and capabilities to help them grow their businesses and create new opportunities. 
According to Fortune Business Insights, the global learning management system marketing is projected to grow at a compound annual growth rate of 18.7%. This means that there are more course creators developing learning opportunities than ever before and that's projected to continue growing.
What does this mean for course creators?
If you've ever wanted to create a revenue stream by teaching what you know, there's no better time for you to monetize your expertise. Whether you're looking to teach a course about web development or how to start a new nail salon business, WordPress, Kadence, and LearnDash is the perfect combination. If you've got expertise, there is a market of learners waiting for you to share your knowledge. 
According to a 2019 survey conducted by Course Method, 43% of coaching professionals are turning to course creation to monetize their expertise and sell their knowledge online.
While there are numerous methods of getting your knowledge monetized online via a course, we believe that LearnDash and WordPress is the proven best way to get started. Not only are you building your empire on an open-source WordPress platform that you own and can customize, you're using the best-in-class Learning Management System to do so.
Kadence is committed to helping course creators develop a platform that allows them to grow and scale, and to do so by creating high quality, accessible, and fast-loading course pages that best serve online learners. 
Kadence is the easy way to get started
The last thing a new course creator wants when they're getting started building their course is to look at a blank page. Building engaging courses for effective learning requires forethought and planning, which is why Kadence makes design, layout, and intuitive navigation an easy place to start. With so much effort going into creating effective and engaging course content, the last thing you want is to start thinking about design elements and colors from scratch. 
That's why the three LearnDash focused starter templates are the easiest way to get started. These three templates are customizable with both your own imagery and color palettes. Or, you can keep the elements in the starter templates and build your site using the royalty free images Kadence Starter Templates provides for you.
Getting started with Kadence's LearnDash Starter Templates
Getting started with the LearnDash starter templates is easy. First, make sure you've got LearnDash and [any other plugins] that are required for these starter templates installed.
Once you've installed Kadence Theme, navigate to Appearance > Kadence in your WordPress Admin dashboard.
From the Kadence menu, navigate to the Starter Templates tab.
If you're totally new to Starter Templates, click the Activate Starter Templates button. We'll handle installing the Kadence Starter Templates plugin.
You'll see the library of Starter Templates now available on this page.
If you already have Kadence Starter Templates active, be sure to click the Refresh icon at the top of the Kadence > Starter Templates tab.
You can then select a Single Page or the Full Site (only recommended for fresh WordPress installs).
Please Note: Full site importing is intended for new/empty sites with no content. Your site customizer settings, widgets, menus will all be overridden when you import a full site Kadence Starter Template.
That's it! All done. You now have the Business Courses Starter Template loaded onto your site. No matter your experience level with WordPress, Kadence Starter Templates make building a beautiful, engaging, and fast loading site simple. With a few clicks, you're ready to customize, add your own course content, and launch a beautiful new site.
Buy a Kadence Bundle To Get Access to Pro Starter Templates!
Sign up for one of our bundles to access our Kadence plugins and themes, including Pro Starter Templates. We're constantly adding new starter templates to the Kadence experience, so your investment in Kadence Bundles will continue to provide new templates to make staying current with new design trends easier than ever. You'll get access to an additional library of PRO starter templates that is ONLY included with one of our value-packed bundles, including the Essential Bundle, Full Bundle, or Lifetime Bundle. All of our purchases come with a 30-day money-back guarantee, no questions asked!
Until November 30, 2021, Kadence is offering all products (except the lifetime bundle) at a 40% off discount as a part of our Black Friday sale. If you've been waiting to start your new website, now is the time to take advantage of all Kadence has to offer.