New! The Gardener eCommerce Pro Starter Template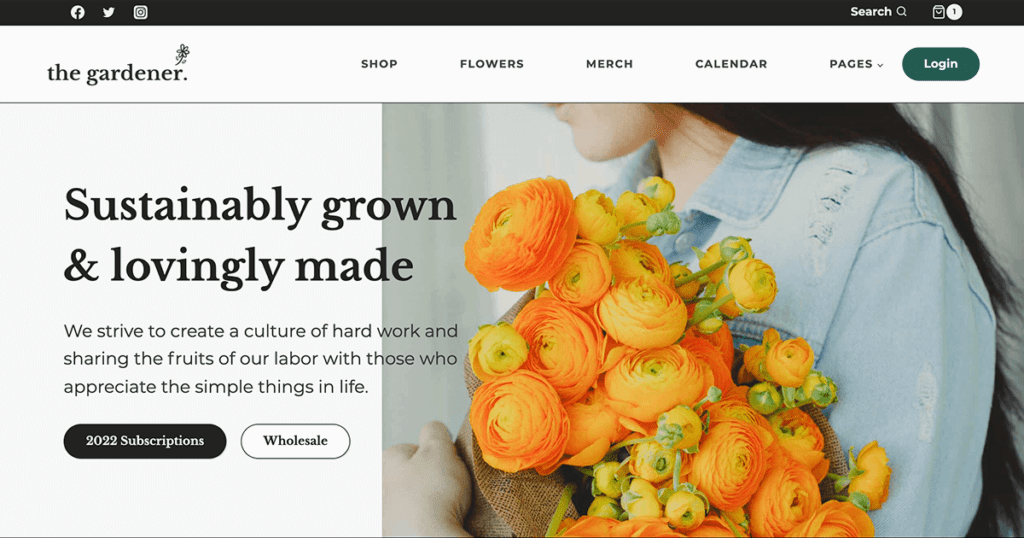 The Kadence team has been rapidly releasing powerful and gorgeous starter templates, releasing both free and pro options for site owners looking to easily create beautiful websites. Whether you're looking to create a performance optimized eCommerce site, a course site, membership sites or various other implementations, there's a Kadence Starter Template that can get you started building quickly.
The Gardener is a blazingly fast Kadence Pro Starter Template specific for WooCommerce sites selling visually appealing products. The Gardener was built with the same performance and visual appeal that you've come to expect from Kadence.
Who is The Gardener Starter Template Good for?
If you're selling plants, cut flowers, or any kind of gardening or houseplant merchandise, this is a perfect way to get started selling online. Not only have we added quite a bit of copy to get your site growing as well as your garden, all of the photography on the site is freely available for your use. Of course, you can always customize the photography specific to your needs, as with any starter template. You can also customize fonts, colors, and other attributes of the starter template to truly make this framework your own unique WordPress eCommerce site.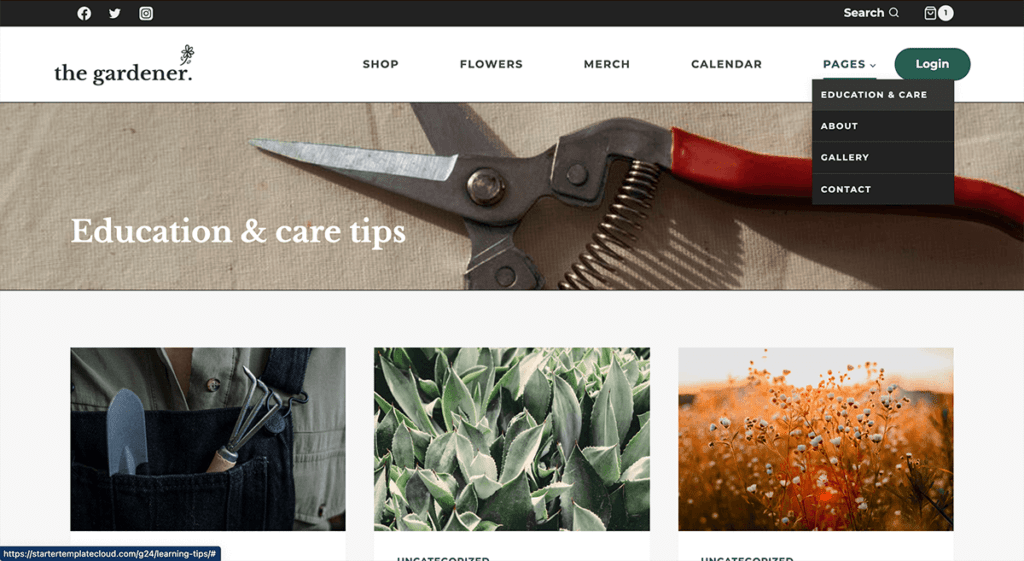 And if your business is bringing your products to local farmer's markets, you can easily list these using The Events Calendar. The Gardener Starter Template gets you started with three farmer's market example events.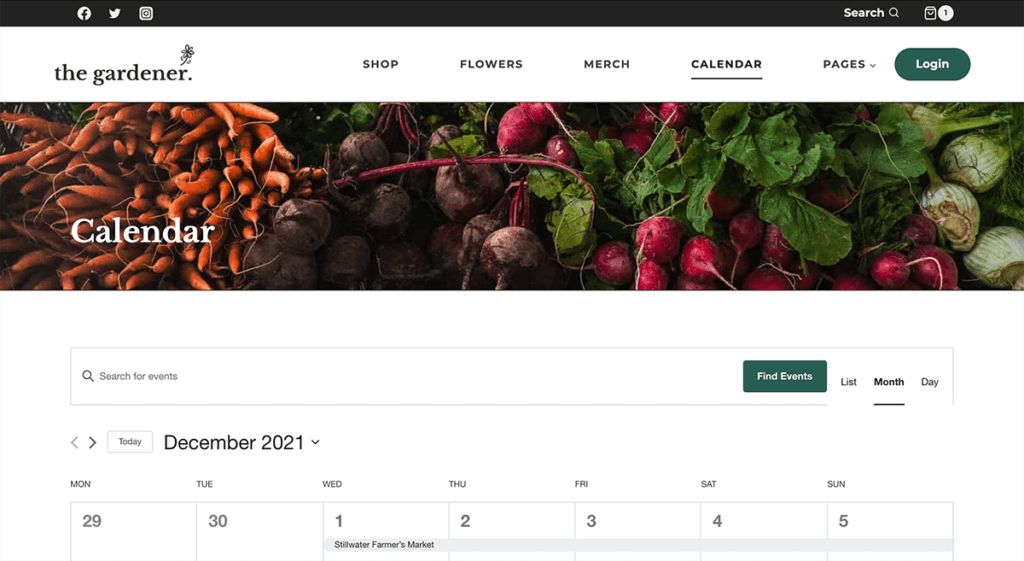 But The Gardener Starter Template from Kadence is not just for a garden-themed eCommerce business. Because the Starter Template is built with both WooCommerce and The Events Calendar plugins in mind, there are numerous other businesses that could quite easily take this template and quickly customize for their own market.
Selling produce, arts & crafts, kombucha, or anything else from your cottage, at-home business at a farmer's market? Swap the beautiful pictures of flowers and plants with examples of your products to take the hard work of building a gorgeous WordPress website out of the equation. The Gardener is built as a framework for you to get started quickly.
Any eCommerce store that has an events component, numerous product categories, and has strong, high quality photography to showcase products can easily customize The Gardener as their own.
What does The Gardener Starter Template include?
The Gardener Starter Template can either be used as single pages or as a full site. Full site importing is designed for new/empty sites with no content. Your customizer settings, widgets, menus will all be overridden. It is recommended that you enable "Delete Previously Imported Posts and Images" upon import if you are testing out different starter templates.
The overall framework of The Gardener offers a top secondary navigation providing space for social links, search, and cart navigation. A login button helps your customers quickly access their account to check status on orders, and obtain any account specific information.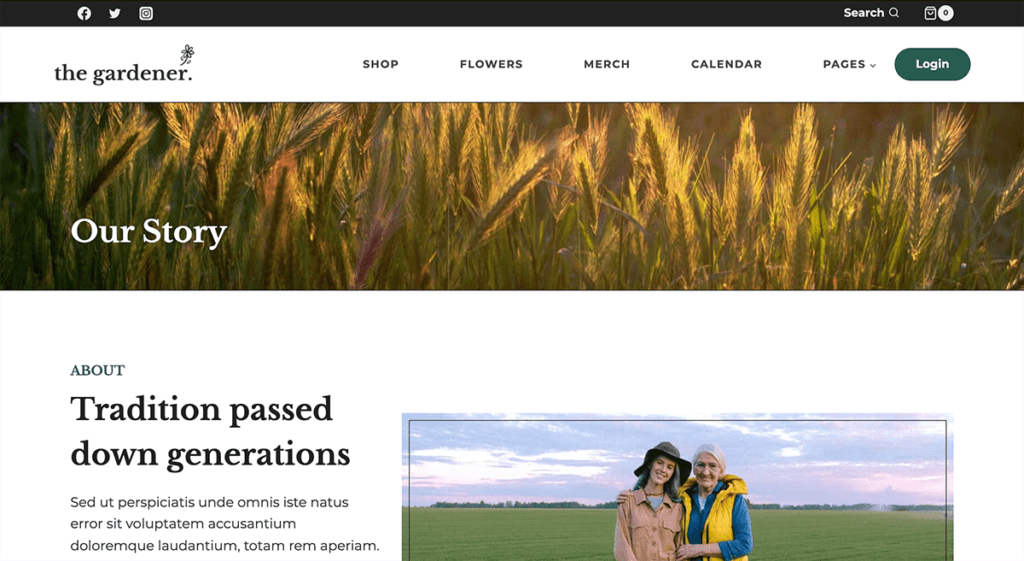 Features include:
An inviting home page. The home page contains numerous sections to make for easy scrolling through your online storefront's offerings.
WooCommerce shop pages. All of the shop pages are customized WooCommerce shop, product, account, and checkout pages.
Slide-in cart. When a user adds an item to the cart, they stay on the page, seeing the item added to the cart in a slide-in cart element that doesn't interrupt the browsing experience.
Flowers category main navigation. Highlight a product category in your site navigation to allow users to dive into shopping easily. The theme is pre-populated with 22 different products you can easily customize.
Merch category main navigation. Another product category that can easily be customized.
Subscriptions! Looking to add a subscription element to your business? The Gardener starter template gives you a framework to easily do so.
An events calendar. Managed by The Events Calendar plugin, the calendar page is designed to easily show where your business will be in the future.
Education and Care page. Perfect as a template for blog posts and news items. The starter template comes with 9 pre-populated posts that you can easily customize.
About. Customize with your own story so your site visitors can get to put faces with the brand. People love doing business with people they know, so help them make these connections.
Gallery. Create a stunning visual experience highlighting features of your farm, or any aspect of your business.
Contact. A contact form lets your audience get in touch, while a FAQ section helps them answer their questions easily and quickly, and we've also added a section at the bottom where you can optionally show recent blog posts.
The header and footer for The Gardener Starter Template is easily customizable with Kadence as with all Kadence-powered websites, through the WordPress customizer. Use the pre-populated options in The Gardener Starter Template, or customize your header and footer to meet your business' objectives in connecting with your audience.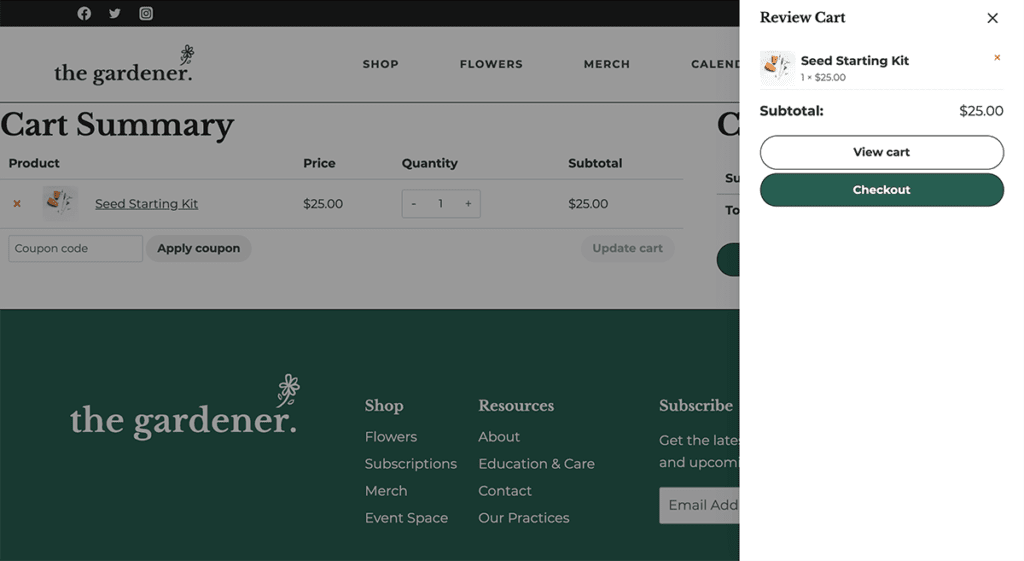 Requirements for using The Gardener Starter Template
In order to get the full experience of The Gardener, a number of plugins will be automatically installed if you do not already have them. These include:
Kadence Theme
Kadence Blocks
Kadence Block Pro
Kadence Pro
WooCommerce
The Events Calendar
You won't need to pre-install these plugins. When you get started with The Gardener Starter Template, Kadence will do all of the work for you. You will however need to activate your Kadence licenses to use this Pro Starter Template. Here's how to get started.
How to Get Started with The Gardener Starter Template
The Gardener Starter Template is a Pro starter template available with Pro Starter Templates for Kadence Theme Pro, ONLY included with one of our value-packed bundles, including the Essential Bundle, Full Bundle, or Lifetime Bundle.
Before you begin, you'll need to install these plugins. These plugins are available to download from your Kadence Account.
Once you've installed, activated, and licensed the Kadence Pro – Premium addon for the Kadence Theme and the Kadence Blocks Pro Extension plugins, navigate to Appearance > Kadence in your WordPress Admin dashboard.
If you're new to Starter Templates, click the Activate Starter Templates button. We'll handle installing the Kadence Starter Templates plugin. You'll see the library of Starter Templates now available on this page.
If you already have Kadence Starter Templates active on your site, be sure to click the Refresh icon at the top of the Kadence > Starter Templates tab to get this brand new Pro Starter Template.
On initial import of the starter template, you'll be given the option to change your color scheme and font family. The default colors are fun and inviting but you can always adjust the colors to match your desired look and feel.
After import, from the Kadence > Dashboard in your WordPress admin dashboard, click the Customize link in the Global Colors box. From here, you can also select the colors for your site's Global Palette. You can get started with the pre-populated colors that come with The Gardener, or use your own. Change your mind in a few weeks? Easily change colors in the future that are populated site-wide.
Recommended Additional Plugins
If you're really looking to create an amazing eCommerce site with Kadence, we highly recommend checking out the Kadence WooCommerce ShopKit that adds additional features and functionality to your WooCommerce storefront for even more opportunities to create amazing eCommerce experiences. This plugin is available in the Full and Lifetime Bundles.
Buy a Kadence Bundle To Get Access to Pro Starter Templates!
Sign up for one of our bundles to access our Kadence plugins and themes, including Pro Starter Templates. We're constantly adding new starter templates to the Kadence experience, so your investment in Kadence Bundles will continue to provide new templates to make staying current with new design trends easier than ever. You'll get access to an additional library of PRO starter templates that is ONLY included with one of our value-packed bundles, including the Essential Bundle, Full Bundle, or Lifetime Bundle. All of our purchases come with a 30-day money-back guarantee, no questions asked!
Thanks for using Kadence!