Now You've Got the Bundle: How to Get Started
Resources for Getting Started
If you're new to Kadence, welcome! We truly are so honored that you've decided to use our products for your websites. If you've been around a while, we're glad you've decided to stick around! This community means the world to us and it brings us so much joy to see it grow.
Kadence offers a LOT, so getting started can feel a little overwhelming. This video is a perfect little guide for getting you going. We also have a full knowledge base where you can search for all the specifics. And of course, if you need help along the way, our support team is more than happy to be a guide!
Another incredible resource is our Web Creators Community Facebook group. Join nearly 10,000 other Kadence lovers who are engaged and excited about the happenings at Kadence. Here you can glean from others, get fresh inspiration, and offer your own wisdom and insights.
To get you even more excited, we wanted to highlight a few key features that you get with Kadence.
Starter Templates
Kadence starter templates make it all-too-easy to create stunning websites with just a few clicks. Simply choose a starter template, choose your colors and fonts, add in your own content, and there you have it! With nearly 100 starter templates and new ones coming all the time, you are bound to find the perfect template for you! We even have starter templates with built-in integrations with plugins like LearnDash, The Events Calendar, GiveWP, WooCommerce, and many other integrations.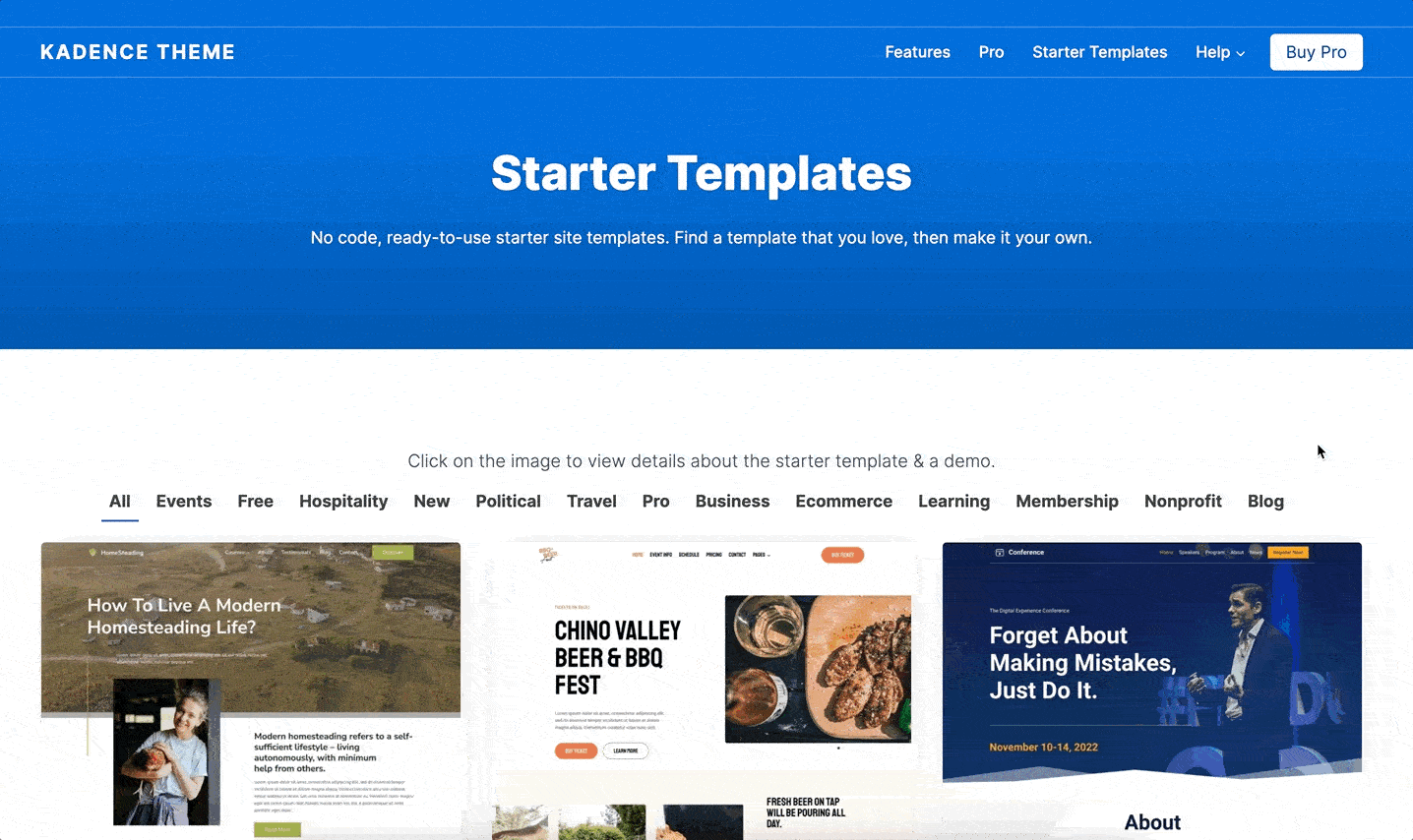 Kadence Blocks
Kadence Blocks is a powerful and versatile extension to the WordPress editor (formerly known as the Gutenberg editor). This plugin adds blocks to the WordPress editor that allow you to create everything from custom galleries to lightweight Lottie animations to post carousels and grids. One of the great things about Kadence is that anyone can use it, no coding necessary! Kadence Blocks even has a form block that almost entirely eliminates the need for an additional form plugin.
These blocks are lightweight, so they won't slow down your site like a page builder plugin would. And only the code to support the blocks you use is loaded on the front end of your site, meaning that your pages load without any extraneous code. With responsive controls, visibility and user settings, configurable defaults and so much more, the sky is truly the limit for what you can build with Kadence Blocks.
Kadence Conversions
This Kadence plugin is a no-code tool makes it simple to add slide-ins, banners, and lightweight pop-ups that catch your customers eye. Kadence Conversions can help to significantly boost your conversions without affecting your page speed. An incredible perk with Kadence Conversions is that they don't just help with one-time-sales, they help create customers that will come back again and again. With banners and pop-ups that encourage the customer to "Subscribe and Save" or "Take 20% off your next purchase." These simple attention-grabbing gestures are huge when it comes to creating lasting customers that keep coming back.
Kadence Shop Kit
If you're using WooCommerce on your WordPress site, you're going to want to dive into Kadence Shop Kit. This plugin includes over 15 modules that help to significantly enhance your WooCommerce experience. With everything from variation swatches to advanced gallery features, this plugin brings your eCommerce shop to a whole new level. It even comes with the ability to create custom product pages, allowing you to truly customize your products and incorporate your brand in a way that shows off who you are while engaging with your customers.
Numerous other plugins
If you've got the Full or Lifetime Bundle, there are numerous other plugins that you now have in your toolkit that may be useful to your site building adventure. If you don't need any of this functionality, you don't need to install these plugins. They're available to you if you need them, when you need them. These include:
Kadence reCAPTCHA. Use the Kadence reCAPTCHA plugin to thwart comment spam, or to make carding attacks more difficult for malicious attackers. If your site doesn't have forms, you might not ever need this plugin, but it's there for you in case you do.
Kadence Galleries. Do you have a large number of photos that you want to share with site visitors? The Kadence Galleries plugin might be just what you need to organize and display imagery wherever you'd like.
Kadence Simple Share. This plugin can be helpful for giving your audience a way to share your content to their social networks. A lightweight plugin that is easy to use, this is only available for Full/Lifetime Bundle customers.
Kadence Custom Fonts. If you're using a custom font that isn't a part of the set of Google standard fonts, you can still use a custom font on your WordPress site, and this plugin, only available to Full/Lifetime Bundle customers, makes it very easy.
Kadence Reading Time. We get it. Everyone is busy, and people often want to know ahead of time how long a post might take to read. This plugin provides that encouragement of, "Hey, got 3 minutes?" or a warning that they might want to brew a beverage before a deep dive. This plugin is only available to Full/Lifetime Bundle customers.
Kadence Related Content. Keeping a visitor on your site to consume your content is an important part of sending messages to the search engines that there is important content on your site. (Assuming that you use Google Analytics here.) It also helps them engage more with your brand, learn more about your products and services, and potentially gives them more reason to become a customer. End your posts with encouragement to read related content using this plugin, only available to Full/Lifetime Bundle customers.
Kadence Cloud
If you're building more than one site, or maybe you have an idea to build a design library based on Kadence like many of our advanced customers are doing, then the Kadence Cloud plugin can help. If, for example, you build an amazing pricing table that you'd like to use on many sites, add it to your own personal design library so it's readily accessible for all of your sites. One of our sibling software brands, GiveWP, used Kadence Cloud to create a library of donation plugins for their customers to help nonprofits use Kadence and GiveWP to build donation pages faster. Here are some of our advance customers' design libraries:
Kadence Child Theme Builder
Going into business selling child themes? There are a number of WordPress designers that are doing amazing things with starter site themes on the Kadence platform. Here are a few that are using the Child Theme Builder to do so:
What will you build?
As you can see, if you just got the Kadence Full or Lifetime Bundle, there are many ways that you can get started building your dream online. Whether you're building for just one site, building a set of niche blogs, building sites for others, Kadence has everything you need. And with outstanding support and an amazing community, you're set for success.
And, when you've got something to show us, please let us know!
If you missed our Black Friday/Cyber Monday Sale, you can still get in on all that Kadence offers.