Restrict Content Access by Block with Kadence Blocks
Kadence Blocks plugin version 2.2.7 adds a new integration with the Restrict Content plugin that allows site owners using both plugins to restrict access to content contained within a block. Any block available to the site publisher is automatically open to content restriction with the Restrict Content plugin using the free version of Kadence Blocks and the Row Layout block.
In this post, we're looking at the Restrict Content plugin's capabilities and the free integration added to the Row Layout block in Kadence Blocks. This free integration offers site owners incredible power to create both paid and free memberships and easily offer exclusive content.
What is the Restrict Content plugin?
The Restrict Content plugin is a free content restriction and membership plugin available on the WordPress repository. Based on Restrict Content Pro, a popular plugin that has been available for years with 34 different add-on features, the free Restrict Content plugin has features you cannot find in any other free membership/content restriction plugin that have been time tested by the Restrict Content Pro plugin.
The free version of Restrict Content offers the ability to restrict access to content based on membership levels, and even includes the ability to take payments, generate invoices, and membership emails. It is most often used by membership sites, by news publications that want to put content behind a paywall, or anyone looking to get site visitors to register prior to consuming content.
How to restrict access to content with Kadence Blocks
Restricting content with Kadence Blocks and Restrict Content is easy. You'll need to have both plugins installed and active on your site. Once you do, simply start writing a page or a post.
Setup Restrict Content Membership Levels
The Restrict Content plugin is exceptionally powerful in its features and flexibility, allowing you to set up both membership levels as well as access levels. Determining how you might want to set up your paywalled or membership site for exclusive content will be different based on your user needs, and the documentation on Restrict Content's website gives you everything you need to start making decisions about membership levels and there's even a demo (using Kadence!) that gives you some ideas of how a membership-based content site might work.
Write your content
In our example post, our site owner has important information they would like to restrict access to. People who can receive this important and exclusive content must be members of a certain level.
Restricting content visibility with the Row Layout block
When restricting visibility of certain content, use the Row Layout block. The Row Layout block is an easy way to group content together, and this is where you will find the Restrict Content settings by block.
To ensure you've got the Row Layout selected, click the List View at the top of the page. Then, select Row Layout.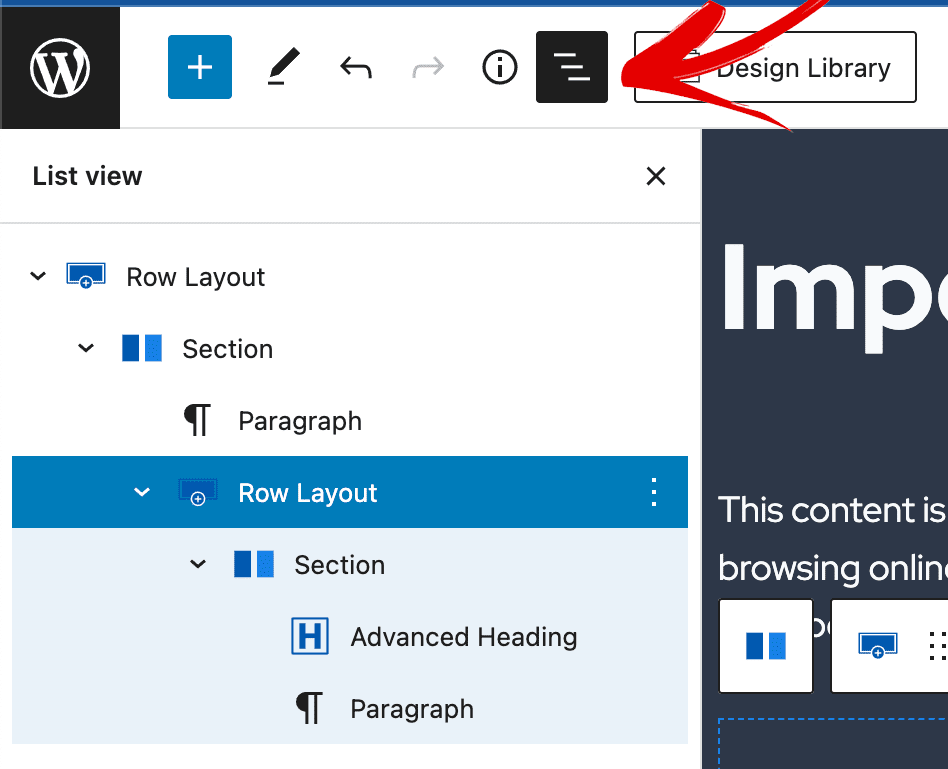 In the right sidebar where you find the block settings, choose Visibility Settings. There, you will find a number of settings, including Restrict based on Membership.
Restricting the entire page
To make the entire page or post restricted, use the settings below the page to restrict by membership level, access level, or even by the capabilities associated with a specific role, such as a contributor, customer, or shop manager. These can be used combined with the member levels. You also have the option to restrict the excerpt for any of the settings you choose. You can read more about content restriction by page or post within the Restrict Content documentation.
Use cases for restricting access to content with Kadence Blocks
Perhaps the most useful case for restricting content by block would be paywalled content. You'd like to have anyone visit a page or post, but you'd like some of the content to only be visible to logged in users with proper permissions via either access levels or membership levels.
This type of access control is very powerful. In this way, you're giving prospective members a taste of the content, but not full access.
We'd recommend adding a second Row Layout block below the restricted content containing an appeal to become a member. Add a brief headline, a brief appeal describing member benefits, and a call to action button. In the same Row Layout settings, use the User Visibility Settings to Hide from Logged in Users. This will hide the appeal to become a member to anyone viewing the full content as a member and only show the call to action to logged out users.
You might even want to add a login form for anyone who might be a member but isn't logged in, and restrict visibility of that block to logged out users as well. We have a very simple example below.

In this way, not only can you add exclusive content, you can restrict your call-to-action to only appear to non-members.
Content Restriction with Kadence is easy
At Kadence we strive to ensure that you have all of the tools you need in order to make effective websites. As a part of StellarWP, we work with a number of other plugin teams to bring great integrations to you. With Restrict Content, adding a free integration to help site owners use this free tool was an easy win.
Are you using content restriction to offer exclusive content? What are some best practices you've learned to attract new members and create compelling content that you've discovered? Share those in the comments below.