Selling Local: The Jewelry Shop Starter Template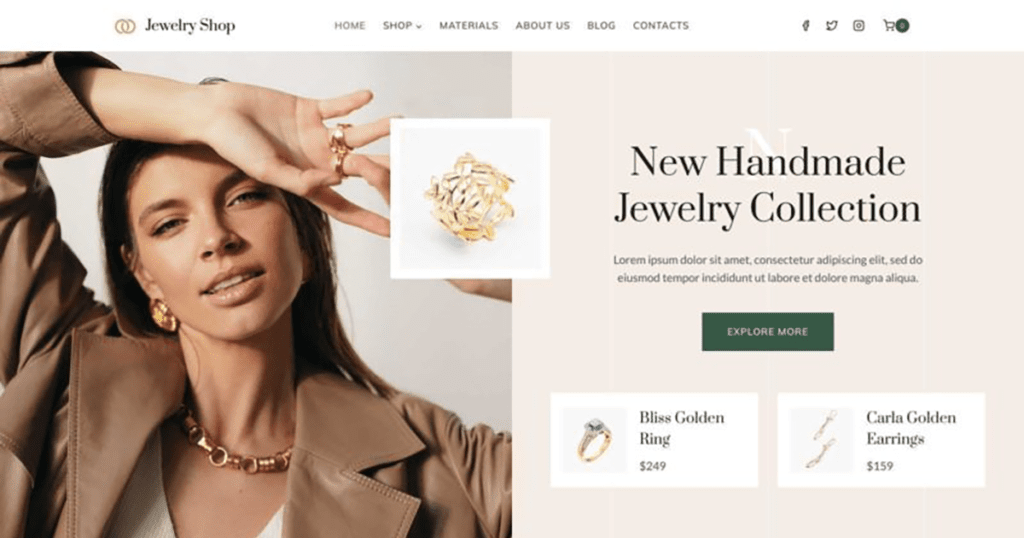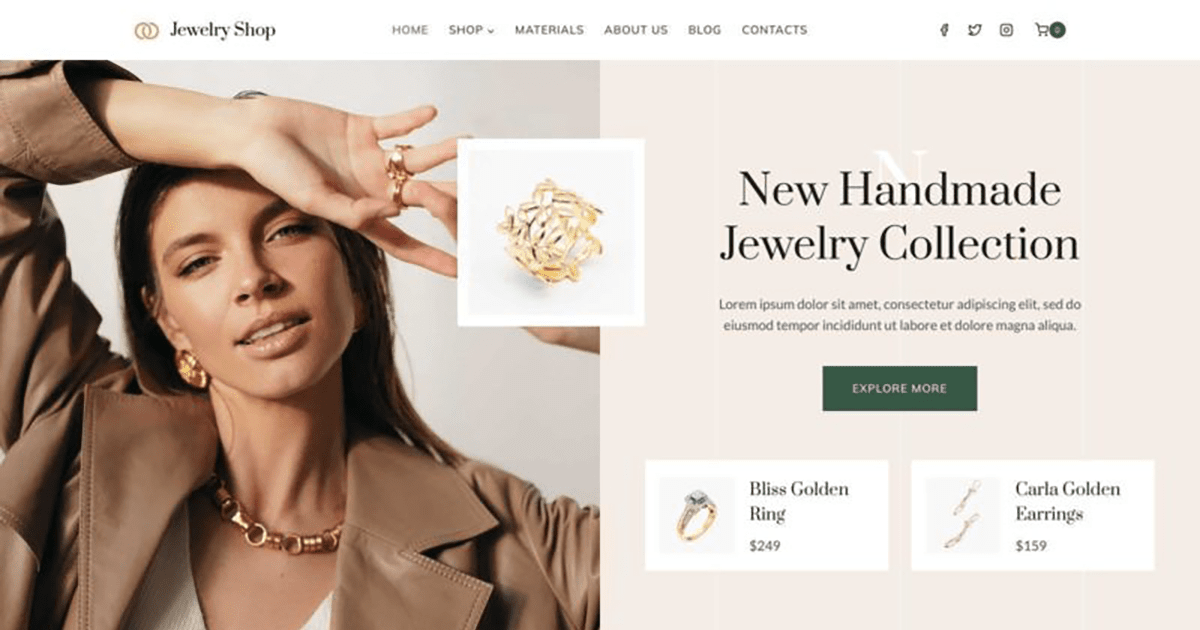 We're excited to introduce you to a new starter template with a bit of unique flair: Jewelry Shop.
Kadence Starter Templates are the fastest way to start building blazingly fast block-based WordPress sites, without touching a line of code. The Kadence team creates gorgeous starter templates, each with a bit of customization and unparalleled design that makes creating a unique site simple. 
Jewelry Shop was built with the same performance and design aesthetic you've come to expect from Kadence starter templates.
With eCommerce sites growing year over year, finding new ways to convert customers in your niche is critical. Locally based businesses have an even more unique challenge in that they have to not only compete online, but with foot traffic complexities as well. And yet, local businesses have the benefit of creating a human connection that is often missing in eCommerce. This unique business model of localized eCommerce business has a number of potential competitive advantages, and the Jewelry Shop starter template has what you need to leverage local online ordering.
We're thrilled to offer a new starter template for local jewelers using a very unique tool that extends the functionality of WooCommerce: Orderable. Orderable is a WordPress plugin that is very useful and easy to use and is intended to assist any local business, especially restaurants, leverage the power of WooCommerce with a local twist.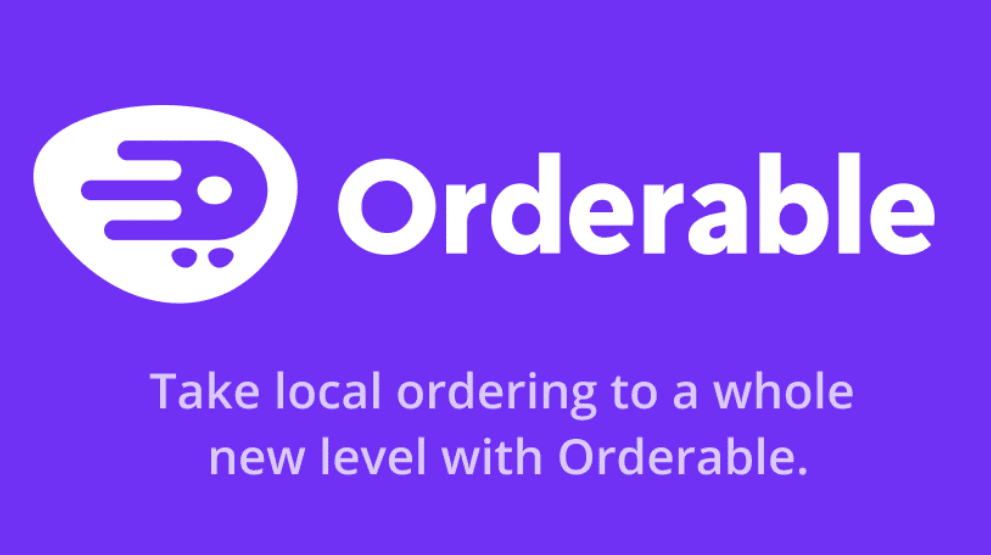 Who can use the Jewelry Shop starter template?
The Jewelry Shop starter template is of course perfect for any jewelry shop, but it can also be used by any artisan that creates customized art, decor, pottery, clothing items, accessories, collectibles, or any custom craft items. Jewelry shop is perfect for stores looking to create a more human connection with customers. With a soft and feminine look and feel, Jewelry Shop can help make your customers feel welcome and at home with an intuitive and easy to use site experience.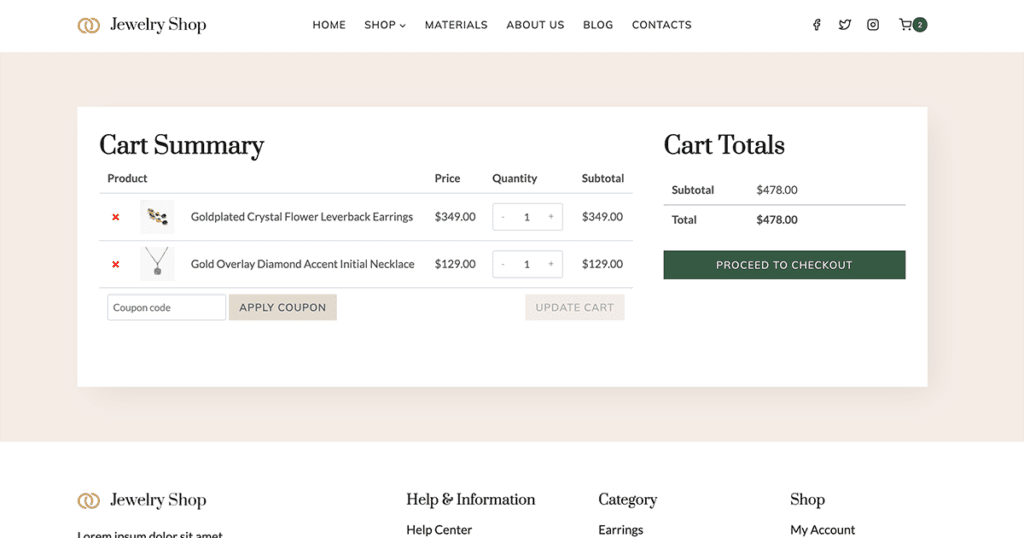 Why build a site with Kadence Starter Templates?
Let's face it. Building a website can be complicated and challenging. When you're a skilled artisan, the last thing you want to do is spend time tweaking pixels for your site. You already have your target market and you've got the skills to create products they want. Many skilled artisans might turn to hosted solutions like Etsy to sell their products, however, you're essentially building your business on someone else's property.
The open source world of WordPress and WooCommerce ensure that you own your site and you own your customer relationships. Kadence Starter Templates gives you the same experience of building a gorgeous storefront but you get to own your site, your customer relationships, and the world of customizations is much wider. Kadence starter templates demystifies open source, unlocking the opportunities you cannot get anywhere else.
What does the Jewelry Shop starter template include?
The Jewelry Shop Starter Template can either be used by importing a single page or as a full site. Full site importing is designed for new/empty sites with no content. Your site customizer settings, widgets, menus will all be overridden. It is recommended that you enable "Delete Previously Imported Posts and Images" if you are testing out different starter templates.
The overall framework of the Jewelry Shop starter template offers a top navigation providing space for social links, search, and cart navigation. A login button helps your customers quickly access their account to check status on orders, and obtain any account specific information.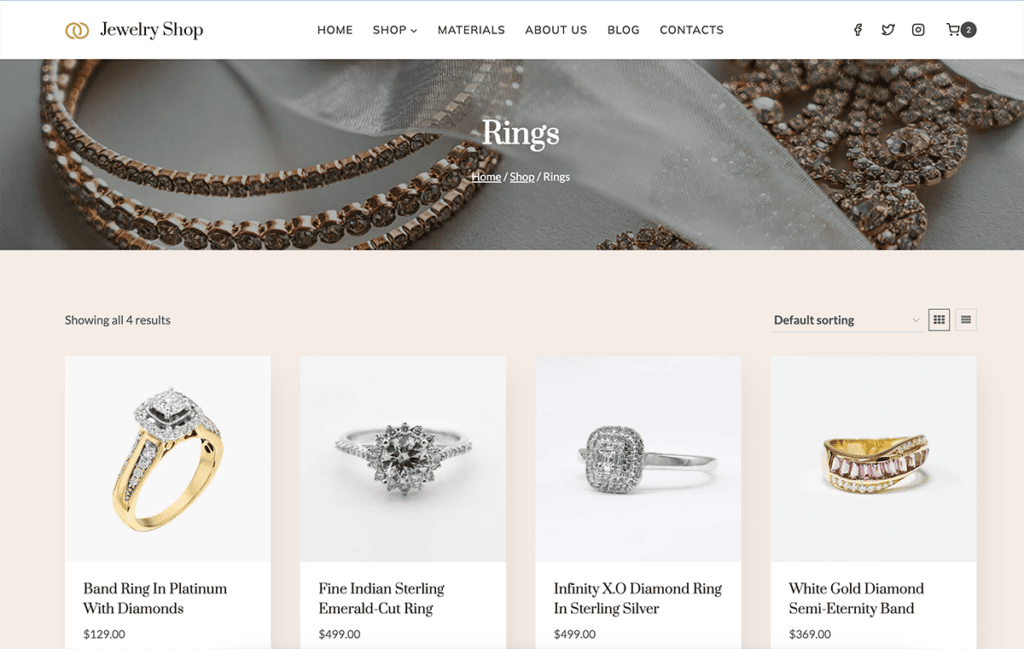 Features include:
An inviting home page. The home page contains numerous sections to make for easy scrolling through your jewelry shop's storefront's offerings. 
WooCommerce shop pages. All of the shop pages are customized WooCommerce shop, product, account, and checkout pages. 
Sample products. In three different product categories, the Jewelry Shop starter template offers 12 prebuilt products that you can customize for your own shop. 
Slide-in cart. When a user adds an item to the cart, they stay on the page, seeing the item added to the cart in a slide-in cart element that doesn't interrupt the browsing experience. 
Materials page. Showcase the high quality ingredients used in your artisan shop. 
About. Customize with your own story so your site visitors can get to put faces with your  brand. 
Blog. Add the latest news to your WordPress site to show that your brand continues to innovate and connect with your customers. The Jewelry Shop contains seven sample blog posts that you can customize for your own shop's offerings. 
Contact. A contact form lets your audience get in touch, while a FAQ section helps them answer their questions easily and quickly. A new embedded Google Map using Kadence Blocks helps you show your local customers how to easily find you, no matter where you are in the world.. 
The header and footer for the Jewelry Shop Starter Template is easily customizable with Kadence as with all Kadence-powered websites, through the WordPress customizer. Use the pre-populated options in the Jewelry Shop Starter Template, or customize your header and footer to meet your business' objectives in connecting with your audience.
Requirements for using the Jewelry Shop starter template
In order to get the full experience of The Jewelry Shop, a number of plugins will be automatically installed if you do not already have them installed. These include:
Getting started with Jewelry Shop Starter Templates
Getting started with Kadence starter templates is easy. If you haven't set up WooCommerce and Orderable yet, that's okay. The Kadence Starter Site Template Plugin will import whatever is needed to get your starter template up and running, including supporting plugins.
Once you've installed Kadence Theme, navigate to Appearance > Kadence in your WordPress Admin dashboard.
From the Kadence menu, navigate to the Starter Templates tab.
If you're new to Starter Templates, click the Activate Starter Templates button. Kadence will handle installing the Kadence Starter Templates plugin. You'll see the library of Starter Templates now available on this page.
If you already have the Kadence Starter Templates plugin activated, be sure to click the Refresh icon at the top of the Kadence > Starter Templates tab to ensure you've got the many new starter templates in your plugin.
You can then select a Single Page or the Full Site.
Please Note: Full site importing is intended for new/empty sites with no content. Your site customizer settings, widgets, menus will all be overridden when you import a full site Kadence Starter Template.
It will take a bit to get all of the content, images, and configurations installed, but once that's completed, you now have your new WooCommerce Starter Template loaded onto your site.
No matter your experience level with WordPress, Kadence Starter Templates make building a beautiful, engaging, and fast loading site simple. With a few clicks, you're ready to customize, add your own course content, and launch a beautiful new site.
Recommended Additional Plugins
If you're really looking to create a fully functional eCommerce site with Kadence, we highly recommend checking out the Kadence WooCommerce ShopKit that adds additional features and functionality to your WooCommerce storefront.
Buy a Kadence Bundle To Get Access to Pro Starter Templates!
Sign up for one of our bundles to access our Kadence plugins and themes, including Pro Starter Templates. We're constantly adding new starter templates to the Kadence experience, so your investment in Kadence Bundles will continue to provide new templates to make staying current with new design trends easier than ever. You'll get access to an additional library of PRO starter templates that is ONLY included with one of our value-packed bundles, including the Essential Bundle, Full Bundle, or Lifetime Bundle. All of our purchases come with a 30-day money-back guarantee, no questions asked!