How to Create a WordPress Button
Do you want to create an advanced button that will make it easy for your readers to follow the action on your content? Whether you want to offer several levels of an offer or several options on a single line, the advanced button will give you the ability to make what you need with a few clicks of your keyboard – without having to do any coding!

Do I Need a WordPress Button Block
First things first: do you need a WordPress button block? No, not necessarily!
With the free Kadence Blocks plugin, you get an entire library of WordPress blocks, including an advanced button block, form block, table of contents block, and more. With a plugin like Kadence Blocks that adds all of these types of elements to your website, you don't need a separate WordPress countdown timer plugin.
Each Kadence Block is crafted with care with regard to performance, accessibility, and extensibility. These blocks are not simply one preset-styled item, but tools to create beautiful content with unlimited design potentials.
In the past, you might have used a separate button block, shortcode, or maybe created your own through a complicated process of images and links. You don't have to anymore. Kadence Blocks give you an entire library of useful elements like the advanced button block with lots of customization options. And because Kadence Blocks works in the WordPress block editor, you can add the buttons you need and tweak settings from inside your WordPress page or post.
How to Create a Button in WordPress
The Kadence Blocks Advanced Button allows you to configure unique buttons in a number of different ways. You can have one or up to five all with unique stylings. These buttons allow you to create a roadmap for your visitors to guide them onto the path you have designed.
To get started, download and install the Kadence Blocks plugin.
From within your WordPress admin, you can navigate to Plugins > Add New.
Then in the top right corner search for "Kadence Blocks."
Finally, once you see the Kadence Blocks Plugin, click the Install Now button.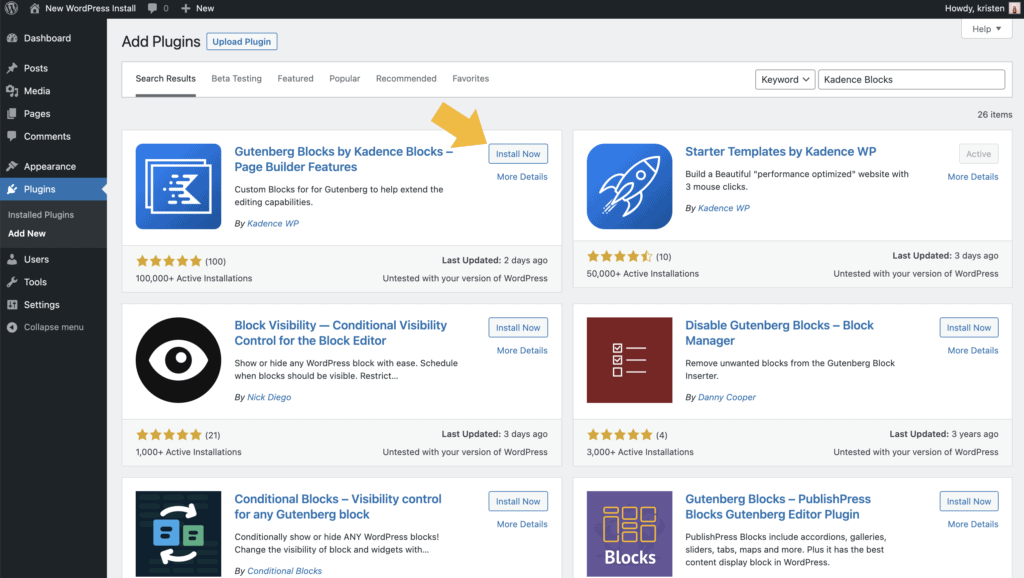 After activating the plugin, you'll see the Kadence Blocks settings screen with options for deactivating blocks you may not need or want.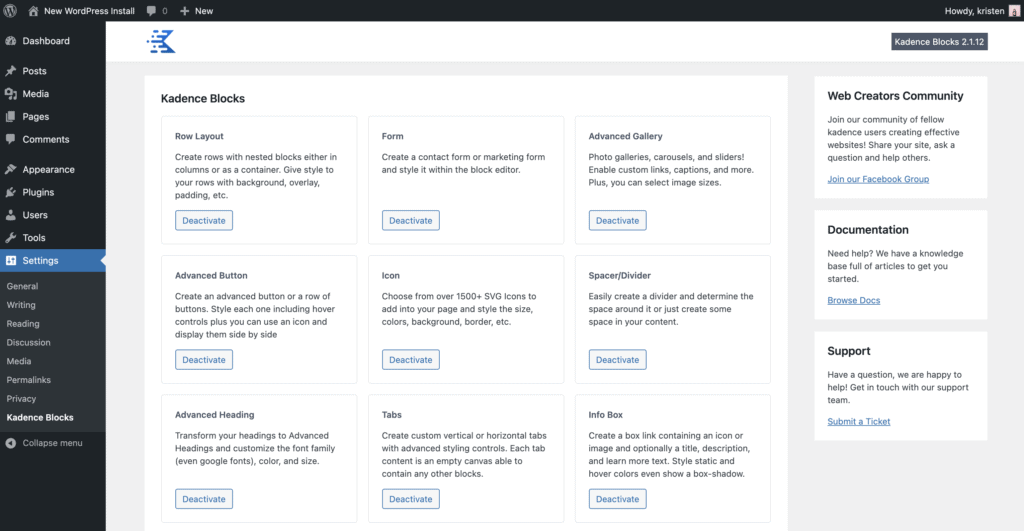 Now, navigate to the post or page that needs a countdown timer.
Click the "+" icon to see the available blocks you can add to your post or page (in the image below the + has been clicked so the block menu is now open).
Find Advanced Button in the list.
Click the Advanced button icon to add a button to your post or page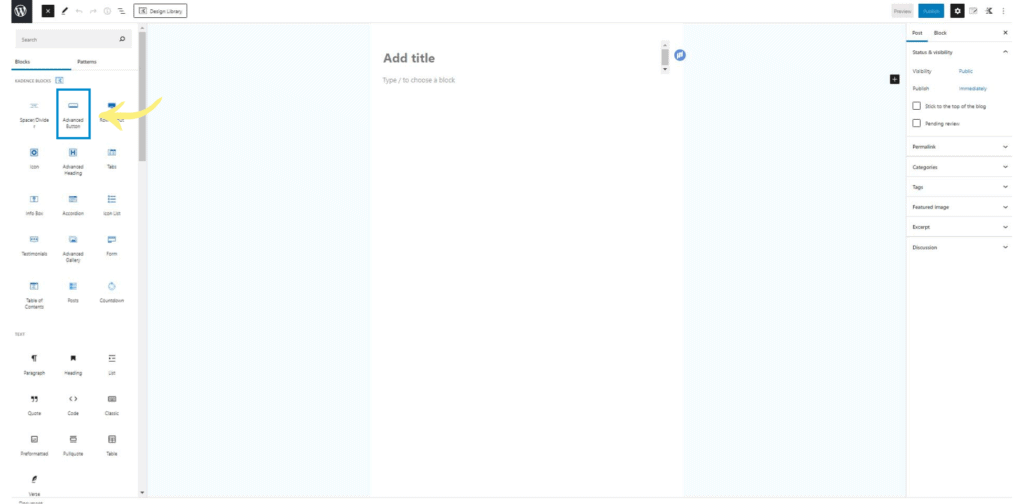 Customizing Your Advanced Button Settings & Design
After adding the Advanced Button block to your post or page, navigate to the block settings by using the control panel on the right side of your screen.
Now click the button to open up additional options in the right block navigation menu.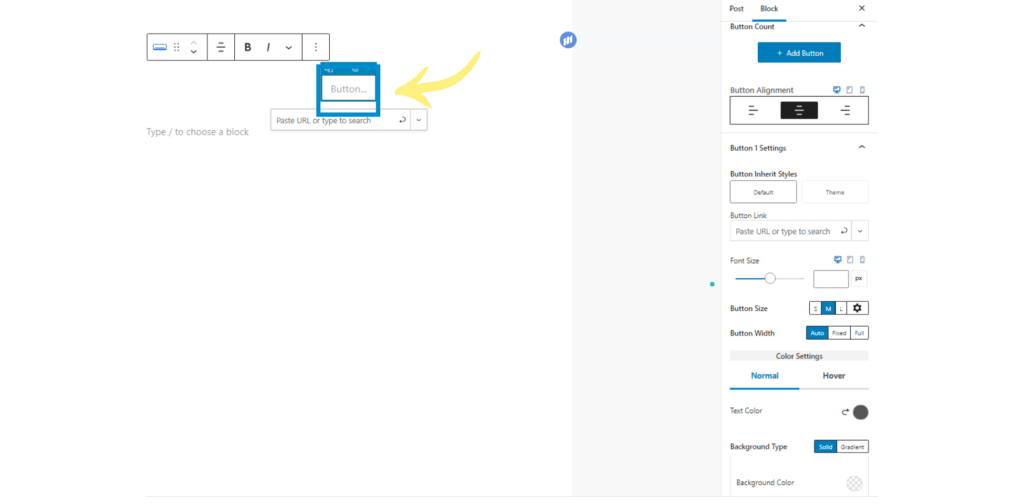 From here, you can customize your settings for the button or add additional buttons. You can also control how the button looks and what it does:
Button count – add up to five buttons in the block
Button Alignment – three options: left justified, right justified, or center justified
Button Settings – when you click on the button, this will define which button you are changing
Button Inherit styles – your theme choice will have preset definitions for buttons or choose the default for a clean/basic look
Button Link – paste the location (or you can search your links to find the page or post where you want the button to redirect)
Font Size – controls the size of the lettering but will also change the size of the button
Button Size –
Button Width – auto, fixed, or full. The auto will self impose a size. The fixed lets you set the size. The full will expand the button to fill to the margins.
Text Color – the default is 000000, but use either Hex or RGBA to dictate the color of your font
Background type – you can choose a solid background or a gradient and you can also choose the color. The default is solid and clear.
Border color – the default border is 555555 (dark grey)
Box Shadow – you can choose to have a shadow highlight your button
Border width – determines the thickness of your border around your button
Border Radius – changes the shape of your button, a full radius will give you an oblong button
Border Margin – sets the distance of your button from other blocks
Icon size – you can choose to install an icon in your button and also select the size
Icon Color – allows you to choose the color of your icon (the default is 000000)
Icon Padding – sets the distance of the icon from the edge of your button
Icon Location – you can put the icon before you text (left) or after your text (right)
Add Custom CSS Class
Gap Between Next – to control the distance between buttons in one block
Add Aria Label
Button * Settings (will open all the above settings for your next button)
Font Family – this provides you the opportunity to change the spacing in your letters, to change how your text presents, or to change the font family
Container margin – this changes the size of your block
Advanced – provides a place for additional CSS class or to force button fullwidth
The great thing about the Advanced button is that each button can be set to different settings. You aren't locked into one style.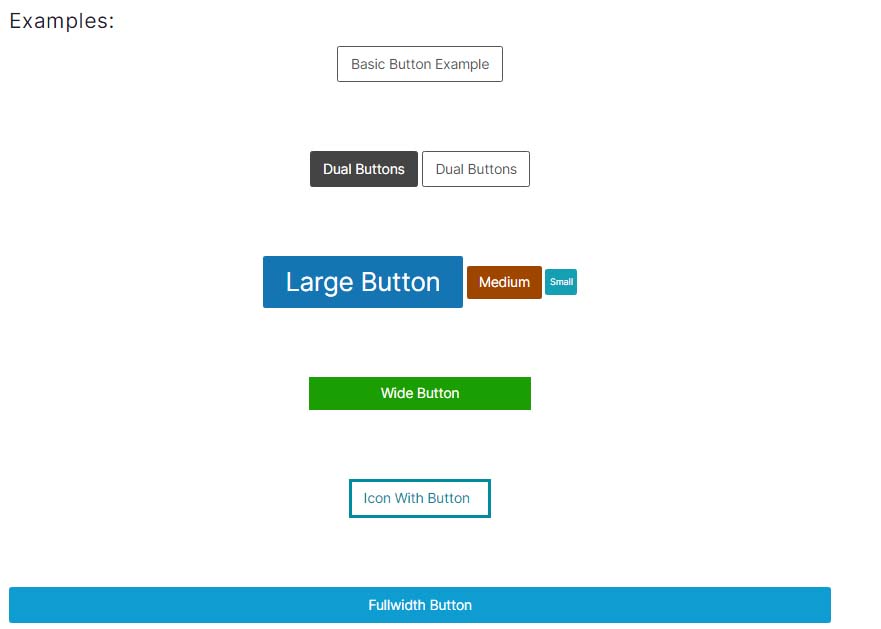 More Options from Kadence Blocks Pro
Kadence Blocks Pro offers even more features for your WordPresbuttons with blocks that are easy to use and powerful additions to your WordPress website.
Wrapping Up
A button makes it easy for you to direct the journey of your reader. Buttons are effective attention grabbers. Kadence Blocks Advanced Button makes it easy to try out different button styles, series, or colors to see what converts best on your website.
How will you put buttons to work?