The Kadence Design Library is your secret weapon. It contains fully designed sections, starter packs and wireframes. This library allows you to put a site together in no time at all. It also helps you break through a creative block by providing a multitude of inspiration.

You can find it at the top left of the editor next to the list view icon.
Sections tab
"Sections" is the first tab you will see. These can be added into any post or page just like you would any regular block. Once added, you can edit the section to match the styles used on your site. Switch out the existing imagery with more relevant content and add or remove blocks depending what you want each section to accomplish.

I like to browse through the Sections tab whenever I hit a mental block. Is there a way to convey information in a more interesting way? Is there information or imagery I haven't thought to include? Allow sections to inspire you.
You'll see there are sections labeled as "Pro." If you aren't already a pro user, just hover over the any pro section and there will be a link to upgrade.

If you have a type of section in mind, save time by using the category selector at the top left of the modal, or the search at the top right.

It's also important to resync your library every so often, This can be done by simply clicking the arrows icon in the top right next to the close option. The library automatically resyncs each time a Kadence update is released.
Starter Packs tab
If you don't know about Starter Packs, aka Starter Templates, then I am about to change your life.

You might want to sit down for this. Starter Packs is a library full of professionally designed website templates. Not just a section, not just a homepage, no. Full on website template.

I know what you're saying – this is too good to be true, what's the catch? No catch! I mean you will want to insert your own copy and imagery, so maybe that's a deal breaker. We are still working on reading minds so maybe in the future we will be able to also have the content and imagery specific to your needs. Fingers crossed.

Talk about a time saver. Decide what starter pack best fits your needs and import it to your site. Then edit posts and pages like normal. Easy peasy.

This too has Pro only options, but not to worry, if you aren't ready to commit to us the way we are ready to commit to you, there are still tons of free starter packs. We will continue to work hard to be deserving of your commitment.
Wireframe Tab
Listen, I know we just agreed to take things slowly, but I want to make sure we have good communication with one another. For this reason, I'm going to need your email address before you use the wireframes tab. We won't be clingy. We'll play it real cool with only the most interesting of emails.
Anyway, once you agree to take things to the next level, you'll see all Wireframes has to offer.

Wireframes allow you to create basic layouts without having to nail down any specifics regarding design. Quickly scroll through, filter or search through the library and cobble together a page layout in minutes. That's right, minutes. And if you're a pro, maybe even seconds.

Speaking of pro, the wireframes are all free! Minus the tiny email subscription requirement.*
Add your own!
Like I said before, we want to put control in your hands. If you want to create your own tab in the Kadence Design library, you have that option.

This is a great idea if you have a layout you prefer to start with. It also allows you to create and save your own wireframes and sections.
Introducing Kadence Cloud – Your WordPress designs at your fingertips.

This is huge and potentially a major time saver.

Watch the video to learn just how powerful Kadence Cloud is and how it can work for you.
Hiding Kadence Design Library
You read that right. After all that blabbering on about how great Kadence Design Library is, now I want to give you the option to hide the button in the editor!

Stay with me, there is a reason for this madness.

Say this is a client site and you want to assign rules to who can and cannot view the design library. Maybe you don't want them to know about your secret weapon! And who could blame you.

We've got your back.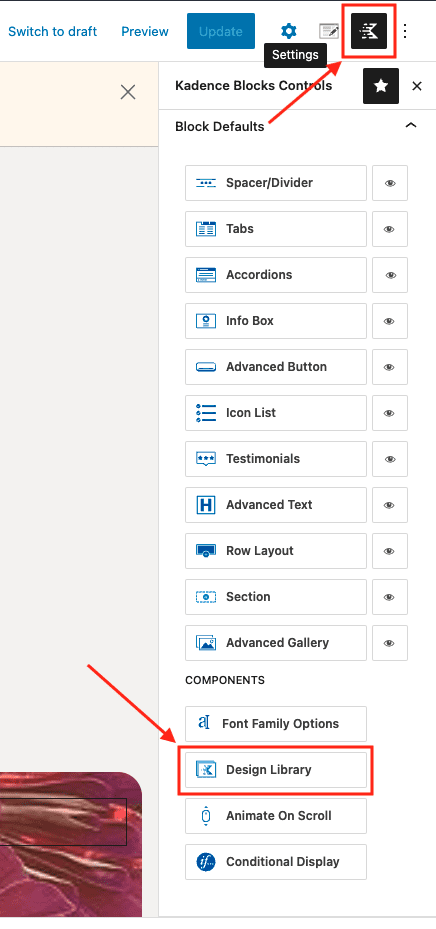 At the top right of your toolbar you will see the Kadence icon. Hover over it and you will see it referred to as "Kadence Block Controls." Click this icon to open afore mentioned controls. Now towards the bottom, in the Components submenu, you will see the option for the design library.

If you click that option you will open this modal as shown below.
Now you can select which users are allowed to see what. Not everyone can handle seeing the behind the scenes. It can mess with people and who wants that.

Now get to work on building websites and your very own web design empire. You've got this and Kadence has your back!