Kadence WooCommerce Shop Kit
Ten premium WooCommerce extensions bundled in a modular plugin that allows you to enable what you need.
Kadence WooCommerce Shop Kit is a powerful plugin for adding special features to your e-commerce site. You can create beautiful product galleries with hover-over-image zoom. You can enable advanced reviews that allows for voting on which reviews are the most helpful along with featuring reviews. You can add custom size charts that open in a simple modal so sizing charts are front and center. For variable products you can enable elegant variation swatches, showing either color boxes, images, select boxes or radio buttons. With Kadence WooCommerce Shop Kit, you can create custom cart messages that target specific carts with specific messages and powerful call to action buttons that can even apply coupons and add other products to the cart. This is a unique and special plugin for WooCommerce that will take your online store the to next level.
PRODUCT GALLERIES
The Kadence WooCommerce Shop Kit plugin has options to enable a slider for your product gallery. This slider has thumbnail options that can be placed beside or below the main image to give your product gallery a more elegant look. As an added feature you can also override the whole gallery area with a custom slider shortcode so you can use the Kadence Slider Pro for your products.
Demo Example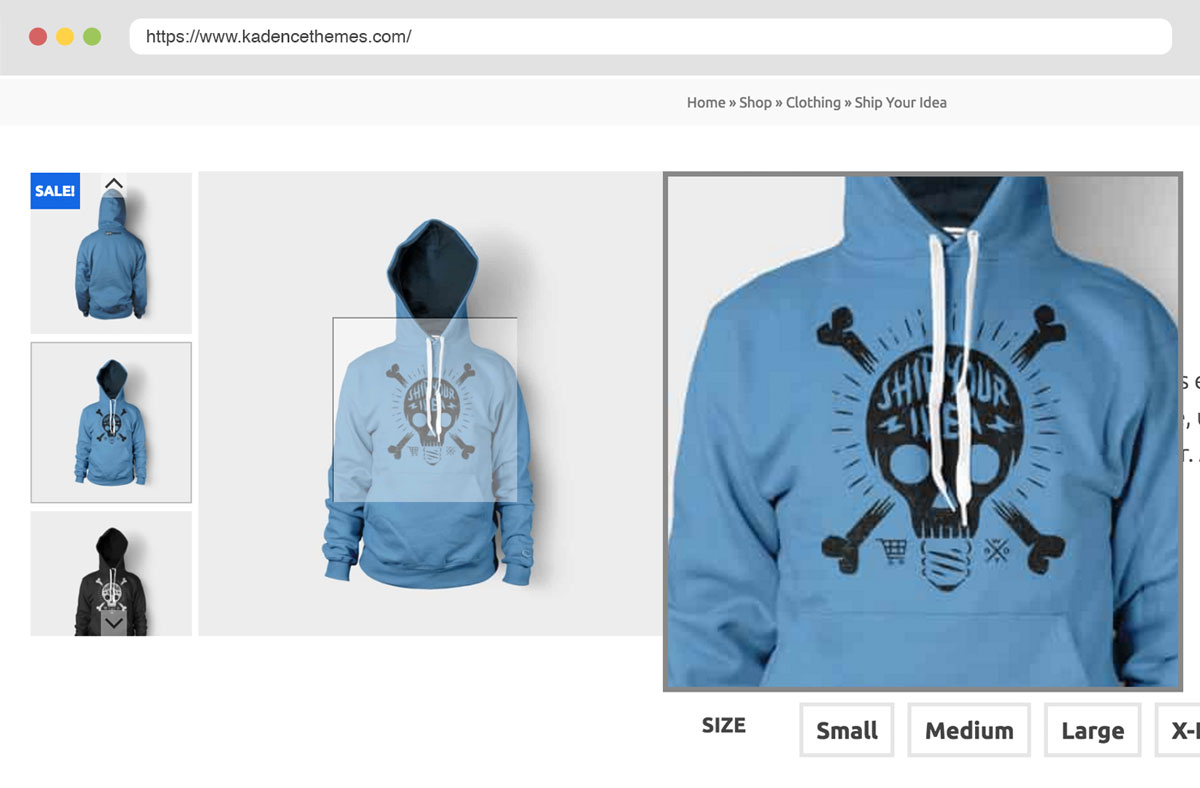 PRODUCT IMAGE ZOOM
With the Kadence WooCommerce Shop Kit Gallery option you can enable image zooming on hover. Users can now easily look at details in your product gallery images by simply moving their mouse over the area they want to zoom in on.
Demo Example
CART NOTICES
With Kadence WooCommerce Shop Kit, you can create custom cart messages that target specific carts based on which products are in cart or the total price or weight of the items in cart. This gives you a powerful way to upsell specific to what the shopper has in their cart. Offer promotions if the shopper adds another product, or encourage the shopper to consider a product with more value.
Demo Example
VARIATION SWATCHES
The Kadence WooCommerce Shop Kit has options to allow you to choose different ways to show your product variations. Including color swatches, image swatches and radio boxes. These can be set on an attribute by attribute basis so you can choose the best look for each variation.
Demo Example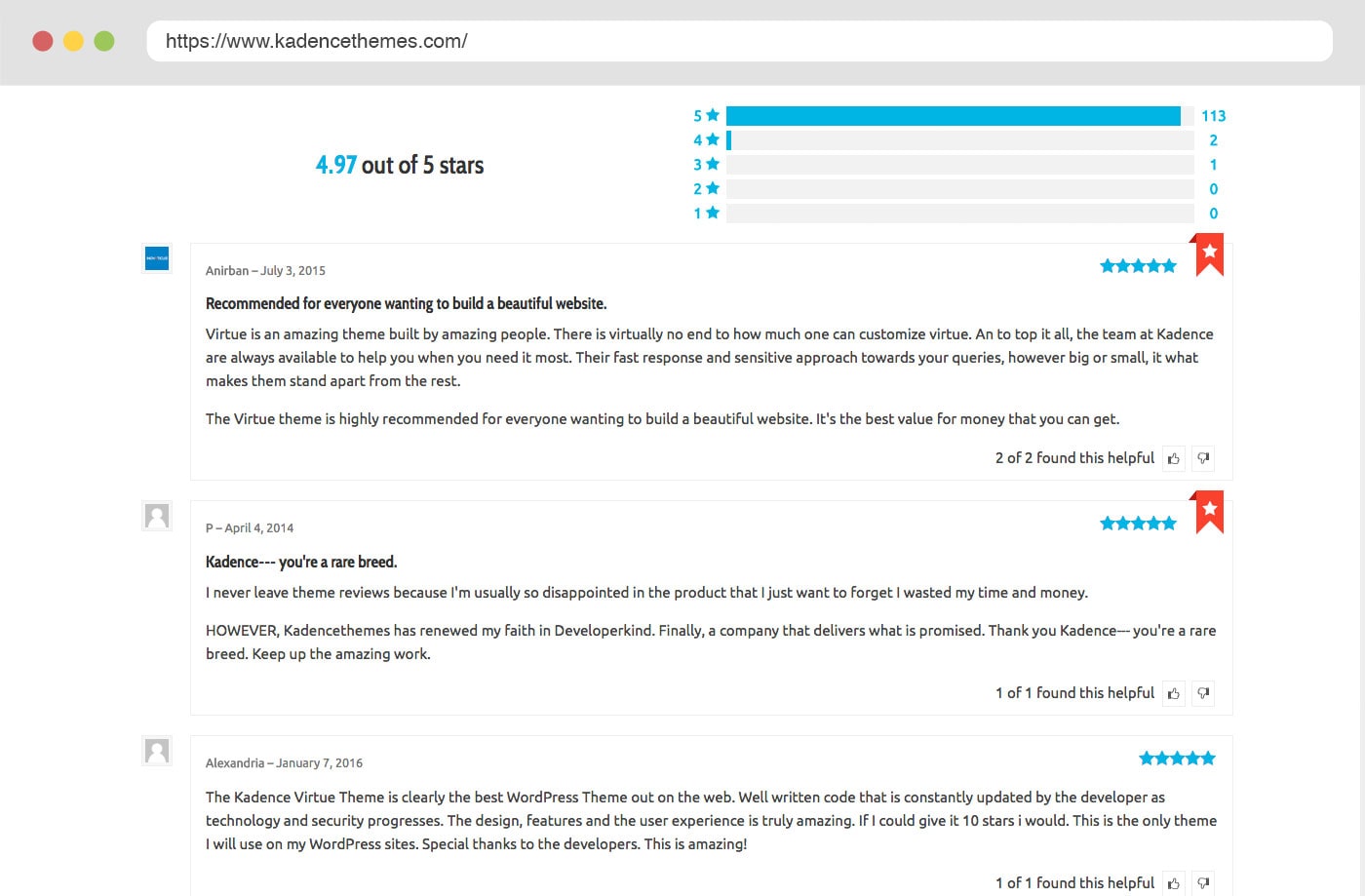 ADVANCED REVIEWS
This is a huge improvement over the default WooCommerce review feature. With this feature, shoppers can vote on which reviews they found to be most helpful (or least helpful). You can order reviews to show highest-voted reviews first followed by the latest reviews after that. This is a vast improvement over the WooCommerce default of oldest review first. Kadence WooCommerce Shop Kit gives reviews titles, and shop owners can show an overview of product reviews. You can even make reviews featured so they are at the top of your list to make them stand out.
Demo Example
SIZE CHARTS
Easily create and add size charts to a product or even to a whole category of products. These size charts can be added to the product page as a tab or button that opens a modal with your site chart.
Demo Example
VARIATION PRICE CONTROL
Optionally change how your variable products output a price by choosing to show either the lowest or highest price in the variable product. You can also add text before or after the price for example "Base Price: $45".
Demo Example
CATEGORY EXTRA DESCRIPTION
The Kadence WooCommerce Shop Kit gives you an extra description area below the products on WooCommerce category description pages. This allows you to give product category pages more content with extra descriptions that can help boost your WooCommerce shop's SEO.
Demo Example
CHANGE ADD TO CART TEXT
The Kadence WooCommerce Shop Kit has simple text boxes where you can easily change "ADD TO CART" to something more custom or specific to your site, for example "BUY SHOES." Great for variable products because you can set the archives to show something more unique than "select options."
Demo Example
CHECKOUT MANAGER
You can enable and disable checkout fields and also create your own fields using the checkout manager. Easily customize your checkout form and control which fields are added to the WooCommerce emails using the Kadence WooCommerce Shop Kit plugin.
Demo Example
PRODUCT BRANDS
This powerful module lets you assign brands to your products, choose where to show on archive and single product pages, and choose what to show, either the product name or image. Plus you can add a filter-by-brands widget to your site.

More Features:
Responsive Design
Each feature is designed and coded to adapt to fit any screen size, from desktops down to mobile phones.

Translation Ready
This plugin can be easily translated into any language.

Modular approach
Each feature can easily be enabled or disabled so you are only loading what you want to use.

Optimized for Speed
We crafted this plugin for speed with sound coding practices and support for top speed optimization techniques.

Five Star Support
When you need support, the Kadence Support Team provides superior support and expert advice that goes the extra distance.

Works with any WordPress Theme
We code our plugins to WordPress best practices to allow Kadence WooCommerce Site Kit to work with any theme, not just ours.

Kadence WooCommerce Shop Kit Reviews
Comparison with Kadence Full & Lifetime Bundles
ALL UPCOMING THEMES AND PLUGINS