Getting Started with WPML
WPML is a translation plugin that is compatible with a range of KadenceWP products. Here's how you get started.
Downloading WPML
Start by going to WPML and click "Buy and Download".
Select the version that will work best for you and click "Buy Now".
*Note WPML is a premium plugin so you will have to purchase it.
Installing and activating WPML plugins
In your WordPress admin area go to Plugins > Add New.
Select "Upload File" then click "Choose File" and select the WPML Multilingual CMS, WPML String Translation, WPML Translation Management, plugins' files, then click "Install Now".
Once the plugins are installed go ahead and activate them.
Setting up WPML
Click the "Configure WPML" button on the admin notice that pops up after activating WPML plugins. This will launch WPML's setup wizard.
Set your current content language.
Select the languages you would like to use on your site.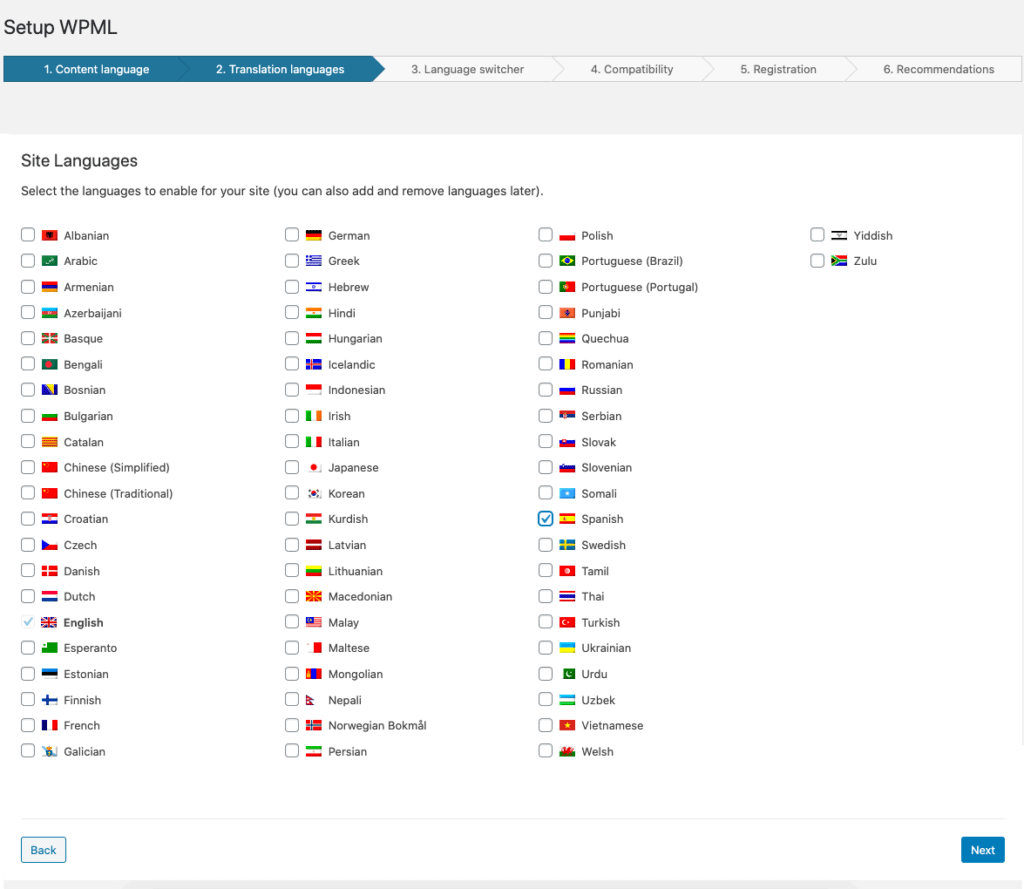 Choose to enable or disable compatibility reporting. We recommend enabling it for faster support and compatibility alerts.
Lastly, type in your site key and click "Register" (you can generate a key for your site from your WPML account).
 Translating Your Site
We recommend enabling WPML's Advanced Translation Editor (ATE) as it facilitates the translation process by offering automatic translation, a glossary, spell checker, and more!
To Enable the Advanced Translation Editor, navigate to "WPML" → "Settings". Under the "How to translate posts and pages" section, choose the "Use WPML's Advanced Translation Editor" option and click "Save". 
Translating Pages and Posts:
Select either Pages or Posts in your admin area.
Click the blue plus sign to add a translation to that page/post. This takes you to WPML's Advanced Translation Editor.
Translate your page content manually or click the "Translate automatically" button to add machine translation. Once done, click the "Complete" button.
The page is now translated!
Besides translating your site content yourself, you can also send your content for translation by a professional translation service or assign the translation job to one of your team members via the Translation Management screen.
Updating pages and posts translation
You might want to update the content on any page or post on your website. To update the translation:
Navigate to the Pages or Posts in the admin area
The post or page that requires updating the translation shows a spinning arrows icon. Click the icon to update the translation using WPML's Advanced Translation Editor.
Update the translation then click the Complete button to publish the updated translation.
Translating other texts on your website:
Besides the content on your pages and posts, you will want to translate other texts on your website such as the site's tagline, widget titles, texts on admin screens.
Check out WPML's documentation on translating these texts using String Translation.