Introducing Kadence Conversions: The Only No-Code WordPress Block Tool That Converts Visitors to Customers
The Kadence team is excited to announce the launch of Kadence Conversions 1.0, a robust tool that gives site builders a no-code interface to create lightweight and performant popups, modals, slide-ins, and banners.
Kadence Conversions is available as an a la carte plugin purchase, and it is also included in both the Kadence Full Bundle and the Kadence Lifetime Bundle. At the time of this writing, Kadence Conversions and the Kadence Full Bundle are discounted 40% as a part of our Black Friday promotion. This 40% off sale is an ideal way to get started on improving your own site's Black Friday promotions.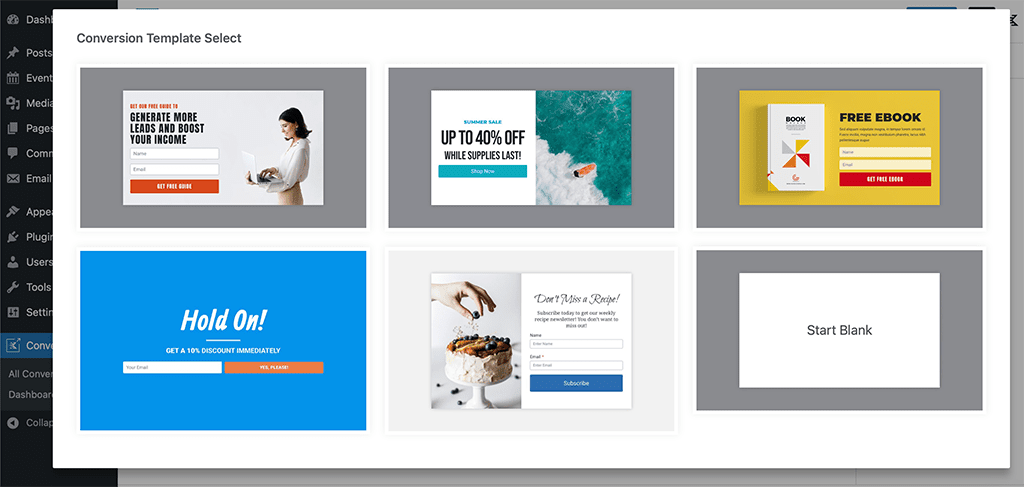 What is Kadence Conversions?
Kadence Conversions is a no-code WordPress plugin built on the WordPress block editor that allows site owners to create elegant and lightweight popups, modals, slide-ins, and banners, right in the WordPress admin dashboard. Kadence Conversions is the only no-code option that leverages the native WordPress block editor in order to create attention-grabbing appeals and offers that convert.
Kadence Conversions gives site owner granular controls that allow them to time popups, modals, and even banners for the most personalized and unobtrusive user experience possible.
As well, Kadence Conversions offers two methods of measuring conversion effectiveness: natively within the plugin or through Google Analytics.
Innovation with the Gutenberg block editor
When the Gutenberg block editor was introduced in 2019, it offered the promise of a new way to build sites with WordPress. As the WordPress block editor has matured with new features and capabilities, innovative developers have expanded on the possibilities. Kadence has been proud to be a part of that innovation, creating not only a highly performant theme, but the Kadence Blocks plugin and Kadence Starter Templates that help site owners develop accessibility aware and fast loading websites.
Kadence Conversions continues that innovative trend by giving site owners the ability to create engaging and attention-grabbing offers to deepen and personalize connections with customers.
No other block plugin does what Kadence Conversions offers.
Kadence Conversions captures attention without bloat
Optimizing website performance is an important differentiator when competing for new customers online. Ensuring that your site is highly performant with fast loading pages and optimized code means that sites rank higher in the search engine results pages. And, once site visitors are on a site, fast loading pages with an optimized user experience means site visitors are more likely to convert.
According to Cloudflare's research, high-performing sites convert customers and grow revenue. They report, "Website performance has a large, measurable effect on conversion rates. Studies have consistently shown that fast page speed will result in a better conversion rate. In other words, the quicker a webpage loads, the more likely a user is to perform the targeted action on that webpage."
At Kadence, we believe that performance optimization should happen in your website's code first, whether you know how to code or not. Kadence Conversions requires no code for site owners and developers yet it delivers on the promise of performance and accessibility.
For site owners looking to convert customers, Kadence Conversions delivers.
Getting Started with Kadence Conversions
Getting started with Kadence Conversions is easy. Once you have the plugin after purchase (or download from your Full or Lifetime Bundle account), go to your plugins area and click "Add New." At the top of the page, click "Upload Plugin" and then choose the Kadence Conversions zip file from your downloads area. Next, upload the plugin and click "Activate."
Once loaded and activated, you'll need to enter your license key to activate your license. 
Kadence Conversions will be a left sidebar option below Settings with the Kadence logo next to it.
Next, choose which type of Kadence Conversion element you'd like to work with. You can choose popup, slide-in, or banner. You can play with Kadence Conversions behind the scenes and add it to a test page to start.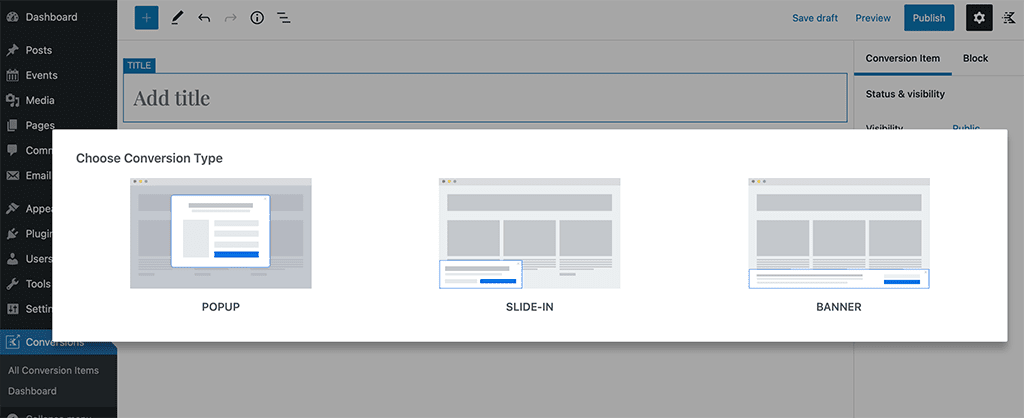 Getting to Know the Kadence Conversions Settings
Kadence Conversions offers numerous settings to customize offers and announcements for site visitors and varied experiences on sites. Site owners can customize launch triggers that determine when a conversion item is shown, and they can even limit conversion items based on a site visitor's previous interactions. For example, if a site visitor previously closed or converted on a conversion item, a site owner can set that item to not be shown for a set timeframe based on cookie settings within Kadence Conversions.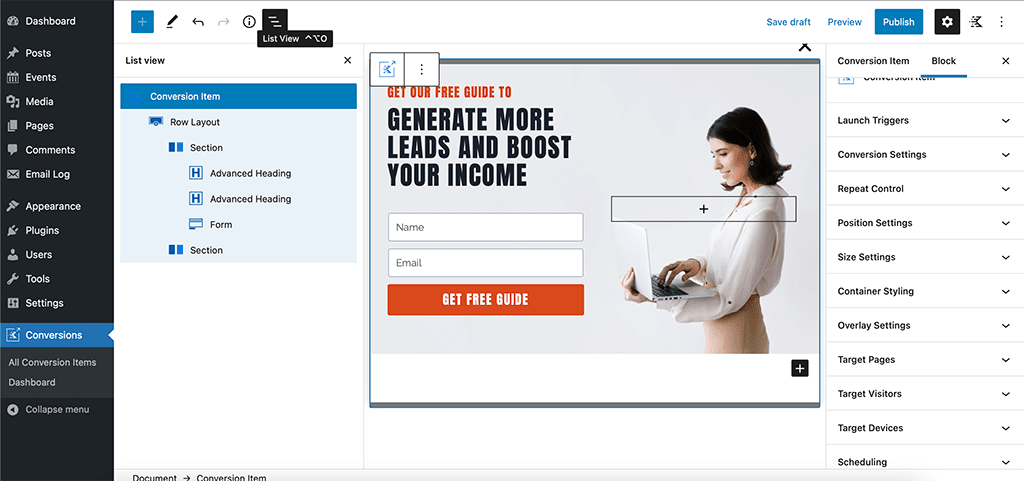 Site owners have numerous other controls available including targeting specific visitor types, devices, or limiting the conversion items to specific pages.
Analytics in the plugin or connected to Google Analytics
Site owners have the option to use the Kadence Conversions native analytics or they can easily connect to Google Analytics. Unlike other bloated popup plugins that require analytics in an offsite dashboard, Kadence Conversions ensures that measurement data is integrated with the tool. In this way, site owners are more likely to iterate to find conversion messaging and compelling offers that work.
Starter templates to inspire ideas
As with the Kadence theme, Kadence Conversions has a number of starter templates for conversion items that give site owners inspiration for creating, all within the same interface they've come to know with the WordPress block editor. As this is version 1.0, new starter templates for Kadence Conversions are in the works, ensuring a robust conversion building experience.
Kadence Conversions is available in both the Kadence Full Bundle and the Kadence Lifetime Bundle. You can also buy Kadence Conversions separately a la carte. Our Black Friday 40% off sale lasts until November 30.