Introducing Google Maps to Kadence Blocks
The Kadence Google Maps block is now available in the free version of the Kadence Blocks plugin. To get the Kadence Google Maps block on your WordPress site, all you have to do is update to version 2.3.0 or later. 
Kadence Blocks is the go-to choice for innovative site owners looking to enable more creativity within WordPress blocks. The introduction of the Kadence Google Maps block now means that there are 19 blocks available to free users of Kadence Blocks, including the innovative Lottie block, and the list keeps growing. 
Adding Google Maps to WordPress sites has never been easier
Kadence Blocks makes adding Google Maps to your WordPress site simple. When you initially add a new block, a map of the Golden Gate Bridge in San Francisco is the default location. However you can easily and very quickly change to your desired location. Either enter in an exact address or a known city or location, and Kadence Blocks will automatically load that location into your page or post.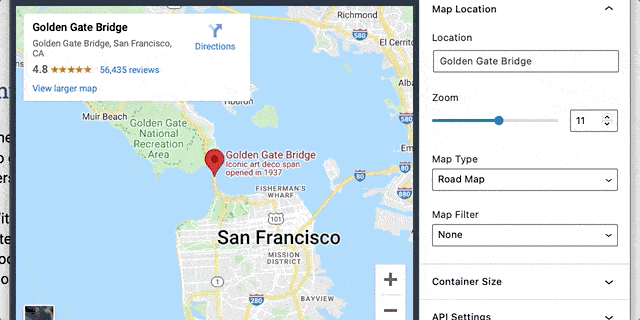 There are numerous customization options in the Kadence Google Maps Block, including the ability to zoom into the desired location, or zoom out. Select precisely how you'd like your location shown so that it makes contextual sense for the content you're presenting to your end user.
Writing about a specific vacation location and you'd like to show your location within a relatable map of the world or the country? Perhaps you'd like to zoom out to show where your location is. But if you're hoping to generate foot traffic to your storefront, zooming into the precise block location in your town will show potential customers where you're located based on familiar street names.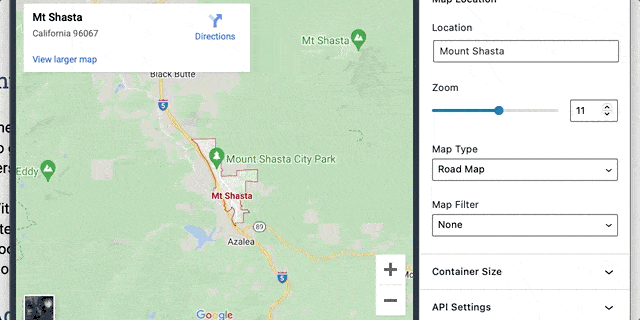 The map type can be set to be roads or satellite view, and you can customize the presentation of those with normal, greyscale, saturate, or sepia filters. You can even set how strong you'd like that filter to be.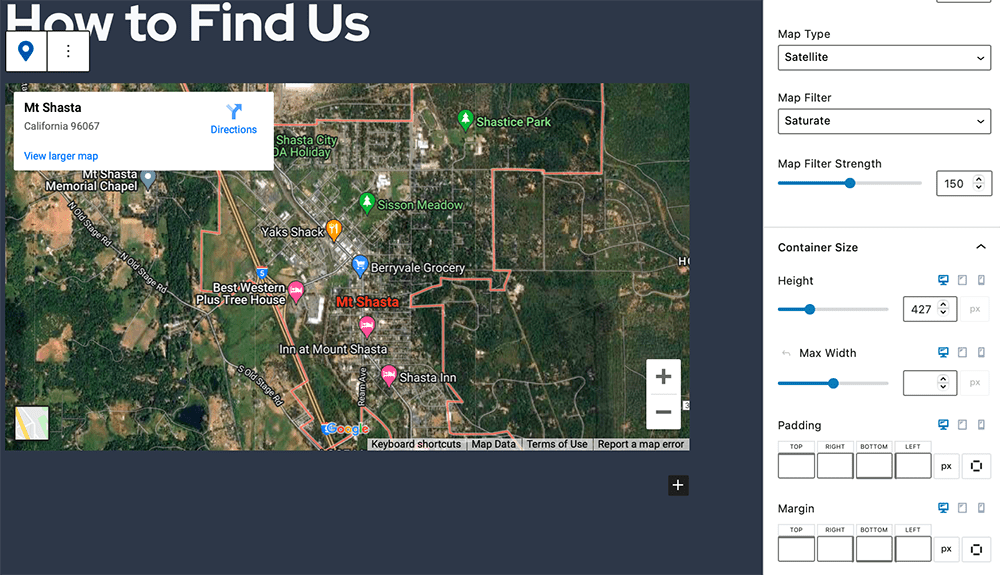 Again, Kadence Blocks offers customizations that will allow you to be precise in how you present your content, including your Google Maps, so that it fits within the context of what information you are presenting on your site. In this way, Kadence Blocks helps you create content that converts site visitors into fans and customers.
Of course, you have control over the container size, resizing your Kadence Google Map block so that it fits where you need it to fit, and you can even set margins and padding for the block for more granular control of how your Google Map appears within the context of your content.
You can also enter your own Google Maps API key, though it isn't required. Kadence Blocks comes with an Google Maps API key to provide basic functionality. However, if you need more advanced features that Google Maps offers, such as those in the Javascript API, you will need your own key. The Javascript API has custom markers, info window, event listeners that might be useful for your implementation of the Kadence Google Maps Block.
Kadence continues to innovate
Thank you to everyone who supports Kadence with a subscription to an annual bundle such as the Kadence Essential and Full Bundles. It is your continued support that allows us to offer these innovations to the WordPress community as a whole through the Kadence Blocks free plugin.
Are you using the Kadence Google Maps block? Share your implementation in the comments below so we can see how you're creating effective websites with Kadence.