New Starter Template: Surf Shop!
A new Kadence Theme Pro starter template just washed up: Surf Shop! This new e-commerce starter template for Kadence Theme offers a rad starting point for online shops with a focus on merchandise imagery, along with a clean design.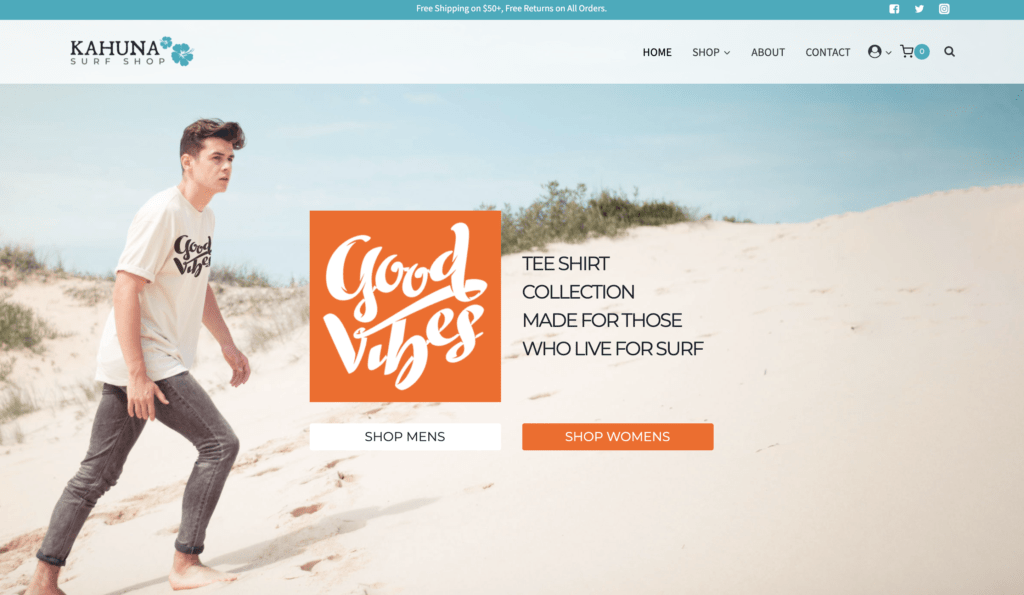 6 Things You'll Love About Surf Shop Starter Template
1. Pre-Built Pages with Starter Content
The Surf Shop Starter Template comes packaged with seven pre-designed pages, already loaded with starter content. These pre-designed pages speed up design and development because you don't have to build out the pages with photos or text … it's all done for you!
Here are 7 of the pre-built pages that come with the Surf Shop template
About
Contact
Home
Men's Category
Women's Category
Shop
Splash
2. WooCommerce Integration: Pre-Built Store + Products!
Surf Shop integrates with WooCommerce, so WooCommerce + 17 products will be loaded when you install the Surf Shop Starter Template. Having these products pre-loaded for you makes it easy to see how the site will operate. And you can also swap out your own content with this starting point for a shop powered by WooCommerce.
3. Shop Mega Menu, Built For You
If you've ever wondered how to build a more complex "mega" navigation menu to highlight an ad or graphic, Surf Shop has you covered. There's a pre-built mega menu for the Shop navigation that gives you a great template for highlighting a sale or marketing message. This is built into the "Main" navigation menu of the starter template, powered by a Kadence Element (more on that, next!)
4. Pre-Built Conditional Content Elements
One of the most powerful features of the Kadence Theme Pro is Elements. With Kadence Theme's Elements, you can add conditional content anywhere into your site. In short, Elements allow you to add content in different areas of a page, with unlimited customization options.
To get you started with Elements, Surf Shop comes packaged with 3 pre-built Elements. You'll find these from the Appearance > Kadence > Elements menu.
The "Mega Menu Item" Element is used to power the Mega Menu's graphic!
5. Done-For-You Splash Page Design
As we mentioned previously, Surf Shop comes loaded with several pre-built pages. One of the highlights of the pre-designed pages is a Splash page for a sale.
6. Sticky Cart
Finally, Surf Shop comes loaded with another great design element, a Sticky Cart. When scrolling on any individual product, a top navigation changes to include a cart navigation.
How to Get Started with Surf Shop Starter Template
Surf Shop Starter Template is a Pro starter template available with Pro Starter Templates for Kadence Theme Pro, ONLY included with one of our value-packed bundles, including the Essential Bundle, Full Bundle, or Lifetime Bundle.
Before you begin, you'll need to install these plugins (both available to download from your Kadence Account):
Kadence Pro Plugin – Premium addon for Kadence Theme
Kadence Blocks – PRO Extension
Once you've installed, activated, and licensed the Kadence Pro – Premium addon for the Kadence Theme and the Kadence Blocks Pro Extension plugins, navigate to Appearance > Kadence in your WordPress Admin dashboard.
From the Kadence menu, navigate to the Starter Templates tab.
If you're totally new to Starter Templates, click the Activate Starter Templates button. We'll handle installing the Kadence Starter Templates plugin. (Again, just be sure you have licensed your Kadence Theme & Kadence Blocks Pro plugin!)
You'll see the library of Starter Templates now available on this page.
If you already have Kadence Starter Templates active, be sure to click the Refresh icon at the top of the Kadence > Starter Templates tab.
From this view, Navigate to the Surf Shop template on this page. Simply click the Surf Shop template in the library to get started. You can then select a Single Page or the Full Site (only recommended for fresh WordPress installs).
Please Note: Full site importing is designed for new/empty sites with no content. Your site customizer settings, widgets, menus will all be overridden.
That's it! All done. You now have the Surf Shop Starter Template loaded onto your site. You're ready to customize, add your own content, and launch a beautiful new site.
Buy a Kadence Bundle: Get Access to Surf Shop Starter Template!
Sign up for one of our bundles to access our Kadence plugins and themes, including Pro Starter Templates. 30-day money-back guarantee. No questions asked!