Understanding Kadence Blocks: 5 Key Features
Would you like to make your website design easier? Kadence Blocks can give you the tools you need to get it done faster, better, and definitely easier. With a library of WordPress blocks that are both powerful and flexible, building effective websites on WordPress has never been so quick and easy.
What are Kadence Blocks?
Kadence Blocks are a free WordPress plugin that will give you more design flexibility and freedom than you've ever had before. Kadence Blocks is a plugin created to be an all-in-one toolkit that gives the WordPress block editor the capability of creating unique content that's typically only possible by using page builder plugins.
Kadence Blocks add custom blocks and options that extend the editing capabilities of WordPress Gutenberg Editor. With Kadence Blocks, you get more styling and functionality to WordPress blocks than the default WordPress blocks.
Kadence Blocks also provides you with a selection of layouts that are pre-designed for you to choose from. Not only are these pre-loaded designs visually appealing, but they are created with the best design practices at the forefront.With a library of prebuilt sections, you can quickly add well-designed elements to your posts or pages, all within the native WordPress block editor.
It creates power flexibility and that's incredibly important in today's mobile world, where screen sizes widely vary, and you need your site to have a consistent look on all devices.
And it's 100% free.
Intro to Kadence Blocks
The Kadence Blocks plugin doubles down on this idea of make designing websites on the WordPress platform just as easy as the much more simplistic page-building website platforms, such as Wix or Magento.
Kadence Blocks will offer you new blocks to expand your ability to build flexible, unique, and dynamic web pages. The sole purpose of Kadence Blocks is to help you create fully custom layouts and more engaging content for your users.
The real power of Kadence Blocks can be found in the row layout block. This block gives you full control of your columns to account for the differences in screen sizes. It also provides editing tools for your rows, such as backgrounds, gradients, overlays, padding, vertical alignment, and more.
Kadence Row Layout Block gives you full row editing tools, such as:
Backgrounds
Padding
Vertical-align
Overlays with gradients
And a lot more
You'll also be able to edit nearly every single detail of any of the pre-designed site layouts.
Key Features of Kadence Blocks
One of the features you'll most enjoy about Kadence Blocks is their pre-loaded library. The designs you'll find here are ultra-modern. They also allow you to build your pages very quickly, with only a few clicks.
After you've loaded everything you're looking for from the pre-loaded library, you'll have a plethora of options for row customizations. These allow you to make the design of your site 100% yours, and yours alone.
And that's the real power of Kadence Blocks: the plugin gives you a well-designed library of preloaded designs to get you started. Then, it gives you more design features that allow you to create nearly any design you can imagine.
1. Row Customization
With Kadence Blocks, you'll get more row customization options than you'll probably ever use.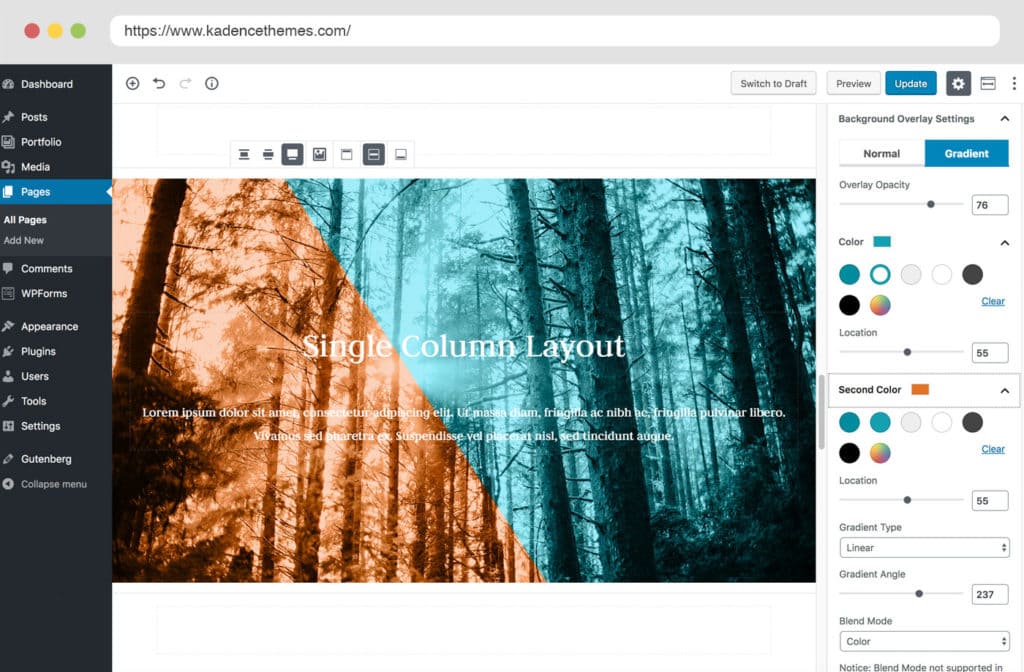 You'll quickly and easily be able to change backgrounds with attributes such as:
You'll also find a wide range of different row dividers you can employ.
2. Advanced Heading
One of the annoyances of people who use block collection plugins is that they duplicate core blocks. In reality, there's no reason why you need multiple blocks that are all doing the exact same thing.
This is even more true if you're creating a site for a client. When you pass off the site for them to administer, these duplicate blocks make it way too easy for them to add a wrong block.
That's where the Advanced Heading block in Kadence Blocks comes into play.
The Advanced Heading block adds enhancements that could be added or built into the Heading block.
One of its most useful features is the ability to use dual-color headings. The specific feature is simply called "Highlight" within the Advanced Block. This feature can really help your heading stand out and get your point across to your users.
4. Design Library
One of the coolest things about Kadence Blocks is the pre-built design library. You get a ton of well-designed block elements that you can load directly into your post and page. All you have to do is switch out text or change some colors. They save a TON of time.
4. New Wireframe Blocks
Kadence Blocks recently added an entirely new Wireframing Blocks library to help you quickly build out design foundations. This library of clean blocks are a great starting point for new page designs.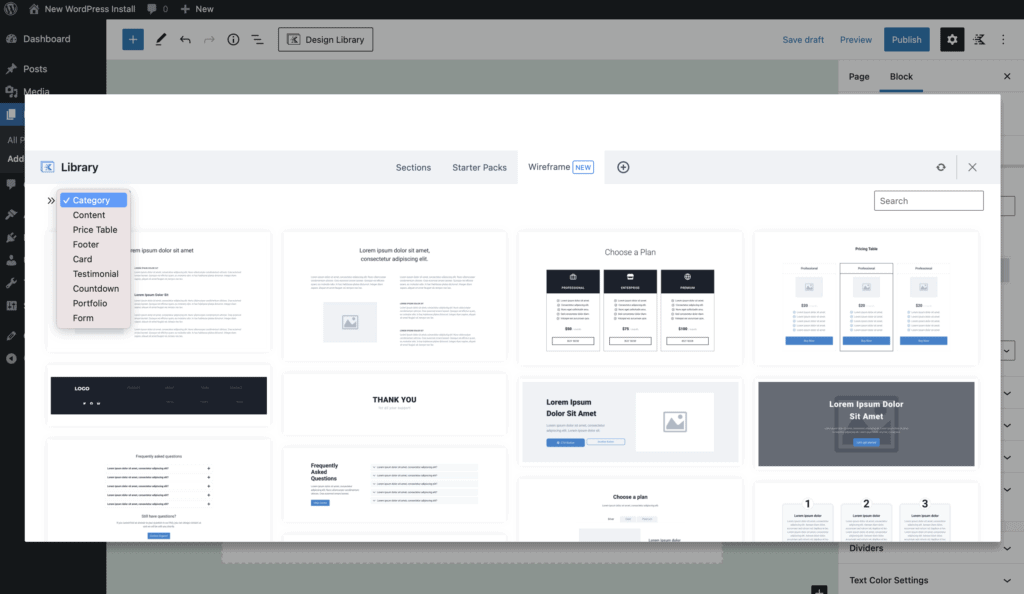 5. Lock and Key Access
Freelancers who build websites for clients love this feature of Kadence Blocks.
When you build a site for a client, you want to make sure the design and styles you used will be applied to the site from the moment you deliver the finished product to the client.
For example, you probably want to make sure that when you hand over the site to your client, if they're planning on doing any site updates, you don't need to answer questions about how to apply styles to their site.
With the Lock and Key Access feature of Kadence Blocks, your clients will be able to apply the correct style to your site without needing to reach out.
What Blocks Are Included In Kadence Blocks?
By now, no doubt you're convinced to give Kadence Blocks a try for your WordPress site design needs. But you probably want to know what blocks come with the free version before you download and install it.
Here is the full list of blocks that come with the free Kadence Blocks Plugin:
Row Layout Block
Accordion Block
Tabs Block
Advanced Heading Block
Info Box Block
Icon Block
Advanced Button Block
Spacer/Divider Block
Prebuilt Library
Editor Width Controls
Additional Features in Kadence Blocks Pro
There is a Pro version of Kadence Blocks that will give you even more blocks and features that will help you build your perfect site. But the free version has more than enough power to give you the ability to create web pages with highly complex layouts. You'll also gain full control over your rows, columns, spacing, and a lot more.
When you upgrade to the Pro version, you'll also have access to the following blocks:
Video pop-up Block
Product carousel Block
Split content Block
Image overlay Block
Post grid/carousel Block
Modal Block
On scroll animation
If your site requires these types of blocks, it's definitely recommended that you upgrade to the Pro version.
Upgrade to Pro to access these powerful blocks.
The cost of the Pro version is $59 per year, and also comes with premium support, use on as many sites as you'd like, and a 30-day satisfaction guarantee.
Why You Should Try Kadence Blocks
If you're doing any type of WordPress site design, whether it's for your own project or a project for one of your clients, you really should take a close look at what Kadence Blocks can do.
Not only does it give you a lot more flexibility than using the Gutenberg Editor on its own, but it's incredibly intuitive and easy to use.
In fact, many users report that they achieve the exact design elements they're looking for on their site within the first few minutes of using Kadence Blocks.
But if that isn't enough reason to give the free plugin a try, here are five more reasons why you should use Kadence Blocks.
Save Time
Your Time Is Valuable. Getting the perfect design using Gutenberg or other block editor plugins can take days of meticulous work. With Kadence Blocks, you'll be able to produce the perfect design often within minutes.
Be Unique
Customization Matters because you are unlike any other company. In an online world where almost anyone can put up their own cookie-cutter site, it's important to present your brand in a unique way. You'll be able to do this by using Kadence Blocks.
Website Development Made Easy
You're not a WordPress development expert (and you didn't sleep in a Holiday Inn Express last night). If you think that you need years of WordPress development experience to turn out a site design that's fully customized to your needs, think again.
Kadence Blocks are as easy to use as any drag-and-drop page building tool while giving you the ability to create designs that nobody else is using.
Features for Developers
You are a WordPress development expert and you know your stuff. Kadence Blocks allows you to take your experience to the next level of productivity. While Kadence Blocks is the perfect tool for new WordPress users, it's also a powerful tool for experienced developers that are looking to get the best possible design results with the least amount of time and effort.
Give Kadence Blocks a Try Today
If you're looking for the most seamless way to build a custom-designed WordPress site using the block editor, there's no better solution than the Kadence Blocks plugin.
To unleash its full potential, consider pairing Kadence Blocks with the Kadence Theme. This is an absolute one-two punch or WordPress design power that is difficult to match with any other applications.
Download and install Kadence Blocks today for free, then start creating your site in exactly the way you envision.