What you need to know about WordPress 5.9
With WordPress 5.9 just around the corner, we know you have questions, concerns. A lot of noise is being made about full-site editing, block-based themes, and the future changes happening with WordPress. I'm writing today to help reassure the Kadence community in light of these changes and inform you of what to expect when updating your WordPress sites. I'll also give some insights about the longer-term impact of full-site editing in WordPress.
Quick overview
WordPress 5.9 will be released on January 25, 2022.
The major feature in WordPress 5.9 is core supporting full-site editing block-based themes.
Other new features include updates to the block editor UI with better controls and a new core navigation block. If you are interested in a complete list and more details, WP Tavern has some good content to browse.
The Kadence Theme will not enable WordPress core's full-site editing by default.
Quick 5.9 Take away
I recommend waiting a few days after 5.9 is released before you choose to update your WordPress site. This is not a security release, so there is no need to rush to install it. Give some time for potential bugs and conflicts to be found and fixed before you update your production sites. If you are using a staging server to test updates, we recommend performing updates there first to determine WordPress 5.9's impact on your site in a non-production environment.
If you are using the Kadence Theme, you will not experience any changes. None of the new features for full-site editing will be enabled by default. You will see the updates to the block editor (moving blocks in the list view is great!), and if you desire, you will be able to create templates in the site editor for pages/posts.
Full-site editing in its current phase is a minimum viable product (MVP). I do not recommend that you switch to using it for production sites. Unless you are wanting to experiment for fun, I don't suggest anyone with a complex site use full-site editing upon the initial WordPress 5.9 release. Currently, the promise of editing anything on your site is limited by the available tools and options. This means that most complex things are still not possible in full-site editing simply because complex tools/features have not been created/implemented in blocks yet. Also, most plugins that use custom post types don't support it yet (e.g., WooCommerce). The plugins will function properly, however, they won't be giving you any extra control.
You don't need WordPress 5.9 or a full-site editing block-based theme to fully edit your site. You can do this now in Kadence using the pro addon which allows you to create templates and hook in elements conditionally anywhere on your site.
What I'm most excited about in 5.9
Without a doubt, I am most excited by the list view improvements! The block editor has presented some challenges when users have tried to move things around. This lack of block mobility has been a major pain point for some, but with the new list view improvements, you can drag blocks around right in the list view. This will make moving blocks in the WordPress editor so much easier.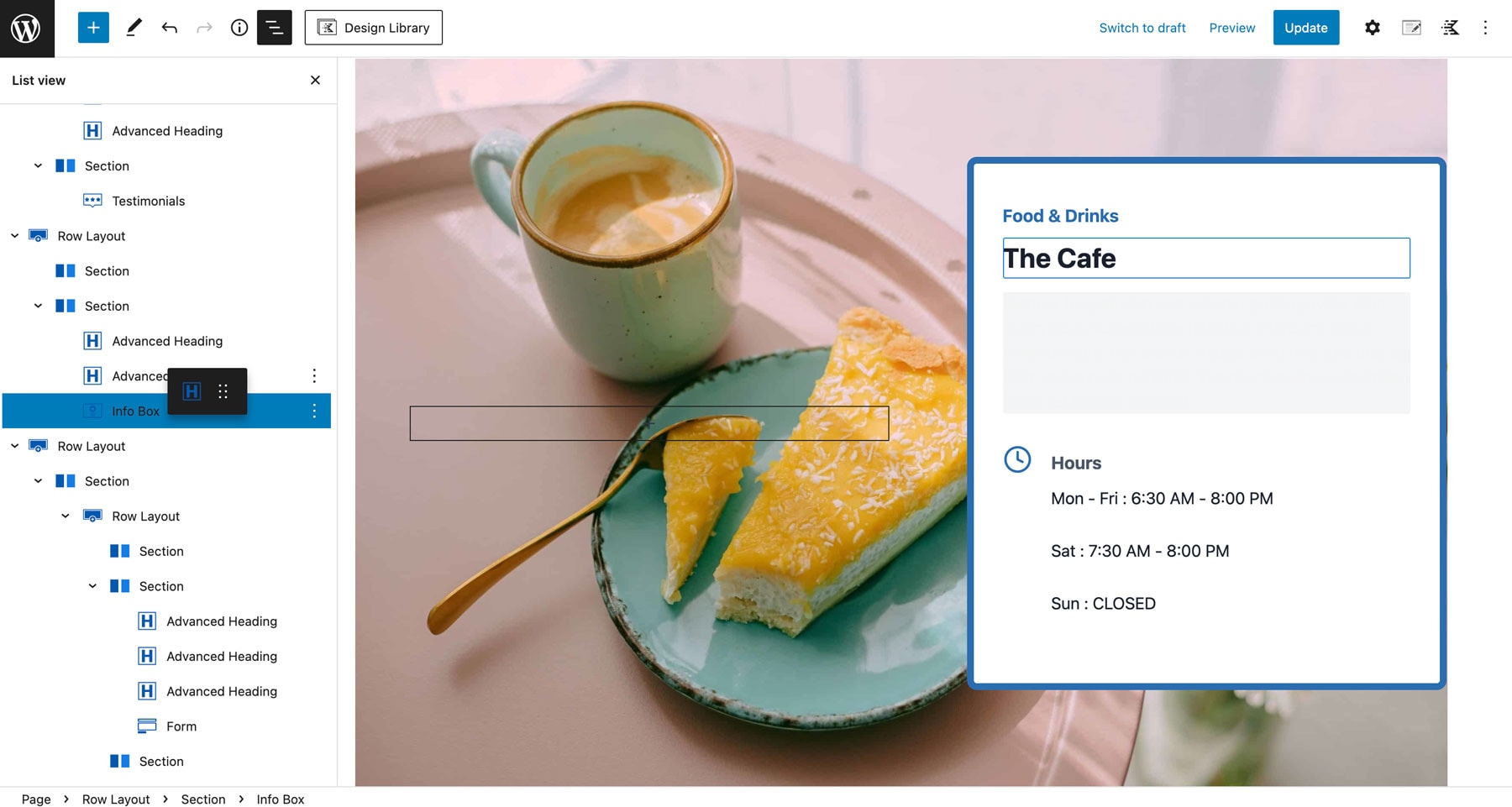 What is full-site editing?
Full-site editing is the next stage in Gutenberg development towards Gutenberg being the entire editing experience in WordPress. It allows you to build all the parts of your site with the Gutenberg editor, if your theme enables this functionality. Headers, navigation, archives, post templates are all editable portions of a WordPress page and anything can be edited. However, while anything can be edited, it doesn't necessarily mean anything can be done. You are limited by what available blocks you have and those block features/settings.
How can I edit my full site right now?
Kadence Theme has a pro addon that adds the ability to create templates and apply them conditionally to different areas of your site. For example, if you have a custom post type and you would like to design a unique layout for that custom post type, you can easily do this with Kadence Elements. Our good friends at Restrict Content Pro have used this to set up their single addons pages. Addons is a custom post type in their backend, and they are applying a template to create their design. Using a template like this allows them to pull in custom fields as well as the post content to populate the page. Kadence Blocks Pro adds in all the dynamic content controls.
Another powerful feature in Kadence Elements is the ability to hook sections of content anywhere on your site in any post, all conditionally. This means if you want to add something but don't want to rebuild a template, you can hook it into an existing template. While you can use any hook, Kadence already includes hook examples for WooCommerce, LearnDash, and many others.
Will Kadence Theme support WordPress core's block-based, full-site editing?
Yes! We are working on a version of the Kadence Theme which will allow you to enable full-site editing if you choose. This will not be released the day WordPress 5.9 is. I currently expect this option to be available a couple of weeks after 5.9 is released. However, note that I won't recommend this for production sites as full-site editing is still too early in development. In my opinion, the full-site editing experience is still very clunky to use, but I expect this to mature over time.
Full-site editing, the way WordPress core achieves it, is a very different approach from what WordPress users are familiar with. Under Appearance in the admin navigation of WordPress, you will be missing Customizer, Menus and Widgets. Instead, you have the new site editor.
Inside the site editor, you can control your site templates or open the style editor to choose fonts, colors, etc. Because everything will be block-based, almost all of your settings will then be determined inside individual blocks used inside the templates.
For those curious, I certainly suggest creating a staging environment where you can play around, experiment, and decide for yourself what you think of full-site editing. However, before you get too critical, remember this is a minimum viable product. Now that a foundation is laid a lot can be added and improved on. I am personally excited about the possibilities.
If you are wondering, I don't believe full-site editing block-based themes will be for everyone, and I don't see this as the end of traditional themes. I believe both systems will exist for the foreseeable future and Kadence plans on developing for both systems.
Please reach out if you have any questions!
-Ben Ritner